Footage captured by bystanders showed deputy leader Jayda Fransen holding a flimsy cross, shouting at pedestrians and the police as a handful of burly, silent men stood watch.
The group have since released their own, longer video which shows just how confrontational and antagonistic they actually were.
Members of the mosque are seen standing peacefully by keeping an eye on the tiny protest as Fransen hurls abuse and accuses them of blasphemy.
She says: "You don't acknowledge that Jesus Christ is the saviour. Jesus Christ died for every single one of you and you know what you do?
"You belittle him and call him a prophet. You worship a false prophet who claims to have some sort of relationship with Allah.
"You have your prophet on a pedestal. Your prophet who is a paedophile and a warlord.
"Turn away from the false prophet and embrace the saviour."
Despite people trying to reason with her, she continues in the same vein, shouting over them at all times.
Later in the video a man walks past and spits at Fransen. He tells her to "go fuck yourself" and is quickly led away by mosque staff.
Fransen says: "This is a Christian country, I'm well within my rights to be here. I'm holding a public protest, I'm entitled to do so without being spat at by an extremist Muslim who thinks this is their country."
Representatives of 14 churches and Christian groups variously described the political party as "extremist", "self-serving" and "blasphemous" and condemned its actions as "hi-jacking the name of Jesus Christ to justify hatred and spread fear".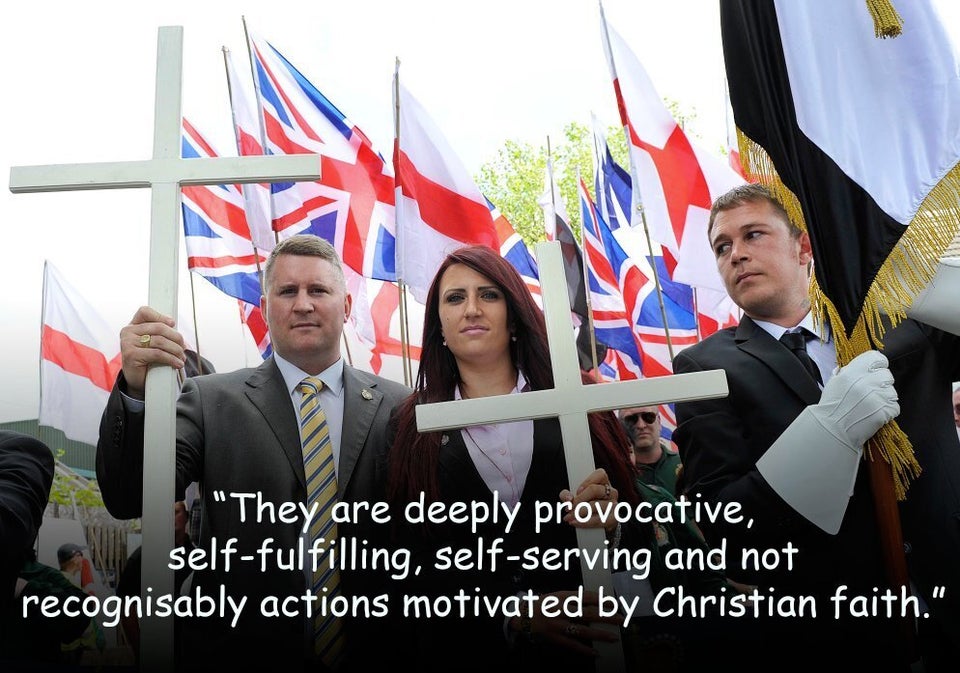 Christian Groups Condemn Britain First
Related