Rupert Murdoch has said that he is the "luckiest and happiest man in the world" after marrying Jerry Hall in London on Friday.
The media mogul and former supermodel had a ceremony at Spencer House, despite rumours that they were planning to wed on Saturday.
Hall wore her trademark blonde hair in waves, and had a smart handbag slung over her arm. She wore a knee-length navy skirt and black tights, while Murdoch wore a navy suit.
The 84-year-old tweeted: "No more tweets for ten days or ever! Feel like the luckiest AND happiest man in world."
Piers Morgan, former editor of the Murdoch-owned News of the World, congratulated his former boss on his impending nuptials, but said that the wedding would be on Saturday, not today.
Spencer House is described on its website as "one of the most sumptuous private residences ever built" in the capital.
It was built between 1756-1766 for John, first Earl Spencer, an ancestor of Diana, Princess of Wales, and it is said to be London's finest surviving eighteenth-century town house. Its website says the "elegant" venue is available for "intimate" weddings.
Murdoch and Hall will hold a private ceremony of celebration on Saturday at St Bride's Church on Fleet Street, which proclaims itself the "spiritual home of the media". The church, which has space for 150 to 200 guests, will be closed to the public for the day.
Article continues below pictures: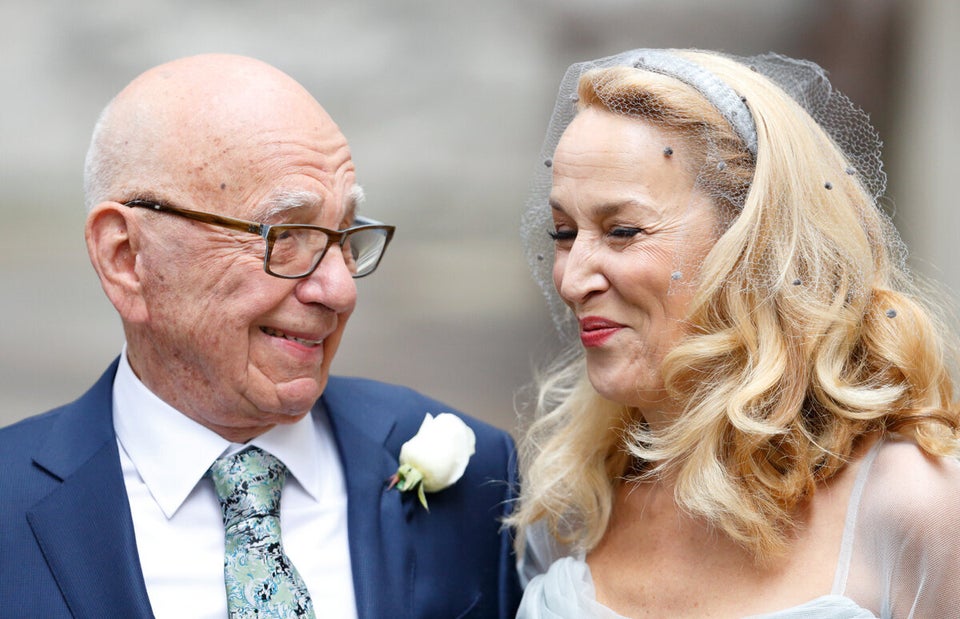 Rupert Murdoch and Jerry Hall get married
Murdoch famously killed off the historic link between Fleet Street and the newspaper industry in the 1980s when he moved the printing presses to Wapping in east London. St Bride's history reads: "On January 24 1986, some 6,000 newspaper workers went on strike after the breakdown of negotiations with Rupert Murdoch's News International, parent of Times Newspapers and News Group Newspapers.
"They were unaware that Murdoch had built and clandestinely equipped a new-technology printing plant in Wapping. When they struck, he moved his operation overnight.
"Within months the printing dinosaur that was Fleet Street was dead. By 1989 all the national newspapers had decamped as other proprietors followed Murdoch's lead."
The marriage is the fourth for 84-year-old Mr Murdoch and the second for Hall, 59, who had a long relationship with Sir Mick Jagger. Murdoch and Hall were spotted together at the Rugby World Cup final at Twickenham on October 31 last year and announced their engagement in The Times on January 12.
The notice read: "Mr Rupert Murdoch, father of Prudence, Elisabeth, Lachlan, James, Grace and Chloe Murdoch, and Miss Jerry Hall, mother of Elizabeth, James, Georgia and Gabriel Jagger, are delighted to announce their engagement."
Murdoch was previously married to Wendi Deng, mother to two of his children, but they split in June 2013. He reportedly paid out £1.2 billion in a divorce settlement to his second wife Anna Murdoch, while his first wife was Patricia Booker.
Meanwhile, Hall, one of four daughters, moved to Paris to pursue her modelling career at 16. She then met The Rolling Stones' frontman, and the couple wed in 1990 in Bali. But their marriage was later disputed since it was not properly conducted, and was subsequently shown to be invalid.
The pair had four children together, but parted after 23 years.