Yvette Cooper has called for more women's voices in the "male, pale" EU referendum debate, after a Cabinet minister said the tone of it was putting female voters off.
Cooper, former Shadow Home Secretary and Labour leadership candidate, called for "far more" women to be involved, saying Conservative politicians like Boris Johnson were "just playing games" with the vote.
It comes after Education Secretary Nicky Morgan said rhetoric such as "Project Fear" was leaving female voters saying: "What kind of language is that?"
After saying Jeremy Corbyn should be doing more in the debate and praising the efforts of party colleagues Alan Johnson, Chuka Umunna and Hilary Benn, she told Sky News' Murnaghan: "We've also got to have far more, from all sides, women's voices because it's looking like a real male, pale campaign."
Morgan said the rhetoric in the debate was putting off women voters, singling out Iain Duncan Smith's comments about the government producing a "dodgy dossier" in support of Britain remaining in the EU.
She told The Independent On Sunday: "I had a conversation with some businesswomen in my constituency. They said, that bloke who talks about the dodgy dossier – Iain Duncan Smith – they said what kind of language is that? That's not going to tell us anything about the debate.
"Aggression always appeals to a certain type of person in politics, but my experience is it doesn't appeal to women. I think, actually, saying these phrases like 'dodgy dossiers' and asking about 'project fear' completely misses the point."
Dermot Murnaghan asked whether Cooper wanted Corbyn, who has said he wants Britain to remain in the EU but not taken a significant role in the referendum debate so far, to lead a rally with "plenty of women to the forefront saying 'we want to stay in the EU'."
She said it was more about, "campaigning on the doorstep, talking to people across the country. Everybody in the Labour Party should be campaigning for this."
She added: "So far it has been dominated by this internal Tory party row. That's dangerous for the future of the country. I just think they are playing games. You saw Boris Johnson this morning... He's not serious. I'm baffled frankly as to why anyone takes him seriously."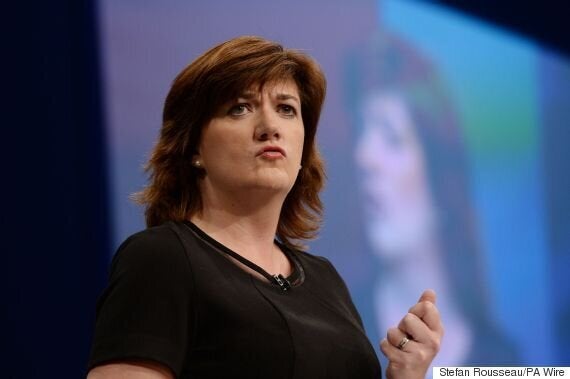 Nicky Morgan said Iain Duncan Smith's campaign rhetoric was putting women off
On Corbyn, Cooper said: "I haven't talked to him about it but I really hope he does [get more involved in the debate]. I think he needs to. I think everyone needs to do more."
Popular in the Community