Constance Hall, a 32-year-old blogger from Perth, Australia, decided to mark International Women's Day with a Facebook post about how being naked can help your children grow up with realistic expectations about their own body image and the bodies of members of the opposite sex.
"I advocate nakedness around your children, homes and husbands," wrote Hall.
"I don't want my boys expectations of women to resemble those that they see in magazines or TV, nor do I want my girls expectations of themselves to."
Hall's post continued: "I believe that with the help of Queens loving themselves the next generation's definition of beauty will be radically different and no longer will we idolise the unrealistic airbrushed idea of perfection that causes so much self doubt and depression.
"If you have stretch marks, a hairy minge, saggy boobs, a flat bum, smile lines, a wobbly belly, cellulite, a tiny chest, or any other real women women traits, the world needs to be flooded with your image.
"The world is desperate for your beautiful image.
Hall's post sparked other mothers to share stories about how being naked as a family improved their own body confidence.
"I was trying on dresses last week with my two-year-old son sitting in the change room with me, feeling so gross with my stretch marks and big wobbly belly in my undies and bras he looks up at me and said 'mummy your so beautiful', it melted my heart and made me realise I need to stop being so uncomfortable with my body," wrote Erin Bolton.
"I have always been ashamed of my chest, then I had a son and decided to breastfeed him. Now, my used to be perky, small chest is saggy, wrinkled, stretched and just... sad. But, my son loves them! They are remarkable no matter what they look like. My body grew my child and my breast kept him alive. He's almost two and still needs his boob breaks," wrote Lonna McCullen.
She has become well known for sharing honest posts about what it's like to be a parent - from a hilarious take on 'parent sex' to a message of support for 'struggling' mums.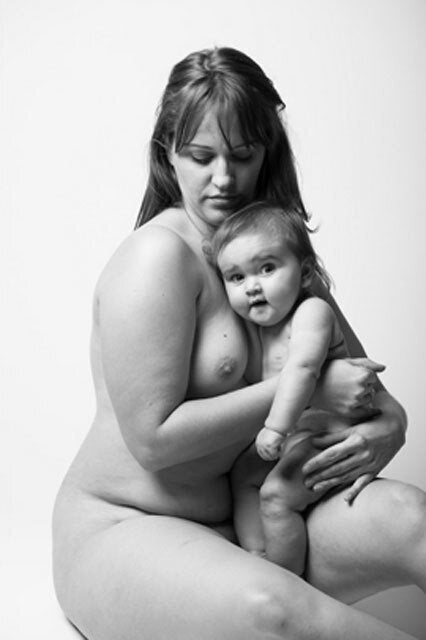 Mums Beautiful Bodies