A dog has proved she truly is man's best friend after standing guard over her elderly owner for almost seven hours after he became trapped in a muddy bog in freezing conditions.
Martin Kay got stuck in Thornham Parva, Suffolk, after taking his labrador, Holly Blue, for a walk around 2.30pm. The 67-year-old had veered off his usual path because "it was a "nice day", Suffolk Police said.
Kay was reported missing five hours later when a friend came to pick him up from his home and he wasn't there. A search was subsequently launched.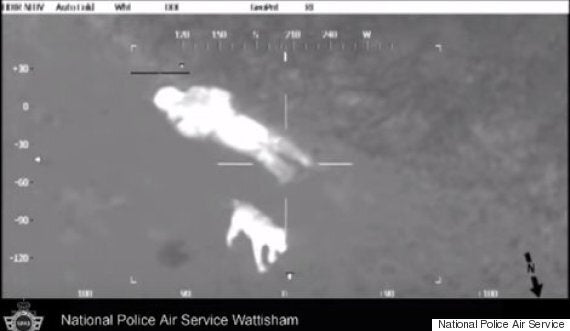 Thermal imagining shows Martin Kay and his dog Holly Blue, who remained at his side for almost seven hours after he got stuck in a bog
When the first officers arrived in his village, friends and neighbours had already begun looking for Kay along his usual walking routes.
A helicopter was later called in to assist searchers and located Kay around 9pm, "with Holly Blue having remained close by, curled up at the edge of the bog", Suffolk Police said.
Local officers PCs Luke Allard and Clare Wayman were first on scene and were directed to Kay by PC David Bazlinton who was in the helicopter using a thermal camera to locate him.
Allard and Wayman tried to pull Kay out of the bog but became stuck themselves. They then covered him with their jackets "as the temperature was now below freezing", police said.
"Eventually all parties were freed and PC Allard, together with dog handler PC Neil Wisken, carried Mr Kay about half a mile to the road where a waiting ambulance took him to hospital," Suffolk Police said.
After writing to thank those involved with his January 18 rescue, Kay was invited to the National Police Air Service base at Wattisham to view the aircraft and meet with the pilot that night, captain Steve Ashcroft; tactical flight officer Bazlinton and PCs Allard, Wayman and Wisken.
Of the visit Kay said: "It is marvellous to meet them and personally thank them for saving my life. I don't remember much about the rescue – the last thing I remember was that it was getting dark and then the next thing I woke up in hospital.
"I hadn't walked that route for about two years and when I came across the mud, I tested the ground at the side and it felt firm, but as I walked into the middle the ground began to sink.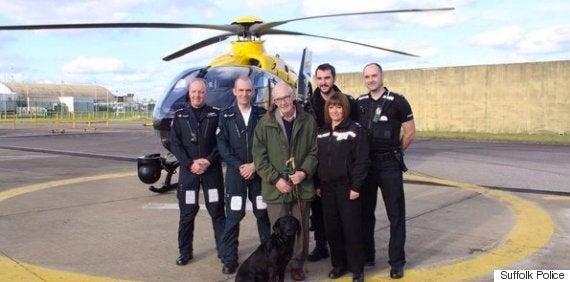 Kay and his dog Holly Blue met with the police officer's that rescued him from the bog
"I called for help but nobody heard me and eventually I drifted off. I wasn't optimistic about being found, but I wasn't panicking – it was too cold for that!"
Allard said: "The field was in the middle of nowhere and we were relying on the light from the helicopter and torch light. When I got to Mr Kay I took hold of his hand and he wouldn't let go – I told him he would have to let go or I wouldn't be able to help him."
Wayman added: "He was completely covered in mud, covering his face as well as his body and we would have struggled to find him without the helicopter. Luke and I couldn't get Mr Kay out on our own and were getting stuck ourselves."
Bazlinton said Kay was able to be seen from the helicopter through a thermal camera.
"This was a perfect example of team work, joined up between the helicopter, local officers and dog handlers. On our own we couldn't have done it, on their own they couldn't have done it, but together we could."