A television reporter was almost left in tears after a car careered towards him and his cameraman while he was live on air.
Alex Savidge from KTVU managed to jump out of the way at the last second, after being alerted to the danger while in the middle of his broadcast.
Savidge's report was interrupted by the sounds of a car horn and then screeching tyres, before the car filled the screen.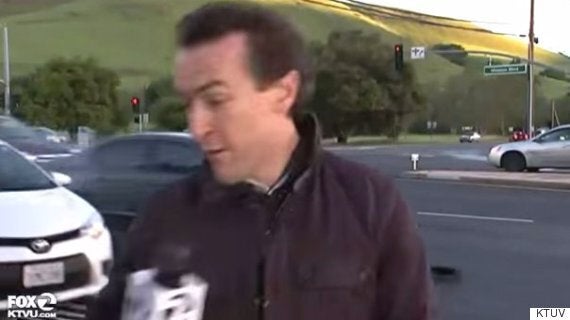 Alex Savidge from KTUV jumps out of the way as a car comes careering at him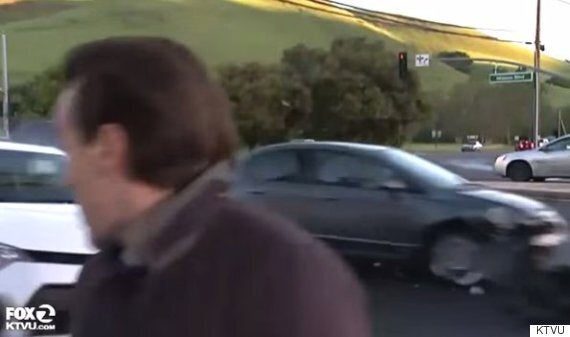 Savidge begins to move after being warned about the car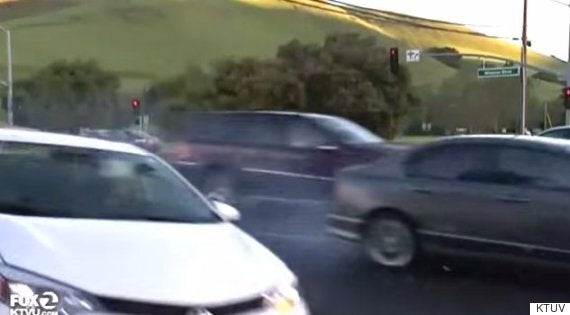 It is believed the driver of the car hit the accelerator rather than the brake
A man off camera says: "Look out, watch it now."
The car hit a light, as Savidge and cameraman Chip Vaughan yelled in the background that they were okay.
Vaughan, whom Savidge later hugged on camera, said: "It happened in a split second. I'm just thankful he jumped the right way."
In his next live appearance, Savidge, who was covering a story about a local train derailment when the crash occurred, was emotional. He said: "I am grateful to be ok, that's all I can say."
Savidge later added a message to his wife saying: "I don't know if my wife ... she's not watching. I haven't been able to call her. I just want to tell my wife I'm ok."
Savidge, who has been standing in a supermarket car park in Fremont when the incident happened, later wrote on Facebook: "Well that was truly the most frightening thing that's ever happened to me! And I want to make sure everyone understands how important the person is who's standing behind that camera.
"I'm not sure what would have happened if my photographer Chip hadn't yelled at me to move at the last second...he had my back and I'm so thankful for that. I also appreciate everyone checking in on me today...I'm doing pretty good all things considered...your love and support means the world."
According to reports, a white sedan was turning right when it turned into the path of another car and the vehicles crashed.
Police believe the woman in the white sedan may have hit the accelerator, instead of the brakes, which caused the vehicle to career onto the pavement. No-one was seriously hurt.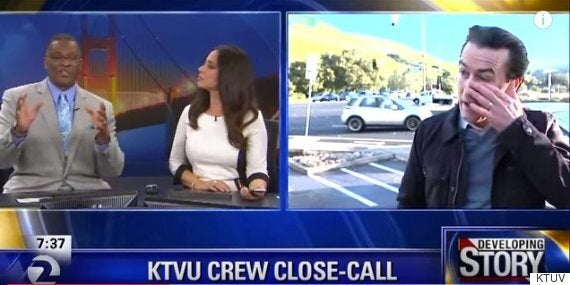 Savidge was emotional after the near-miss