The five things you need to know on Wednesday April 13, 2016…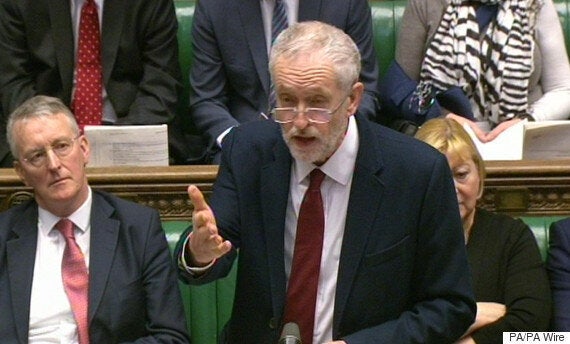 It's the first PMQs for weeks and there's lots of topics for David Cameron and Jeremy Corbyn to clash over. Corbyn likes to go off-piste so maybe he will raise the way a parish council is charging Park Run fun-runners to use its park. Maybe he'll raise the Guardian story about a privatised ambulance service in Surrey descending into a 'shambles'. Or maybe he'll focus on Government defeats over the Housing Bill in the Lords (another defeat is due today). Then again, he may just want to focus on steel (though will he thank Prince William for raising it with the Indian PM?)
One area where Corbyn has so far not been that vocal is, of course, on staying in the EU. Tomorrow all that will change with his Big Speech on the issue. The Times says Corbyn will relate his 'personal journey' from voting to leave the Common Market in 1975 to his support for a 'social Europe' now.
Asked by ITV News if Labour had so far not done enough to make the case, John McDonnell said: "No we haven't, because our focus has been on the local elections and the other elections. But as we move towards it you'll see us upping our campaign and going on the stomp around the country."
The IMF warnings about Brexit helped the Remain camp yesterday, though I have to say its case was pretty thin, with zero evidence that the referendum had hit growth. Meanwhile, Tory voters and Corbynistas alike have been sending back *that* Government leaflet with graffiti abuse. The Telegraph splashes on its scoop that the Tory donors, the Midlands Industrial Council, will give unto £5m to the anti-EU campaign. The sheer fury of Tory MPs over that leaflet cannot be overestimated.
But immigration remains the Leave camp's strongest card, and today's Oxford Uni stats on souther Europe migrants won't help the In camp. Neither will the Mail and Times stories on the National Crime Agency revealing the traffickers working to get people over the Channel (even tho NCA chief Lynne Owens said it showed how vital EU cooperation was). Gisela Stuart today has another tack: the ageing population in Europe is a demographic timebomb for the UK.
Oh, and one more boost for the Outers. Politico reports that Spotify's founders are set to quit the EU over sky-high tax rates on stock options, housing shortages and outdated schooling.
Prosecutors and police have raided the offices in Panama City of the offshore specialist firm Mossack Fonseca. But over here the tax row is rapidly running out of steam without any major new revelations. Will the PM's mystery £73k in shares be forced into the open by the Parliamentary Standards Commissioner next week?
But Jeremy Corbyn's own tax return continues to attract interest. Depending on your viewpoint, the Labour leader's form may prove he's either refreshingly like many ordinary punters - or staggeringly shambolic and not the kind of guy you want running the country. In fact his tax return wrongly over-estimated his income from lectures and opinion poll surveys (as PolHome's comparison with his Register of Interest showed). That meant he may have paid more tax than he actually owed.
But Corbyn also failed to give full details of his work pension (from his time working for a council before he became an MP) or his state pension that he started to receive last May. In fact, he was taxed at source on his work pension and the taxman took full account of it. As for the state pension, that's unclear. The Sun reports that Corbyn breached Parliamentary rules in not registering his lecture income within 28 days, but it sounds like his office will take that one on the chin, pointing out he was 'just a backbencher' for most of last year and 'does not have an accountant, he does it all himself'.
Corbynistas are furious at the Telegraph's totting up of his MPs' salary and pension over his Parliamentary career (it adds up to £3m). But elsewhere the Tel reports that five Shad Cab members argued yesterday that only the leader and Shadow Chancellor should reveal their tax returns: with Thornberry, Abbott, Burnham and Powell among them.
As it happens, I'm told John McDonnell told colleagues at Shadow Cabinet that he felt that Labour had done such a good job in pressuring the Tories over tax that the Shad Cab was now a "Government in exile". As for wider Labour infighting, 'moderates' are delighted that Ken Livingstone is way behind in nominations for the NEC.
John Whittingdale last night issued a statement to Newsnight in which he confirmed that he'd had a relationship with a woman who was also a dominatrix. The six-month fling ended before he became Culture Secretary. "This is an old story which was a bit embarrassing at the time. The events occurred long before I took up my present position and it has never had any influence on the decisions I have made as culture secretary," he said.
At risk of sounding like a wizened old member of the media 'club', I have to say I can't see what all the fuss is about. Yes newspapers like the Sun, Mail on Sunday, People and Independent all looked at the story years ago and decided not to run it. But it appears they each decided there was little public interest in doing so. Papers have yet to explain what the public interest is in revealing the celebrity threesome case though.
Ex tabloid editor Neil Wallis was succinct on Today, pointing out that there was now an alliance of "Hacked Off, some nut job conspiracy website and the BBC" to get papers to invade a minister's privacy. "The world has changed, we do not see stories being published like this anymore: 'Single man dated single woman before he was a minister'."
What is odd is that Whittingdale didn't tell No10 about his previous relationship when he was offered the Cabinet post. Downing Street say that as a single man this is a private affair, but the potential for future blackmail may worry some in Whitehall. That's precisely why the PM he had his own 'sit down' with the Cabinet Secretary (as he revealed this week) to run through his friends and 'connections' soon after taking office.
Whittingdale made no secret that he prefers a light-touch approach to press regulation. The one possible area where he's open to criticism is that he had once hinted that 'Leveson 2' should go ahead, but has since changed his mind. That could be Labour's focus, given both Tom Watson and Jeremy Corbyn are so keen on the next stage of Leveson. However, Diane Abbott signally refused to comment on Whittingdale's 'private life' on Today.
BECAUSE YOU'VE READ THIS FAR…
The No10 read-out of Cabinet yesterday was notable for the way it included Nicky Morgan telling colleagues about her education White Paper reforms. The Education Secretary said she would seek to remove 'misconceptions' about her plans, not least the role of parent governors, as she pushed ahead with her rapid programme to turn all schools into academies.
Shadow Education Secretary Lucy Powell said she hoped that was a code for a swift U-turn or concession. Let's see. Downing St said it didn't want schools to be 'required' to have parents as governors but still encouraged them to apply. Lots of non-political parents are unhappy at the idea that they are no longer needed, so this is a tricky one for Morgan.
And today Powell leads an Opposition Day debate on the academies plan. Labour's aim today is not to wind up the Tories, but to unite with those Tory backbenchers who have concerns about the Morgan plans. As Chris Cook pointed out on Newsnight, there is lots of unease about whether the system can cope with such rapid change. Of 850 sponsors, only 20 have been assessed and just three have proved more effective than non-academies, Cook said.
Labour also has some Commons Library figures claiming schools must find £7.5 billion of savings over the Parliament, as their budgets face the first real terms cut since mid-1990s.
Stephen Crabb's speech yesterday underlined just how determined he was to put his own personal stamp on his DWP brief. Crabb made clear he wanted to draw a line under the Treasury's abandoned plans to slash disability benefits, stressing that he wanted to end the disability 'employment gap' (which was also an IDS pledge). He said the gap' isn't because of a lack of aspiration on the part of sick and disabled people'.
Crabb also admitted that 'for many' there was no 'golden age of social mobility' and wins rare praise from the Mirror for pointing out that "financial support for people facing poverty is vital". And as a former council house boy himself, he rammed home just what a different kind of Tory he was: "I always tell my colleagues - never, never underestimate the importance of a family in need getting that support in a timely and effective way." Note he added that he "will be leading a more coherent and collaborative government strategy". That sounded like another message to the Treasury.
The Work and Pensions Sec made a robust defence of Universal Credit (Owen Smith was swift to seize on that) but there was an intriguing bit of his pre-briefed speech that didn't make the cut. He had been due to talk about "evidence that, where children come from a lone parent family or have chaotic upbringings, they are far more likely to fail at school, turn to crime or fall into substance abuse" and "We do the children of this country a huge disservice if we are neutral on family structure." As the Sun points out, neither line was delivered.
I'm told this was simply because the minister decided the phrases weren't the sort of expressions he'd use rather than some last-minute worry about the sensitivities of lone parents. In fact, Crabb used his speech to praise his own mother Jacqui (who brought him up after his abusive father left home) as 'an amazing role model' who had gone from benefit 'dependency' to gradually more hours in work. Yet more proof that this is one Tory Cabinet minister unafraid of marrying the personal with the political.
If you're reading this on the web, sign-up HERE to get the WaughZone delivered to your inbox.
Got something you want to share? Please send any stories/tips/quotes/pix/plugs/gossip to Paul Waugh (paul.waugh@huffingtonpost.com), Ned Simons (ned.simons@huffingtonpost.com), Graeme Demianyk (graeme.demianyk@huffingtonpost.com) and Owen Bennett (owen.bennett@huffingtonpost.com)