The five things you need to know on Wednesday May 11, 2016…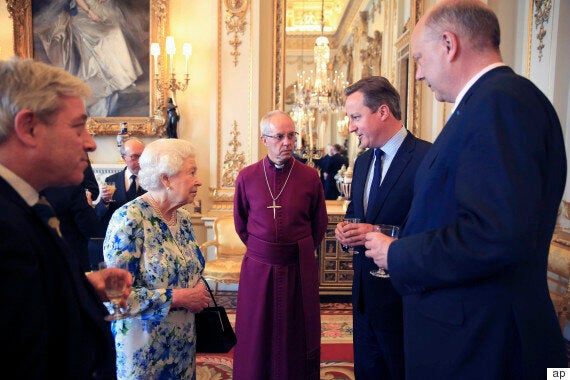 Pesky things, microphones. David Cameron may have been tempted to squeal a little whoop of joy ('See! It's not just me!!') when news emerged of the Queen's indiscreet line about the Chinese being 'very rude'.
But given the possible damage to relations, and how seriously Beijing rates protocol and its own dominance (which seems to be behind the security row), he won't really be happy. Already, China has censored BBC World's coverage of the story, blacking out screens.
For Dave himself, he's been here before many times. And yesterday's on-mic remarks about Nigeria and Afghanistan being "fantastically corrupt" have not been a diplomatic success, to put it mildly. No.10 insists the PM was aware of the cameras and microphones, and that he was merely quoting what the countries have said about themselves. That spin unravelled pretty quickly when Nigerian President Buhari said he was "deeply shocked and embarrassed", while the Afghan embassy also expressed its "shock" at Cameron's remarks.
The best explanation seems to be that the PM was simply showing off to the Queen (and he looked at the camera at one point) about yesterday's Cabinet and his showcase anti-corruption summit. And he overreached himself once more, instead of stressing how seriously both countries were now treating the issue. The Archbishop of Canterbury gave him an out, and he didn't take it.
What's most excruciating is the lack of respect for the Queen, who has seen PMs come and go but who is the head of the Commonwealth. The Daily Mail has also been quick to point out the UK is sending hundreds of millions in aid to these countries, which seems pointless if it's being trousered by wrong-uns. Former Labour Cabinet minister and Commonwealth Secretary General Baroness Scotland told Today the PM's remarks were 'unfortunate'.
As for the other Royle Family, actress Sue Johnstone was on the Terrace last night with Andy Burnham and Hillsborough families. Labour are publishing their set of proposed amendments to the Police and Crime Bill that include a legal right to funding for victims' families and the power to cut the pensions for retired officers if they're found guilty of misconduct
Jeremy Corbyn had a big boast yesterday. At the launch of Labour's pro-EU battlebus, JC was asked whether the party is doing enough to broaden the party's appeal and he replied: "What a strange question, what a very strange question, I don't know where it comes from ... We have a very big tent, its an enormous tent."
In normal times, the Mayor of London's election would be the perfect topic for a Labour leader at PMQs, ending eight years of Tory rule. Given Cameron's own decision to use PMQs to attack Khan of late, Corbyn must be sorely tempted to demand an apology for the 'guilt by association' Zac campaign (he could quote Boris deputy Stephen Greenhalgh saying just that). Sadiq himself told the PLP on Monday: "the Tories owe London an apology".
Yet with Khan appearing to distance himself from Team Corbyn, Cameron could hit back that 'guilt by association' is exactly what the Mayor is trying to avoid too. That would take some chutzpah which even Dave lacks. In fact, he could go some way to restoring the party's long-term brand by praising Khan and defending him from Donald Trump's 'Jesse Owens moment' (No.10 paved the way for a change of tone, saying Cameron was proud of 'multi-faith' Britain).
Still, Labour pains continue. Ken Livingstone finally pulled out of the NEC elections last night. Meanwhile, John McDonnell has sent an email thanking Momentum activists for being 'particularly active' in marginal seats in the South (eg Hastings).
Boris is due on the Today prog, to talk about the EU. Will he finally admit (like his deputy has) the Zac campaign was ill-judged? Ken Clarke said last night the attacks on Khan were 'ludicrous'.
Wait for Gordo no more. Yes, Gordon Brown is back on the political front line (well OK, its Maginot Line, trying to avoid another World War One). And in true Brownian fashion, he has targeted the Mirror and the Guardian with op-eds.
In fact, it's the Mirror audience of working class Labour voters that he really needs to hit most, given the reports of Euroscepticism coming back from Labour MPs on the local elections stump. Several Labour MPs have told me that the message on the doorstep has been something like this: "We're lending our vote to UKIP this time, we don't like Corbyn, and we want out of Europe - but we'll vote Labour at the election".
No.10 are very nervous indeed about Labour's inability to get out its vote in the EU referendum. Given Alan Johnson is one of the party's best performers, his new battle bus could make a difference in local news coverage. In the Mirror, Gordon says its 'unBritish' to quit the EU and 'we need to lead Europe, not leave it - just ask Leicester City'.
His Guardian piece is more of his comfort zone, previewing his LSE speech today about the EU being the only way to take collective action on tax avoidance. (He probably won't namecheck Emma Watson's outing in the Panama Papers, which she says is more about 'privacy' than offshore tax avoidance).
IDS yesterday made a pitch to Labour voters that the poorest will benefit most from Brexit. His successor Stephen Crabb is before the DWP Select Committee at 9.30am. But the main attraction is George Osborne before the Treasury Select at 2pm to discuss EU membership.
BECAUSE YOU'VE READ THIS FAR…
One ripe area for PMQs could be the sheer number of U-turns, lane swerves and Satnav resets executed by the Tories in recent weeks. Labour's backroom team have totted up more than 22 actual fully-fledged handbrake turns on everything from the obvious tax credits and disability benefits to the MoJ's cancelled Saudi prison contract.
But of course what's driven the changes in policy has been the lethal cocktail of the House of Lords' cleverly wielding its anti-Government majority and a taste for rebellion among Tory backbench MPs. Only last night, the Lords again defeated the Government on the Housing Bill and Brandon Lewis took a swipe at Lord Kerslake, while warning MPs may have to 'stay up all night' to rebuff the Lords.
And in the FT today, there's a confidant of the PM who admits "We need to look at different ways of doing things" to prevent rebellions from happening in the first place. The FT cites not just Heidi Allen, who is typical of the independent minded 2015 intake, but also older hands like Gary Streeter (who represents the core of principled Christian Tories worried about own goals on things like Sunday trading and refugees) and Euroscep Peter Bone.
And it's the Euroscep element of these rebellions that concerns many in No.10, who suspect the referendum is fuelling some of the defeats. Norman Fowler puts his finger on something else though: a similar mood to that which afflicted Major's government when Maastricht rebels wreaked havoc: "Rebellion became accepted, it was almost infectious," he said.
Another safe topic for Corbyn to exploit at PMQs tends to be health and today's Public Accounts Committee report gives him some powerful ammo. It says Jeremy Hunt's 7-day NHS plan has 'serious flaws', is 'completely uncosted' and the overall health service is 50,000 staff below capacity.
This report is a serious challenge to some of the central claims the Tories are making about the NHS. It says the £10bn extra funding promised by the Treasury will 'not cover everything' and says the plan to find £22bn in efficiency savings is leading to "overly optimistic and aggressive" rota planning in hospitals - which in turn is creating staffing shortages. The DH says more staff are on the way.
Add into all that this week's Oxford University report attacking the whole basis of Hunt's 'weekend effect' claims and you can see how this has political potency. With junior doctors in talks, will Corbyn suggest there's yet another U-turn in the offing on the junior docs contract? Then again, will Cameron just throw back Heidi Alexander's own words (CCHQ stored em up), backing the 7-day plan?
As it happens, this week Jeremy Hunt became the longest-serving Health Secretary in history. (1,344 days, since you asked). Shadow health minister Justin Madders noted the "important landmark", adding: "Not least because it's the first target he's managed to hit." Take our handy quiz to find out the sort of thing Jeremy has outlasted.
If you're reading this on the web, sign-up HERE to get the WaughZone delivered to your inbox.
Got something you want to share? Please send any stories/tips/quotes/pix/plugs/gossip to Paul Waugh (paul.waugh@huffingtonpost.com), Ned Simons (ned.simons@huffingtonpost.com), Graeme Demianyk (graeme.demianyk@huffingtonpost.com) and Owen Bennett (owen.bennett@huffingtonpost.com)
Popular in the Community