The five things you need to know on Tuesday May 31, 2016…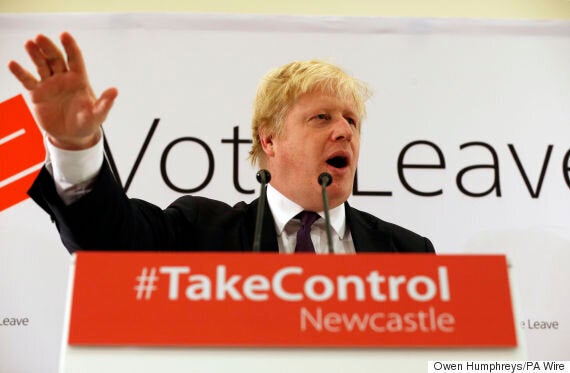 The Vote Leave campaign have their tails up after the bank holiday weekend, and Boris and Michael Gove are up north targeting the voters they think can swing the EU referendum - working class and lower middle class Labour or floating voters. Today's pitch is that under Brexit, fuel bills will be cheaper because the UK can slash its VAT rates.
It's part of a bread-and-butter issues shift, taking on the Remain camp's lead on cost of living (and cost of leaving) strategy. The speaking-up-for-the-little-guy plan is seen as Vote Leave's strongest card. As with the message on immigration (that big business wants cheap labour to take your job at any cost), it borrows from UKIP's economic populism while seeking to distance the most negative bits of Farageism.
Having Beefy Botham on the 10 o'clock news last night alongside Boris was a PR coup for Leave. Today, the Remain camp have brained-up with Stephen Hawking on GMB telling us why staying in the EU is a smart idea. Hawking also says even his brain can't fathom why Trump is so popular in the US, which shows may why he's not cut out for politics. Boris's journey north is a key test, as is this whole referendum, of the 'Boris Effect': can he prove as popular with the White Van Man vote north of Watford Gap as he has been down south?
The Remain camp have a 'fantasy politics' dossier hitting back at the VAT claims, saying they are as honest and truthful as the £350m and NHS claims of the Brexiteers. Most hard-hitting of all, they say Leave's fantasy figures amount to £111bn of spending commitments. Sounds like a 'tax bombshell' that would dwarf a VAT fuel cut sparkler.
The PM is continuing his drive to appear with Labour figures, after sharing a platform with Sadiq Khan, and more trade unionists are due to join later this week. There are some strange bedfellows indeed and Nicola Sturgeon will appear on the In camp trio on the ITV debate next week, the Sun reports. Some Brexiters think that's a gift to them, but progressive leftwing voters in England may feel a surge for Sturge just as they did in the 2015 election debates.
I can't quite imagine Bojo or Gove saying 'Yes, Lord Sugar, no Lord Sugar', like quivering Apprentice contestants. But the TV tycoon has delivered for the In camp this morning with an exclusive Sun article and a YouTube video (see below).
Sugar, who came under fire from Labour last week for agreeing to become the Government's business czar, is the kind of big name the Remainers need, speaking in language the punters can understand. In the Sun he says Britain would end up "the mugs of the world" if we quit the EU. In his video, he says Brexit is one of the daftest and 'duff' ideas he's ever heard. He also has millions of Twitter followers as well as his telly recognition reach. Again, it's all about reaching the key voter groups politicos call the 'C1s/C2s', ie the skilled working classes.
Sajid Javid appears alongside seven former and current Dragon's Den biz chiefs today as the In camp warns 1.2m small businesses will suffer from Brexit. Not many of the dragons are the real stars and maybe Leave will grab others in due course.
What's notable is the fury from ex BCC chairman John Longworth, who says Javid "changed his mind for reasons we can only guess at". In case we didn't get the message, he adds that this "latter-day pro-Brussels campaigner" is wrong about the stats (Longworth says just 6% of small firms export to the EU but 100% are caught in its red tape). "I hope that Sajid Javid's priority is not his political career - rather than helping British businesses."
For some people whatever the result of the referendum, it's just good business. The FT reports that hedge funds are paying for exit polls to make a mint on the early signs of which way the vote has gone on June 23. All reminiscent of how George Soros bet against the ERM-linked pound in 1992 - and won.
3) IN-FIGHTING, OUT-FIGHTING
Some of the leadership plotters against David Cameron finally broke cover this weekend. After Nadine Dorries and Andrew Bridgen made clear their letters for a vote of no confidence were already in, Sir Bill Cash told the the Telegraph that he was "certainly considering" following suit - unless the PM stopped attacking pro-Brexit Tories.
That was a key caveat, and yesterday No10 dialled down the attacks on fellow Tories. Yet neither side can quite help itself and every other day there is a fresh round of tit-for-tat jibes. Boris and Gove claimed on Sunday that Cameron was 'corroding public trust', while Priti Patel suggested the PM was too wealthy to understand ordinary voters. Ken Clarke yesterday described Boris as a 'nicer' Donald Trump (which actually is a label Bojo may welcome, given Trump's upside is his mass appeal among working class voters). Andy Coulson yesterday gave Steve Hilton a kicking for his "Kumbaya", sockless blue-sky approach to Brexit.
Cameron said last week he wanted a 'self-denying ordinance' but the slings and arrows of outrageous claim and counterclaim may be too much. Today, Sajid Javid against gets it in the neck for his 'treachery' and closeness to 'the madness of King George' (as one Brexiteer puts it). Dorries set the bar high, saying Cameron needed a 60-40 In-Out vote to avoid a leadership challenge, but other plotters tell me 55-45 would probably be enough.
The Guardian reports on worries that Jeremy Corbyn just hasn't been doing enough to motivate Labour voters to back the In camp. A campaign memo from Britain Stronger In Europe leaked to the paper shows that only about half of Labour voters have realised their party is in favour of staying in the EU, with the rest thinking it is split or believing it is a party of Brexit. Focus groups were "uniformly uncertain" about what Corbyn thought - or believed he was for remain but "his heart isn't in it".
BECAUSE YOU'VE READ THIS FAR…
Alan Sugar says he's been a gambler in his time but he's not ready to gamble on Brexit. Watch the 6am video
HuffPost UK has joined with Bite the Ballot and others today in a big voter registration drive in this crucial week in the EU referendum. Jeremy Corbyn has written a guest blog for us, urging younger people to register. "It is your generation that will be most affected by the decision Britain takes in three weeks' time. Young people will live with the consequences for the longest."
The #TurnUp campaign aims to register 500,000 people (many of them younger voters) in time for the June 7 deadline. Tonight Hope Not Hate will stage an event in Hackney, with 12 women dressed as suffragettes wearing purple sashes. (Hackney suffered the worst drop off of voters in the country when Individual Voter Registration was brought in, with an estimated 40,000 still missing).
Tomorrow, Bite The Ballot opens a 'Democracy Cafe' for young people at a Starbucks in London and the 'DeCafe' rolls out among 50 Starbucks stores nationwide.
HuffPost UK Young Voices begins a two-week focus on the EU referendum, examining what is at stake for Britain's young people. We'll be hearing both sides of the argument from politicians, policy experts and most importantly young people themselves on what Britain's youth needs to know before we got to polls on 23 June - and why it's imperative they are registered to vote by 7 June.
Yesterday two British men were charged with people smuggling after a sinking boat carrying 18 Albanians, including two children, was rescued in the Channel. And the rescue has sparked plenty of front pages.
The Times reveals that the Home Office dismissed concerns by the independent chief inspector of borders and immigration about the smuggling of people in small boats as "not significant" only months ago. Warnings about Norfolk and Suffolk's remote creeks and estuaries being attractive to smugglers were ignored, it suggests.
The Mail splashes on claims that there have been four reports warning ministers that Britain's small ports are an easy target for people smugglers. The Telegraph reports that immigration union leaders warned that Britain faced its biggest onslaught of people smugglers. Lucy Moreton, general secretary of the Immigration Services Union, tells the 'i' that it was an inevitable progression from the other migration flows across the Med of late.
In the Guardian, Britain Stronger in Europe has attacked the 'false and bogus' MigrationWatch claims that up to half a million refugees and their relatives could move to Britain after 2020. In the Telegraph, there's a new ORB poll putting Leave on 46%, up four points, with Remain on 51 %, down four. Sir Lynton Crosby suggests that Leave's "increasing focus on lack of control over immigration and associated message discipline has helped their case".
As for perils of the sea, it's the 100th anniversary of the Battle of Jutland today and David Cameron will be joined by Nicola Sturgeon, Carwyn Jones and Arlene Foster and others for the memorial service in Orkney. The Duke of Edinburgh wanted to attend but has been told by doctors that he ought not to. Jeremy Corbyn, as revealed by HuffPost last week, won't be there. The Times reports the extraordinary story of one 19-year-old sailor who survived by covering himself in oil to keep warm in the cold waters.
If you're reading this on the web, sign-up HERE to get the WaughZone delivered to your inbox.
Got something you want to share? Please send any stories/tips/quotes/pix/plugs/gossip to Paul Waugh (paul.waugh@huffingtonpost.com), Ned Simons (ned.simons@huffingtonpost.com), Graeme Demianyk (graeme.demianyk@huffingtonpost.com) and Owen Bennett (owen.bennett@huffingtonpost.com)
Popular in the Community