The five things you need to know on Monday June 6, 2016…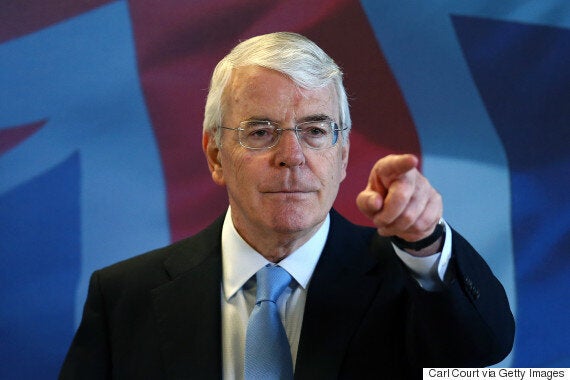 John Major's volcanic eruption on the Marr Show yesterday was a sight to behold. As if reliving every moment of his own Euro battles, the former PM claimed he wasn't interested in personalities – but then let rip at 'court jester' Boris and the 'squalid and deceitful' Vote Leave campaign. What seemed very unusual was the way Major said the NHS would not be safe in Boris and IDS's hands: "The NHS is about as safe with them as a pet hamster would be with a hungry python". Brexiters believe No10 coordinated the "desperate" Major outburst, but Downing Street (naturally) denies this.
Perhaps Major's most striking line was his threat that Boris "will not have the loyalty of a party he divided" if he becomes Prime Minister. Boris, who had perhaps his best Marr performance to date, took it all in his stride on air. But all was not sweetness and light, according to the Times. Johnson confronted Sir John in his dressing room minutes before he was due to go on air and in a 30-second encounter, Bojo "eye- balled Sir John and wished him well, to his surprise and horror".
Last night on Radio 4's Westminster Hour (which came too late for the morning papers), Jacob Rees-Mogg stepped up the blue-on-blue attacks, with a backlash against Major. "What we've had today are the bitter ramblings of a vengeful man…I'm going to sling the mud straight back at Sir John Major, a knight of the garter who ought to know how to behave better…It's all to do with his bitterness over his failings that came from the Exchange Rate Mechanism that tarnished his whole prime ministership."
The Moggster added that Major and Heseltine were 'yesterday's men'. But what about today? Well, the PM is being joined by Harriet Harman (not Jeremy Corbyn, of course), Natalie Bennett and Tim Farron in making the Remain case. Things are so bad within the Tory party now that even this cross-party show of unity is interpreted as an 'attack on Boris', as the Telegraph puts it in its splash.
On the 'mad jester' music scene (see what I did there?), Boris and pals have a new tune, with some figures warning the UK will end up paying more in EU bailouts and EU budgets in future years. Remain dismiss this as yet more "lies", not least as the UK can veto and has vetoed such events. The FT has a front page story on high street bank staff being trained to answer Brexit queries to "reassure customers". And the Be-Leavers think they smell panic in the Remain camp after two more weekend polls putting Brexit ahead.
Tomorrow is Cameron's second outing on telly, in an ITV special that is likely to have lots of viewers. The PM may again end up being a punchbag for all the ills of his Government and will have to find a new way of telling his Project Fear story without looking shrill. Boris faces being the only bloke in the 3-on-3 ITV debate on Thursday. Will that help him or cramp his style?
The suspicion continues within Labour ranks that Jeremy Corbyn's "inner outer" has undermined the party's pitch to its own supporters in the EU referendum. John Prescott popped up on Sunday Politics to warn "It seems as if we are just enjoying the fight between them [the Conservative Party] but that is not putting Labour's position".
Tom Watson insisted on Murnaghan that Corbyn had a packed schedule of EU events coming up, as did the leader himself on Radio 4. But it's clear that JC is as interested in reform as he is in staying in the EU. And it may well be he wants some wriggle room to insist some in the party (and trade unions) are principled Leavers.
PoliticsHome has discovered that Corbyn's office changed a line in a letter signed by 200 Labour MPs. The letter had originally said the party was "united in arguing that we are better off remaining in the European Union". After intervention from Team Jez, that was changed to Labour "overwhelmingly believes we are better off". PolHome quotes one source saying "People are very angry and a lot of them think Jeremy is actively sabotaging the Remain campaign."
There's a few Labour stories kicking around today, not least the Telegraph's that Momentum chief Jon Lansman has been working from a desk in the leader's office, on at least four occasions last month. Lansman denies he's working full time for JC or has a permanent desk in his office but some MPs warn it could breach Parliamentary rules.
Damian McBride meanwhile appears to have committed a classic Twitter DM blunder, tweeting "V good! BTW, I'll email you another VAT-related idea this evening. Just in case there's a day/interview where MG is looking for a new line." Yes, MG was Michael Gove. McBride, a VAT anorak from his Treasury days, insists he was just helping a friend rather than the Leave campaign. But the Indy reports that Nick Herbert, head of the Conservative Remain campaign, has written to Gove and to McBride's boss Emily Thornberry, demanding an explanation.
And in another development, sources close to John McDonnell say he is looking at the concept of a Universal Basic Income. All food for thought for the PLP to chew on tonight.
The only serious legislative action ahead of the referendum is the Investigatory Powers Bill and today its returns to the Commons for its Report Stage, having been carried over from the last Parliamentary session.
This is a mammoth bill which is facing the twin challenge of sceptics in the Commons and Lords, as well as an immovable deadline that it has to be passed by the end of the year (when the current DRIPA act runs out). David Davis has an important amendment seeking to give the judiciary the first step in approving more surveillance, but many others have amendments too.
Labour under Andy Burnham and Keir Starmer seem to be edging towards giving the bill a fair wind now, after Government concessions of a 'privacy clause', trade union protections and a fresh review by independent QC David Anderson.
But the Sun has a story today that some Labour MPs want the party to be tougher in supporting the bill – and up to 80 MPs are vowing to back the measures regardless in a bid to show the party is 'not weak on national security'. Chris Leslie is among the rebels, but Tom Watson is believed to have real doubts about the civil liberties aspects of the bill.
BECAUSE YOU'VE READ THIS FAR…
Well, the Business Innovation and Skills Select Committee has finally got its man. Sports Direct boss Mike Ashley has agreed to "defend the good name" of his firm before the MPs – just days after claiming he would defy their summons.
Ashley, don't forget, had insisted the MPs visit him on his home turf of his huge warehouse in Shirebrook near Mansfield. A tug-of-war ensued and he was warned he risked breaching Parliamentary privilege.
Last night, in a letter headed "NOTHING TO HIDE" in bold capital letters (which makes him sound suspiciously like a green ink brigader…or maybe a Twitter Egg), Ashley told committee chairman Iain Wright: "I was merely seeking to avoid an unnecessary media circus… after much reflection over the last 48 hours, I have concluded that a lengthy legal battle would be of no benefit to either of us." Let's see what happens when he appears tomorrow.
Is this why David Cameron has so many 'Date Nights' (ie nights away from the telly) with Sam Cam? The Telegraph puts on its front page a report that British couples may be having less sex because of "addictive television box sets".
The paper quotes a Cambridge statistician who says it is "worrying" that in 1990 couples made love about five times a month, but by 2010 that number had fallen to three. Prof David Spiegelhalter said: "I think it's the box set, Netflix. OMG I've got to watch the entire second series of Game of Thrones." Apparently, "if current trends continue couples would not be having sex at all by 2030."
The PM loves a good box set (as long as it's not Borgen). But as he told us on his 2015 general election trip to the Belfast set of Game of Thrones, he watches that show on his lonesome - because Sam isn't that interested in bitter tribal battles. Mrs C, who much prefers dinner out or watching a gig, has seen enough of those in her time, after all...
If you're reading this on the web, sign-up HERE to get the WaughZone delivered to your inbox.
Got something you want to share? Please send any stories/tips/quotes/pix/plugs/gossip to Paul Waugh (paul.waugh@huffingtonpost.com), Ned Simons (ned.simons@huffingtonpost.com), Graeme Demianyk (graeme.demianyk@huffingtonpost.com) and Owen Bennett (owen.bennett@huffingtonpost.com)
Popular in the Community