The five things you need to know on Monday June 20, 2016…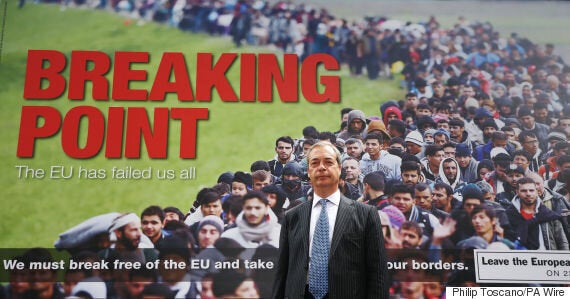 1) TURNING OVER A NEW LEAVE
In the final days of any campaign, the main effort is to ram home your own messages, while not repeating that of your opponents. For Remain, the focus is all economy and risk; for Leave, the focus is immigration and control.
But Baroness Warsi's switch from Leave to Remain has given David Cameron a much-needed boost as we head for the last lap of this marathon race. Why? Because the former Tory chairman (no pal of the PM) is undoing all the hard work of the 'new Leave' camp of Boris, Gove and Gisela, and exposing the 'old Leave' camp of Farage, the extremes on right and left, and a few 1990s-era backbenchers.
No10 know from focus groups that undecided voters tempted by Brexit are put off by the Farage effect. And Farage doubled down on the more unsavoury elements of his campaign with that immigration poster last week. Downing Street had been crossing its fingers someone like Farage would 'do something stupid' in the last week of the campaign, and so it proved.
Baroness Warsi has turned over her former fellow Leavers in her Times interview, announcing she is no longer a Brexiter and is backing Remain in protest at the Leave camp's tone on immigration. She told the Today programme that she was sick of the "nudge, nudge, wink, wink" xenophobia of the Brexiters and concluded it was time to "leave Leave".
Warsi talked of the "hate" of some of the Brexiters. But it was Farage himself who made things worse on SkyNews yesterday as he linked his poster with the death of Jo Cox. "I wish an innocent Member of Parliament hadn't been gunned down on the street…frankly had that not happened, I don't think we would have had the kind of row that we've had over it." And on the Today programme he said "it was unfortunate timing" that the poster came out the same day as Jo's murder. Yes, you read that right. 'Unfortunate timing'. That was Farage joining the dots between her death and the Brexit message on immigration. For many of his critics, the whole thing was gross, point blank.
Still, immigration is Remain's big weak spot. It just cannot compete with Leave's simple message that quitting the EU is the only way of 'taking control of our borders'. Public concern was obvious on Question Time last night, though Cameron finally tried to fight back by pointing out that the EU's economy was getting stronger (and the stronger it gets the less migration we'll get). And on Turkey, Cameron did a good job of saying why its EU membership was a 'red herring', though he was so worried he actually announced for the first time he would veto it if it arose in the next couple of years.
BBCQT showed Cameron at his best (an impressive debater, media performer and political pragmatist) and his worst (a tactical blunderer whose net migration target and decision to call an EU referendum are self-inflicted wounds).
Jeremy Corbyn's candour on Marr on the logic of the EU's freedom of movement has gifted his opponents a message to send to Labour voters worried about migration. The Telegraph reports Labour MPs were furious at the own goal, and the Sun runs with it hard on its splash. Some even think that while Farage puts off many undecideds, he is a powerful motivator for Labour Brexiteers worried about foreigners taking their jobs and undercutting their wages.
Ultimately, it all depends on how you define what makes us British. We have a new HuffPost blog by Johnny Mercer, the former soldier and one of the stars of the 2015 Tory intake, on why he's backing Remain. "The opportunism of individuals like Nigel Farage appearing on a beach in Kent the morning after some poor migrants have been rescued, then running through the local market shouting 'We want our Country back', frankly stinks. It isn't me, and it isn't British."
2) MIKE AND THE MECHANICS
David Cameron loves a car/economy metaphor. Last year, he was a one-man repeat loop, declaring 'don't hand the keys of the car back to the guys who crashed it' [Miliband and Balls]. This year, it's all about those experts who are like mechanics warning about the dangers of driving towards Brexit.
"Would you take a risk with your family getting into a faulty car? No you wouldn't," he told the Sunday Times. He repeated this with variations many, many times on the BBC Question Time special last night. Dodgy brakes, fuel gauge, steering, you name it, Michael Gove is like a second hand car salesman telling you the old girl had 'one careful owner, honest, Guv', kicking the tyres to make their point. Gove, famously, took seven attempts to pass his driving test.
But maybe that's the weakness of the mechanics-as-experts argument: everyone knows they (like salesmen) vary wildly in their estimates, and plenty have a self-interest in sucking their teeth and saying 'ooh, you need a new set of sparks mate'.
Still, there's good news on the car front for the PM today as the British car industry - and the Society of Motor Manufacturers and Traders' (SMMT) - warned quitting the EU would "jeopardise" its success. Vauxhall has joined Richard Branson and other business chiefs to warn of the dangers to jobs posed by Brexit.
Another mechanic on the Brexit side that No10 loves to see as part of the voter-toxic 'motley crew' of Farage, Le Pen, Putin etc is George Galloway. BuzzFeed reports that Galloway is set to settle his former assistant in a libel case.
The Commons will come together to pay tribute to Jo Cox this afternoon. An hour has been set aside for speeches, before MPs then head over to St Margaret's Church opposite Westminster for a memorial service. MPs will find it difficult to fight back the tears today, and so will many of us in the press gallery who knew her.
Jo Cox's GoFundMe appeal is now up to £810,000, a worthy way of honouring her own generosity of spirit, selfless compassion and dogged determination to raise issues that drop off the headlines.
The Telegraph reports that Deputy Speaker Lindsay Hoyle, who chairs a parliamentary security panel, calling for a social media investigator to protect women MPs particularly from online abuse. Theresa May is due to meet MPs today to discuss moves to improve security.
On the Westminster Hour last night, Kate Hoey said that she was against security checks that could deter constituents from meeting MPs, saying "we need to get this in perspective too. In a week or two people might feel slightly different." But Amber Rudd said that she was open to the idea of tighter security, mainly because that's exactly what MPs' relatives and friends wanted to protect their loved ones.
The PM tweeted a link to Jo's final pro-EU article she wrote before her death. Whether there's any causal link between her murder and the slight shift in the polls towards the In camp remains to be seen. Normally, referendums see polls shifting back to the status quo in the final days before polling day. But it's all very close.
BECAUSE YOU'VE READ THIS FAR…
4) FOOTBALL'S COMING HOME?
Thanks to the generous progress offered to those who come second and third in their groups, even if England lose tonight, the team won't yet be coming home early from the Euros. Will the Remain camp have a football-themed poster along the lines of "Our teams [Eng, NI and Wales could all go through] want to stay on the pitch in Euro2016. Vote on Thursday to keep the UK playing in Europe"?
Then again, England doing well in the euros could help the Leave camp, simply because it would highlight a positive nationalism, a sense that it's us beating Europe at our own game.
One big coup for the Remain camp today is that all 20 Premier League clubs have come out for the In camp. Chief exec Richard Scudamore told 5Live the UK would be "respected less around the world for not wanting to be part of something".
Leave campaigners could argue that of last season's 20 Premier League clubs only Crystal Palace, Stoke City, Tottenham Hotspur and West Bromwich Albion remain under the control of British owners.
But while the FA have banned Roy Hodgson and the England players from expressing a view on Brexit, I'm guessing stars like Eric Dier would back Remain (he spent most of his childhood in Portugal, where his dad worked as an ex-pat). And French stars N'Golo Kante and Dimitri Payet would not have qualified for a work permit last summer when they joined Leicester City and West Ham – had they not been EU passport holders.
A BBC investigation has found that would-be-homeowners in large parts of England are being priced out of a government scheme to help first-time buyers. The Help to Buy Individual Savings Account (HTB Isa) was introduced last year to help people save for a home.
But in many areas, the average price of a starter home exceeds the maximum purchase cap of £250,000, or £450,000 in London. Housing charity Shelter said it only helped "the lucky few" and the government should focus on building more homes.
Meanwhile, Labour is warning Brexit would exacerbate the housing crisis and highlighted figures revealing that the European Investment Bank has invested over £4bn in affordable homes over the past 18 years. Labour's John Healey has blogged for us on why the EU can help fix the UK's housing crisis.
If you're reading this on the web, sign-up HERE to get the WaughZone delivered to your inbox.
Got something you want to share? Please send any stories/tips/quotes/pix/plugs/gossip to Paul Waugh (paul.waugh@huffingtonpost.com), Ned Simons (ned.simons@huffingtonpost.com), Graeme Demianyk (graeme.demianyk@huffingtonpost.com) and Owen Bennett (owen.bennett@huffingtonpost.com)