The five things you need to know on Thursday, October 20…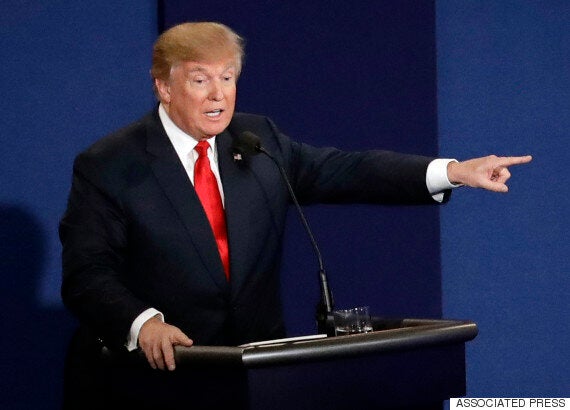 That makes him the first Republican or Democrat candidate in living memory to suggest he would actually reject the outcome. Trump is used to breaking the rules, that's his whole USP. But while his words will galvanise his base, they may well deter the very people he needs to win: the independent and wavering voters in the middle, who already suspect he's just too unstatesmanlike for the White House.
Trump's line that "I will look at it [the election result] at the time…I will keep you in suspense" also risks making him sound like a tinpot dictator. And the resemblance to Vladimir Putin, who has long been accused of not exactly adhering to Western-style democracy, was unhelpful too. Especially as Clinton hammered home her line that Trump was a 'puppet' of the Kremlin.
One of the worst moments for Trump (apart from his 'bad hombres' soundbite) was when he actually suggested US intelligence agencies were wrong to assume Russia was cyberhacking the US election through Wikileaks and other methods: "our country has no idea" of what Russia was upto, the Donald claimed.
There's a lesson too here, perhaps, for a British audience. Trump was not ready to accept the election result because "the media is so corrupt….it poisoned the minds of the voters….I think the voters are seeing through it".
That sounds precisely like some of the more avid Corbynistas, who are ready to say that even a Labour hammering in a general election would not be Jeremy Corbyn's fault, it would be the fault of the mainstream media (and the PLP). Trump's talk of 'rigged' elections also had echoes of John McDonnell's talk of a 'rigged purge' of Labour members this summer. And Farage's claims that the Oldham by-election was rigged too last year. Not great company to be in, some Labour MPs mutter.
Corbyn had a good PMQs on health spending yesterday, but after that MORI poll giving the Tories another record lead (as UKIP collapse), talk of a spring election is growing again among Government backbenchers.
Tonight is Theresa May's first EU summit as PM and the overnight brief from Government officials is that she will tell fellow leaders "there will be no second referendum". As usual, the Brussels working dinner has several 'courses' of discussion, with the main course set to be the EU's relations with Russia. Government sources couldn't tell us yesterday if Brexit would be the starter, pudding or cheese 'course'. Something tells me it's unlikely to be the amuse bouche, that's for sure.
In our briefing we also learned that May will tell colleagues she wants a "smooth, constructive, orderly" exit for the UK. So, it's not 'soft' or 'hard', it's 'smooth' Brexit. Sir Humphrey Appleby would be proud of that one.
Philip Hammond however seems pretty determined not to have a 'hard' landing. In his evidence to the Treasury Select Committee, the most striking moment was his warning to Brexiteer Cabinet ministers not to box the PM in. "Those that are undermining the effort are those that are seeking to close down that negotiating stance, seeking to arrive at hard decisions that we don't need at this stage." The Sun confirms from sources close to Hammond that he was talking specifically about Liam Fox - and customs unions.
The Chancellor also rather boldly appeared to take aim at May's own decision to include students in the net migration target. He said the key question was not what politicians thought, but ''what does the public understand should be included within that definition?".
It's Brexit Questions in the House at 9.30am, with DD v Keir Starmer, which is shaping up to be the best Commons telly since Osborne v Balls. They may well want to discuss the Lords EU Committee, which today has a report stating that "Parliamentary scrutiny should start before Article 50 is triggered, with the Government asking Parliament to approve the negotiating guidelines."
Former No.10 aide Daniel Korski, who is loathed by Eurosceptics, has written a long piece for Politico explaining why he felt Brexit won the day. He points out that in 2014 Cameron said "I will not take no for an answer and when it comes to free movement I will get what Britain needs". Those hoping for 'soft Brexit' will be praying the EU's answers on this are a bit more helpful from now on.
There's a couple of new twists on the vexed issue of identifying the ages of child refugees arriving in the UK from The Jungle in Calais. First, Jack Straw makes the Mail splash for supporting the idea of dental checks to ascertain age.
But second, and this is more speculative but potentially very embarrassing for some, is this new claim that one of the young men (with 'crow's feet') photographed was actually the interpreter for the youths from the camp. Gary Lineker, who came out strongly in support of the child refugees, may relish that one, if it turns out to be true. David Davies, who told the BBC that UK asylum centres have men turning up with "grey hair who claim to be 17, not that anyone believes it", may not.
Meanwhile, Citizens UK, a charity operating in the Calais refugee camp, is threatening to launch legal action against the British government unless it intervenes in the cases of 30 of the most vulnerable children stranded there.
BECAUSE YOU'VE READ THIS FAR…
It's the long-awaited Commons backbench debate on BHS today, with the added kicker of an amendment to strip Sir Philip Green of his knighthood. The amendment, tabled by Tory MP Richard Fuller, has already stripped him of his honour, at least in print on the Order Paper.
It says this House notes that: "Philip Green received his knighthood for his services for the retail industry, believes his actions raise the question of whether he should be allowed to continue to be a holder of the honour and calls on the Honours Forfeiture Committee to recommend his knighthood be cancelled and annulled."
The big question is whether Speaker Bercow will allow a non-binding vote on the motion to allow MPs to put on record their wishes (which can only be delivered by the non-political Forfeiture Committee). The BBC says Sir Philip is meeting the pensions regulator either today or tomorrow to hammer out a payment. No wonder some MPs say that smells of 'cash for (keeping your) honours'
An historic injustice is set to be righted with the news that the Government is to grant posthumous pardons to thousands of gay and bisexual men convicted of now-abolished offences. Justice Minister Sam Gyimah said the "hugely important" move honours a government commitment made after World War Two code-breaker Alan Turing was pardoned in 2013.
The so-called "Turing law" will take the form of a new Goverment clause to the Policing and Crime Bill, which the MoJ says will be based on an amendment from Lib Dem peer Lord Sharkey. The change raises the prospect that Oscar Wilde could get a posthumous pardon, a move long advocated by Stonewall, although the complexity of the evidence that led to his conviction in 1895 for gross indecency may make that difficult.
The government has declined to support a private members' bill on the subject, brought forward by the SNP's John Nicolson, which is due to be debated tomorrow.
If you're reading this on the web, sign-up HERE to get the WaughZone delivered to your inbox.
Got something you want to share? Please send any stories/tips/quotes/pix/plugs/gossip to Paul Waugh (paul.waugh@huffingtonpost.com), Ned Simons (ned.simons@huffingtonpost.com), Martha Gill (martha.gill@huffingtonpost.com) and Owen Bennett (owen.bennett@huffingtonpost.com)