The five things you need to know on Tuesday, November 22…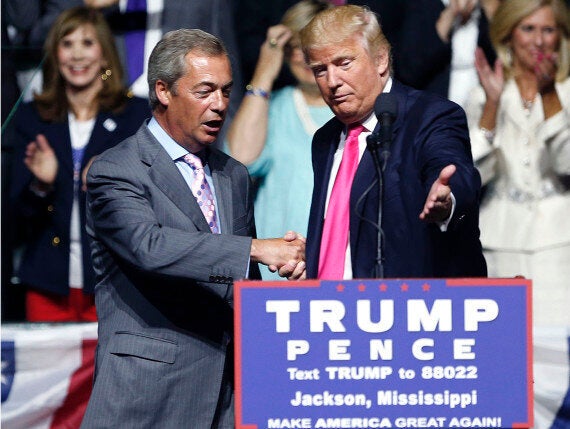 Donald Trump's overnight tweets are certainly keeping us early morning journalists in work. They are also keeping No.10 busy.
The US President Elect's latest, suggesting that Nigel Farage would "do a great job" as the UK's ambassador in Washington, was the Trumpiest of Trump tweets. It defied protocol and managed to undermine both Theresa May and Sir Kim Darroch, our current ambassador.
Darroch, who spent years under Blair, Brown and Cameron as our man in Brussels, was described by Farage only last week as "a fanatical Europhile". No.10 this morning was a diplomatic as it could be: "There is no vacancy. We have an excellent ambassador to the US."
No10 may feel a tad peeved as it confirmed yesterday that a super-quick state visit with all the Buckingham Palace trimmings was 'under consideration' for Trump next year.
May and many of her team loathe Farage so much that it's inconceivable he'd have any formal let alone informal link role between the White House and the Government. But the real question is whether Trump will continue his Twitter diplomacy after he takes office, or if he's just getting this all out of his system before Jan 20. 'Can You Do That?' is not a question the billionaire likes to hear.
Yet before everyone gets high and mighty about how sacrosanct the civil service is, remember that Peter Jay, Jim Callaghan's son-in-law, was made US ambassador at just 40 with no previous experience. Oh and Cameron's chief of staff Ed Llewellyn is to be our man in Paris.
Just how Philip Hammond deals with welfare cuts - and their impact on Theresa May's 'just managing' narrative - is one of the big questions for the Autumn Statement tomorrow. As I wrote here yesterday, Stephen Crabb seemed to have one answer: don't reverse the cuts to Universal Credit but perhaps delay or finesse them while giving broader help to all.
There's certainly something moving as ministers have been telling MPs there will be an answer. The Sun suggests Hammond will 'soften the blow' of the cuts after No10 stressed it was a political priority. The Guardian has the detail that while the cuts won't be reversed, tapers may be changed and phasing may be slowed. IDS is increasingly confident that this will be his final victory over Osborne's tarnishing of his flagship scheme. But where will Hammond claw back the cash?
And May has not been afraid to distance herself (or 'dump on', some Cameroons say) the Osborne/Cameron era since she took over. Today, we learn of a new approach to broadband that implicitly disses the last Government's approach. Last night, the 'pay to stay' plan for council tenants was dropped. It all feels like barnacles being scraped off the boat - for Brexit or for a snap election?
Hammond is no pushover, however. He won his battle with May on workers on boards yesterday, and is more interested in long-term goals than what some see as Downing Street gimmicks. No10's desire for a headline versus Treasury stubbornness has long been a theme of PM-Chancellor relationships.
In the Times today, Rachel Sylvester points out that Hammond is as much of a control freak as May, even to the extent of wanting to drive his own ministerial car. He once said: "My wife's car is extremely messy, with half-sucked boiled sweets and old parking vouchers all over the place. Mine is very clean. I like silence when I'm driving. I prefer to be in the car on my own." Just how much Theresa drives, in the front or back seat, will determine this Government's path in coming years.
Way back when he was a new Opposition leader trying to detoxify his party, David Cameron declared his priorities in public life could be summed up "in three letters: NHS". Today, the three letters that catch the eye are NAO, as the National Audit Office published its blood-curdling warning on a looming £56bn financial black hole.
The watchdog declares that "financial problems are endemic and this is not sustainable…It is fair to say aggressive efficiency targets have helped to swell the ranks of trusts in deficit over the last few years." Frank Field warns there will be "a complete financial collapse by 2020" (he's blogged for us HERE). This is why some are hoping social care will get cash help in the Autumn Statement.
Still, the Government must have been delighted then that many papers have put on their front pages something else: NHS 'tourism'. DH perm sec Chris Wormald (former boss at DfE under Gove and seen by many was a tip for Cabinet Secretary one day) told MPs that forcing patients to show two forms of ID for non-emergency care had saved lots of money when trialled in Peterborough.
The issue of 'health tourism' is highly controversial. Even the highest estimate of £500m is a drop in the ocean compared to NHS deficits and overall spending, but ministers know the raw political power of talking about migrants not paying for services they use.
BECAUSE YOU'VE READ THIS FAR…
Yes, the day has finally arrived. David Davis is meeting arch euro-federalist Guy Verhofstadt, the European Parliament's chief negotiator, in Strasbourg at 9.30am. The former Belgian PM, who is almost as much of a survivor as DD, said he was looking forward to a "hell of a conversation" over the non-negotiability of freedom of movement and the single market. DD used his catchphrase 'get thee behind me Satan' to once describe Verhofstadt.
Yesterday DD had a quieter, more civilised meeting with the man who really matters, the EU's lead Brexit negotiator Michel Barnier. It's thought they talked in English.
Theresa May's hint yesterday to the CBI that she too wants to avoid a "cliff edge" Brexit came as No10 too refused to rule out a transitional deal, once we are out in April 2019. Note that DD is more pragmatic than many think, and a "smooth Brexit" is not impossible for many Euroscep backbenchers now.
As for the vexed issue of Article 50, at 9.45am the Justice Committee takes evidence from the Lord Chief Justice, Lord Thomas of Cwmgiedd, on his annual report. Will any enterprising MP dare ask about the High Court and Supreme Court case?
The FT has an interview with the European Court of Justice president Koen Lenaerts. He says Article 50 "can be interpreted by our court like any other provision of union law". It would need a case referred to it first, but….
Monday night Fight Night at the PLP has returned. After Jeremy Corbyn coming under fire over Nato last week, it was John McDonnell's turn last night. Things got a bit spiky after John McDonnell previewed his tests for the coming autumn statement. Peter Kyle wanted McDonnell to explain why he hadn't condemned the idea of a deselection threat to Hilary Benn. There was "mutters of derision" when the Shad Chancellor said Benn was a "friend".
But other MPs were just as angry with Ken Loach, director of 'I, Daniel Blake'. It was claimed that Loach had told an audience after a Sheffield screening of his movie that "Labour MPs are a disgrace, but they are a tiny clique and we must not let them divide us". Local MP Angela Smith demanded that McDonnell dissociate himself from those remarks and he said he would publicly, after he got to the bottom of the allegations.
Anyway, McDonnell did phone Loach. His spokesman told me: "Ken confirmed to him that he only repeated his view that it was wrong when MPs had sought to undermine Jeremy's leadership during the summer." Sounds like there will be no public dressing down of Loach, far from it. But suggestions linger that Labour party staff were forced to facilitate the Loach movie against their will.
Meanwhile, as we reported last night, the NEC will today be told Labour is getting "battle ready" for a snap general election and has hired a new ad agency and polling firm. The ad agency, Krow communications, also works for Virgin Trains. And the pollsters BMG have been in line with other pollsters lately suggesting a big lead for the Tories. ICM yesterday gave a big lead to the Tories on the economy, bigger than 2010-2015, when Strictly was just a twinkle in Ed Balls' eye.
If you're reading this on the web, sign-up HERE to get the WaughZone delivered to your inbox.
Got something you want to share? Please send any stories/tips/quotes/pix/plugs/gossip to Paul Waugh (paul.waugh@huffingtonpost.com), Ned Simons (ned.simons@huffingtonpost.com), Martha Gill (martha.gill@huffingtonpost.com) and Owen Bennett (owen.bennett@huffingtonpost.com)