The five things you need to know on Wednesday, February 15…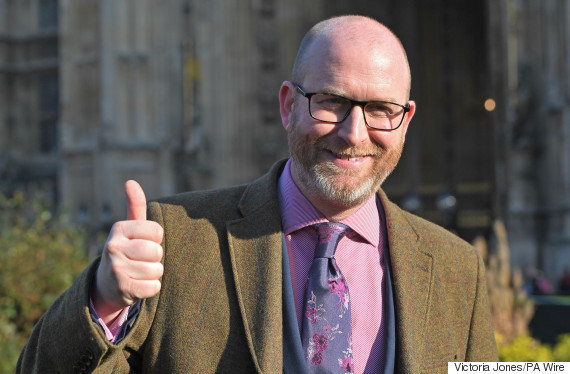 1) HILLSBOROUGH INQUIRIES
UKIP leader Paul Nuttall certainly took a gamble in standing in the Stoke-on-Trent Central by-election, and the biggest risk now appears to be his own judgement and character. Yesterday he admitted that claims on his website that he had 'lost personal friends' in the Hillsborough football disaster were "wrong".
His press officer Lynda Roughley has taken the blame for the false quote and offered her resignation, though her line that she 'made this mistake' may not wash. Making up a quote about a tragedy in which 96 people lost their lives is not just a 'mistake' like a typo in a press release. More worrying are reports in the Guardian that Nuttall is still facing questions as to whether he was even at Hillsborough at all.
He told Radio City in Liverpool yesterday: "I was there on that day. I have witnesses, people who will stand up in court and back me up 100%." Let's see if they stand up, not in court, but in the court of public opinion first. Nuttall was 12 at the time of the disaster and one of his former teachers, a Roman Catholic priest, has told the Guardian that the school believed it had been aware of the identities of every boy who had been at Hillsborough in order to help them through a difficult period - and that Nuttall was not among them.
UKIP can normally overcome what it derides as 'Westminster village' stories that focus on things like Nuttall's electoral address in Stoke, his Phd that never was or its general incompetence in electing new leaders. But its Trump-style brashness has a downside too and donor Arron Banks made the Hillsborough narrative much worse by declaring on Twitter that he was "sick to death" of people "milking" the tragedy, adding it was 'an awful accident' and 'not some cultural happening'.
Nigel Farage, whose Teflon-like abilities may be stronger than his successor's, has meanwhile decided he won't do any more campaigning in Stoke. Our Kipper expert Owen Bennett reports that he has fallen out with Nuttall's close adviser Lisa Duffy. Just when UKIP needs its former leader to help it win a Parliamentary seat he never could, Farage may be missing in action.
2) COPELAND STRATEGY
Theresa May spent part of Valentine's Day taking a phone call from Donald Trump, during which she insisted she was 'looking forward' to his State Visit to the UK 'later this year'. Unusually, No.10 has decided not to reveal how long the phone call lasted.
Today, the PM is expected to send a Conservative love-letter to the voters in the Copeland by-election, with possibly even a surprise personal visit to back local candidate Trudy Harrison. Meanwhile, Labour aides tell the Telegraph Jeremy Corbyn is not set to visit the Cumbria seat again before polling day next Thursday.
It's worth restating just how important nuclear power is in Copeland, with Sellafield providing the vast majority of its skilled manufacturing and technical jobs. And plans for a new power station at Moorside, on which 20,000 jobs depend, are in real doubt after Toshiba yesterday said it was looking to sell its stake in the NuGen consortium behind the new plant.
Although NuGen put out a statement that Toshiba 'remains committed' to the plans, the FT points out the Japanese firm said it would no longer take on any of the financial risk of construction. That leaves the consortium struggling to find a new backer. Is this a repeat of Nissan, where a firm threatens to quit unless it can get Government guarantees? Will May offer to underwrite the plans in another example of a post-Brexit, interventionist industrial policy? Will that be enough to steal the seat from Labour?
Local Labour candidate Gill Troughton said yesterday a Labour government would indeed step in and underwrite Moorside. One Tory MP who has been up in the seat tells me some Labour voters look like they will be staying at home rather than voting for Corbyn, who is still seen as unreliable on nuclear power.
3) GROUND CONTROL
Diane Abbott has become the latest high profile female MP to warn of the toxic nature of the growing levels of sexist online abuse. In her Guardian article she also points to the racist slurs and death threats directed at her, adding that if she were a young woman now she would think twice about becoming an MP at all: "even the young, recklessly fearless Diane Abbott might have paused for thought."
Abbott also talks of the "horrible coverage in a Sunday tabloid of a misogynist text exchange about me sent by a cabinet minister". She was referring to a Mail on Sunday story that David Davis had texted a colleague to deny any attempt to embrace the Shadow Home Secretary after the Brexit vote last week, because "I am not blind". Davis has since apologised but Shami Chakrabarti, who was present during the Strangers' Bar incident says he had been "very silly, sexist and patronising".
But the political problems of last week's Labour split over the Brexit vote rumble on. Momentum yesterday revealed that Abbott would be joined by Rachael Maskell and Clive Lewis on a tour of Brexit-voting areas such as Sunderland, Barnsley, Bradford and Dagenham. Labour MP Michael Dugher has told PoliticsHome the 'Take Back Control' tour was 'crackers' because it looked like a plan to get "a bunch of thorough-going metropolitans to rock up from London". The Sun points out the tour is due to start on April Fool's Day and that Lewis and Maskell voted against triggering Article 50.
BECAUSE YOU'VE READ THIS FAR…
An orange alligator has been discovered in the US. And they're calling it 'the Trumpigator'.
4) TO AND FRO
Many in Government were hoping March 7, the day before the Budget, would be a nice early delivery date for Brexit. But will the date now slip, thanks to the House of Lords? David Davis was on his own charm offensive around Europe again yesterday and suggested the Upper House could cause a hiccup in the passage of the EU (Notification of Withdrawal) Bill.
During a Q&A with his Swedish counterpart, DD said the Lords "will do its job of scrutiny, we'll have some passing backwards and forwards, we call it ping pong, you can imagine why, backwards and forwards of the bill, but I expect that to be resolved in good time before the end of March". He added that it was possible Article 50 would still not be triggered at the scheduled summit of EU leaders on 9 March.
Lib Dem peer Dick Newby has told the Guardian: "My guess is that it could be in the Commons on the 13th and back here on the 14th". Newby also claimed an alliance of Lib Dem, Labour and crossbenchers would be back an amendment to guarantee rights of EU citizens. Lord Pannick has one nailing down the Government's verbal offer of a Parliamentary vote on a final Brexit deal before it is approved by the European Parliament or Commission.
Labour doesn't want 'extended ping-pong', however, and its fractious relations with 'grandstanding LibDems' may mean this will all peter out. It will be interesting to see if they push their own amendments hard. Given the Commons will chuck any amendments straight back, few expect peers to ping again after the first pong.
5) MATES RATES
The row over the looming business rate rises continues. The first review of the rates for seven years, based on revaluations of property prices, has been a slow-burn story. It was first picked up late last year by the Evening Standard, when it spotted whopping rises expected in the capital.
But outside London there will be winners as well as losers and today the Times splashes its front page with one such beneficiary: Amazon. The online retail giant's warehouses in Swansea, Doncaster and other areas will see their rates fall by £340,000. Though its London HQ will see a rise, the overall boost to its profits is being seized on by high street and smaller shops who say they're already feeling the pain from internet retailers.
There's speculation that the Chancellor could offer some Budget relief to firms hardest hit by the rates rises, but can or will Philip Hammond do anything about their impact on the NHS? The Telegraph splashes on warnings that hospitals and GP surgeries face a £600m rate hike over the next five years. And some health authorities are threatening legal action against a council to demand a rebate or exemption.
If you're reading this on the web, sign-up HERE to get the WaughZone delivered to your inbox.
Got something you want to share? Please send any stories/tips/quotes/pix/plugs/gossip to Paul Waugh (paul.waugh@huffingtonpost.com), Ned Simons (ned.simons@huffingtonpost.com), Martha Gill (martha.gill@huffingtonpost.com) and Owen Bennett (owen.bennett@huffingtonpost.com)