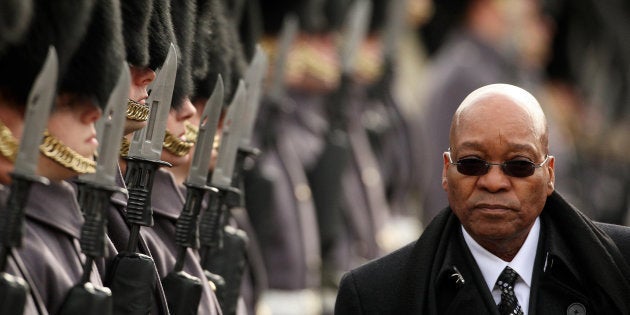 The publisher of investigative journalist Jacques Pauw's controversial book says they knew there would be risks involved when speaking truth to power.
NB Publishers CEO Eloise Wessels, whose company published "The President's Keeper", said in a written response to HuffPost SA that the company stands by Pauw.
"When you speak truth to power, there are risks involved... There is a legal process afoot, and we will respond to the [State Security Agency's] lawyers next week," Wessels said.
The publishers said the SSA is further threatening to go to court to get an "interdict preventing [NB Publishers] from further distribution, further printing, publishing or promotion of the book", should they not withdraw it from bookshops. The SSA is also threatening criminal charges.
The South African Revenue Service (SARS) also said they are seeking legal advice on what steps to take in instituting civil and criminal action against Pauw for the "unlawful disclosure" of "confidential taxpayer information".
The Council for the Advancement of the South African Constitution's (CASAC's) Lawson Naidoo said the SSA's move to have the book retracted underscores the current threat to freedom of expression.
"One is not surprised... it is clear some parts of the intelligence agencies are protecting some of the people against whom allegations have been made. [Pauw] is not just exercising his own freedom of expression, but his book is also an expression of well-researched evidence brought into the public domain," Naidoo said.
"Where have these people [SSA] been for the past week? The book has already achieved tremendous sales. One has to wonder why they are only acting now."
Corruption Watch director David Lewis said this shows how far President Zuma, SARS and the SSA will go to cover up corruption "on the part of all of them", and the role the SSA has in "defending the president".
"This is a direct attempt to interfere with the platform of investigative journalism," Lewis said.
Right2Know's Murray Hunter said: "R2K views these as crude acts of censorship, aimed at intimidating investigative journalists and providing political protection to the corrupt and powerful. This is why South Africa fought the Secrecy Bill, and why we will continue to fight censorship," he said.
Attempts to contact Pauw and the SSA's spokesman, Brian Dube, were unsuccessful.