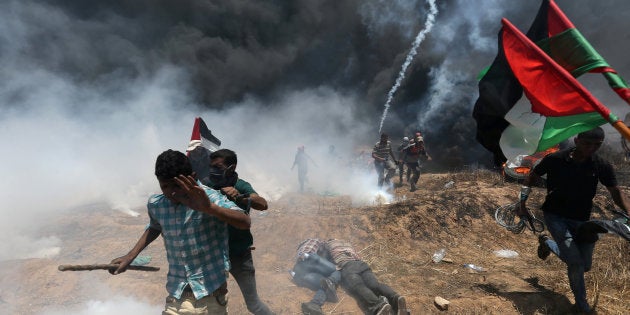 South Africa took a stance against the killing of 58 Palestinians by Israeli armed forces by pulling the SA ambassador out of Israel. The government has since been slammed by the South African Jewish Board of Deputies (SAJBD).
This is a transcribed interview with Zev Krengel, the vice-president of SAJBD.
Q: There are mixed reactions regarding SA's decision to pull out its ambassador from Israel, with some saying it was the right decision and others saying it was not the right move – what is your take on the situation as is?
A: We are extremely upset and disappointed in the South African government. It has never done this - in the whole of democratic South Africa - that means Burundi, Sudan, 500 000 dead in Syria currently with three chemical attacks and they don't do anything ... What's happening in Yemen - they don't do a thing about it. What happened in Zimbabwe - the South African government didn't do anything.
They don't do it anywhere else in the world, but when it comes to the Jewish state, 51 [58 confirmed as of Tuesday morning] people are killed on a border - which we regret all loss of life on both sides - and this is how they behave to the Jewish state? ... the only ones that are hurt is the local Jewish community. It creates more conflict in our country between the Muslim and the Jewish community, and unfortunately we believe that their own government now has totally excluded themselves ... The irony is the South African government has condemned Trump's behaviour for moving the embassy unilaterally. They think it's not helping the peace process. Yet we behave in the exact same way, by unilaterally recalling our ambassador when the rest of the world hasn't and they're not going to. We can condemn America, and condemn Israel but you have to engage. So they're behaving in exactly the same manner in which they're accusing trump of doing - with unilateral decisions, which aren't helping peace.
Q: What ramifications (if any) does the South African government's decision to recall Ambassador Sisa Ngombane with immediate effect have for the country in terms of foreign policy?
A: Unfortunately, South Africa has literally become totally discounted in international foreign policy because our foreign policy is just so outrageous. The biggest danger we, as South Africans have, is what President Trump's going to do to South Africa. We have a free trade agreement with the greatest economy on the planet - the U.S. aid and the amount of money the Americans are putting into ARVs and AIDS is just unbelievable. We're very happy to take America's money, and then we go for America - and go for America's biggest ally in the region to do so.
Does it affect Israel? Absolutely not, Prime Minister Netanyahu was the guest of honour at the military parade with Putin last week. Trump moved the embassy this week, and we're this little country on the tip of Africa that literally the world doesn't listen to anymore. What the South African government has done is going to harm its own system. It's also very much going to hurt the South African local Jewish community that we've never behaved like this in any context before.
In Zimbabwe, there were tanks in the streets in Harare - this is our neighbour - what did South Africa do? We didn't go for President Mugabe, we didn't get the army, we didn't recall our ambassador ... What did President Zuma do? He engaged and sent his envoy there and found out what's going on there and said how can we help?
Placing blame on one side or the other doesn't help solve the conflict. This is not how the ANC has ever behaved, it's not how South Africa has ever behaved at all. Unfortunately, whether it's 51 lives or one life or 58 lives - it's still not 500 000 lives - and somehow it just seems that the South African government - if Muslims kill Muslims - they don't care about it. But the minute Israel does anything, they are in an absolute uproar.
And we as the South African Jewish community are upset and extremely distressed by the double standards our government holds, and the fact that they seem to continuously go against the Jewishfaith. If you really want to make a difference, go there and engage. To disengage you are doing what you're accusing Trump of doing.
Q: This is a serious conflict and essentially, South Africa has now 'walked away', could one say this translates into not wanting to play a meaningful role in finding a resolution to the conflict?
A: It doesn't help anything. If South Africa wanted to make a meaningful impact - we have a really good relationship with Hamas - because we always have to be good friends with a terrorist organisation - say to the Hamas guys: you want to protest against the moving of the American embassy, do the protest 1km from the border then there'll be no loss of life.
The ANC has totally moved away from its policy - even when they were negotiating with its arch-enemy in South Africa, the apartheid regime, they never behaved like this. They have never behaved like this in any foreign policy. We've just discounted ourselves and we've actually made the situation worse, where we could have possibly played a more meaningful role.
We hope that our president and our government really rethink how they want to engage in this conflict because their current approach is not helping anyone.