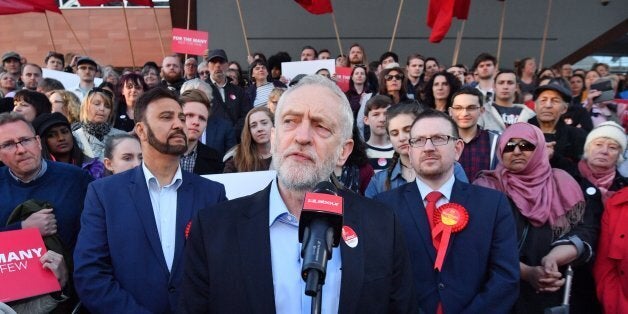 Momentum, the campaign group set up in the wake of Jeremy Corbyn's victory in the 2015 leadership election, has become one of the biggest political success stories of this election. The 24,000 strong campaign group has played an essential role in the mass mobilisation of activists across the country, which in turn proved essential in driving a high turnout at the election - especially among the young.
Building on Jeremy Corbyn's 2016 leadership campaign, Momentum's General Election operation brought in a number of activists from the Bernie Sanders campaign in the US. The American activists' knowhow proved vital in building an innovative and dynamic campaign to mobilise campaigners and galvanise support.
The Sanders people gave short talks on their experiences campaigning in the US and their success in driving Bernie from the position of rank outsider to a serious contender for the Democratic Party nomination. The presence of international activists already points towards a future in which similar political projects collaborate to share ideas, strategies and people.
During the last leadership election Momentum had developed a phone canvassing app designed to allow members to phone bank from home. This allowed our activists to make over 100,000 calls in the 2016 Labour leadership election. An updated version of this app was utilised by Momentum for the General Election, which supplemented our large phone banks in London and elsewhere.
Momentum also developed My Nearest Marginal, an easy to use website designed to direct activists towards their nearest key seat and help to ensure marginal constituencies had enough activists fighting for a Labour victory. More than 100,000 people used My Nearest Marginal during the General Election campaign, over four times the size of Momentum's membership. This was one among many factors which allowed Labour to stack up votes in marginal constituencies, which pundits had assumed Labour would lose, as well as retaking seats lost by Labour in 2015. Seats such as, Gower which saw a swing of 12.9% toward Labour and Derby North which saw an 11.9% swing in our favour.
Over the course of the election, Momentum ran campaign days where we mobilised Momentum supporters to join Labour canvassing sessions in key marginals. We held nearly fifty sessions in constituencies such as Plymouth Sutton and Devonport, Crewe and Nantwich, Sheffield Hallam and
Croydon Central - all of which were gains for Labour, often with extraordinary surges in the Labour vote.
Croydon saw as many as 200 activists turn out for the session, many of whom were new to canvassing.
In the last week of the election, Momentum's Facebook videos reached over 23million views and were watched by 12.7million unique users. Our most viral video, 'Daddy why do you hate me?', achieved 5.4million views in just two days, while a clip of Theresa May refusing to debate with Jeremy Corbyn garnered 4.3million views within just three days.
We also had a significant impact on social media in key areas Labour needed to win, including Cardiff, Derby, Sheffield, Canterbury and Plymouth. In the final week alone, 42.2% of Facebook users in Canterbury viewed our videos, while in Sheffield Hallam the percentage was 55.9%.
When this election began, Theresa May believed Labour had no hope of making gains. She anticipated pushing us into electoral oblivion - instead we have seen a historic resurgence. I'm proud to be part of a movement, Momentum, that has played a pivotal role in scuppering those plans.