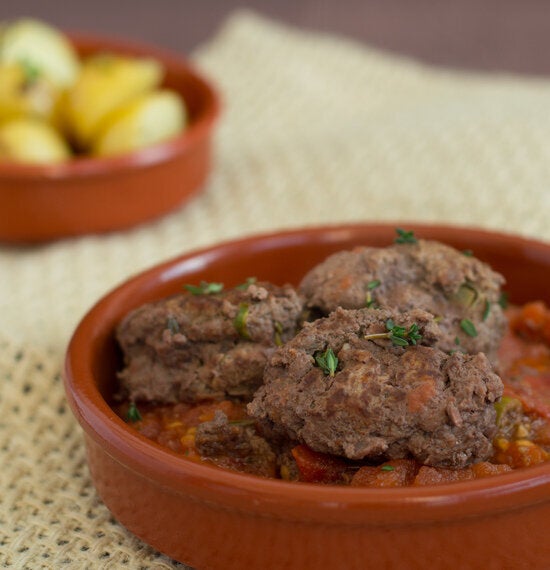 'Albondigas con salsa de tomato' literally translates as 'Meatballs in Tomato Salsa' and as far as I'm aware, it's my first ever Spanish dish!
I'm quite surprised at this statement because I love Spanish food, particularly tapas and that idea of trying a little bit of everything. I say that now because I never used to be. It used to be 'right, I've ordered that dish and that's the only dish I want to eat' (perhaps I'm appreciating the idea of sharing more in my mature years!).
Anyway this dish is lovely and you can really taste the freshness of the thyme and rosemary that accompanies the steak mince. Hope you enjoy it and, as always, let me know what you thought
Makes 12 | Prep 10 Mins | Cooking 20 Mins
3 Spring Onions (very finely chopped)
2 Garlic Cloves (crushed)
Small Handful of Thyme Leaves (chopped)
Salt & Freshly Ground Pepper
Small Handful of Fresh Rosemary (chopped)
Baby Potatoes (optional, to serve)
Fresh Rosemary (optional, to serve)
Small Knob of Butter (optional, to serve)
Into a large bowl add the mince and season well with salt & freshly ground pepper, then add the garlic, spring onions and thyme.
Hand-mix the ingredients so they are fully incorporated and then shape into small, similar-sized balls and place on a baking tray.
Remove the skins from the tomatoes either by using a knife or by placing them in boiling water for 1 minute and then into ice cold water immediately afterwards.
Once the skin has been removed, chop the tomatoes and place in a separate bowl with the rosemary.
Heat a large casserole dish on a medium-high heat with some olive oil, place each meatball into the pan and cook for 5 minutes until browned on all sides.
Add the chopped tomatoes and rosemary, along with the wine and sugar, and allow the alcohol to burn off for a minute.
Add some additional seasoning then cover the casserole dish for a further 12-15 minutes.
Check the meatballs are cooked through and if so, serve immediately with the tomato salsa.
Related