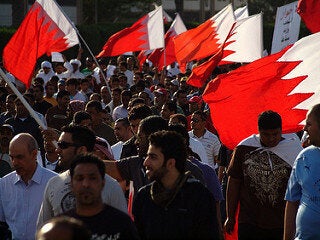 Last month made it five years since activists across Bahrain rose up against the authoritarian Al-Khalifa regime. Their protests followed the Arab Spring movements that had taken off across the Middle East and represented a peaceful call for human rights and democracy.
Following the intervention, there was a lot of lofty rhetoric about reform, with the Bahrain government committing to a 'national dialogue.' This was supported by a drive to improve its image in the Western media that saw it spending tens of millions of dollars on U.K.based PR agencies such as M&C Saatchi.
The crackdown has only continued. Two years ago a new law was introduced that imposes jail sentences of up to seven years and fines of up to 10,000 dinars ($26,500) on anyone who publicly insults the king. The government's hold on social media was evident in 2015, when human rights activist Nabeel Rajab, head of the Bahrain Centre for Human Rights, was locked up for six months for sending a tweet that criticized government institutions.
An April 2015 report by Amnesty International charted and condemned four years of "rampant abuses including torture, arbitrary detentions and excessive use of force against peaceful activists and government critics." Concerns have also been raised by the U.N., but they have been ignored by the Bahraini authorities and their allies.
The U.K. government in particular has gone out of its way to strengthen relations with the regime, with Philip Hammond arguing that Bahrain is a country that is "heading in the right direction."
British government ministers and civil servants have made regular trips to Bahrain to publically reinforce the U.K.'s military and political relationship with the state. It's not just politicians. There have also been recent visits from Prince Andrew and Prince Charles, as well as Bahraini royals visiting the UK to attend the Royal Windsor Horse Show.
The arms companies have treated the conflict as a business opportunity, with a significant increase in arms sales.
Between February 2011 and September 2015, the U.K. licensed £45 million worth of arms to Bahrain. These included machine guns, sniper rifles, gun mountings, assault rifles and anti-armor ammunition. This compares to a total of £6 million ($8.5 million) of arms licenses for the three years prior to the conflict.
Less than six months ago, a Bahraini military delegation was in London for the Defence and Security Equipment International (DSEI) arms fair, where they rubbed shoulders with senior civil servants and some of the biggest arms companies in the world. They are expected to return this month for Security & Policing 2016, an arms fair that focuses on many of the same weapons that are used for internal repression.
The protests were yet another reminder that arms sales and military cooperation can never be apolitical. In November 2013, the House of Commons Foreign Affairs Committee (FAC) published a report on relations between the U.K. and Bahrain/ Saudi Arabia which concluded: "Both the government and the opposition in Bahrain view U.K defence sales as a signal of British support for the government."
They were also a reminder that in politics you have to take sides. Words and deeds matter. The current partnership may benefit the Bahraini government and those that make weapons, but the message it sends to those on the receiving end of the crackdown is that their human rights are negotiable and that their lives are of less concern than arms company profits.
Andrew Smith is a spokesman for Campaign Against Arms Trade (CAAT). CAAT tweets at @CAATuk.
Related