It's 5am. The morning mist hangs thick over New Delhi, mixed with the city's pollution. In a building on Race Course Road in the heart of the Indian capital, a 64-year-old man gets up and starts his morning yoga routine with some simple stretching exercises and deep yogic breathing followed by seated meditation. This, he says, prepares him for his long, grueling 18-hour work day. This man is the prime minister of India, the leader of the world's largest democracy and one of the world's oldest civilisations. Narendra Modi is possibly the first yogi to occupy the Indian prime minister's office. He's most definitely the first to put yoga at the centre of his government and policy-making. He's even appointed a minister of yoga in his cabinet. Thanks to Modi's recommendation to the United Nations, more than 130 countries, an unprecedented number, have agreed to mark International Yoga Day on June 21st this year. His government has rolled out a mammoth yoga programme for civil servants and their families, schools, hospitals, the police and defence forces - we are talking about the provision of free yoga classes for well over three million people! It appears a yoga revolution is brewing in India, the land of its birth.
But it isn't just India. Yoga is everywhere these days. It's fair to say it's become well and truly mainstream. In most Western cities yoga studios are as ubiquitous as fast-food joints or liquor stores. 20 million Americans say they practice yoga. So, what exactly is happening here? How can we explain the meteoric rise of yoga? Is it just a fad or are we witnessing a yoga revolution, much like the counter-culture hippie movement of the 1960's? And who, if anyone, owns it? The word seems to appear everywhere, attached to unrelated activities (boxing yoga, rave yoga) or appropriated in other ways (naked yoga, broga and dog yoga, to name just three).
And with yoga's meteoric rise, there is a sense that yoga might be moving away from its roots...its Indian roots. Is this a good thing? Is it inevitable? Yoga is a path to enlightenment through inner reflection and stillness. But now, it's just as much about flat abs and looking good. So does yoga need to be protected in some way? Like the word 'Champagne' which France protects on behalf of its wine making region, can India claim to own yoga?
Last year, I embarked on a journey with award-winning filmmakers Marie-Helene Carleton and Micah Garen to answer some of these questions in a short documentary for television. The search took us to three countries on three separate continents, countless hours spent trying to sleep on planes, a host of compelling and controversial characters and more questions than we had answers. But one thing became clear early on: this is an important topic, a sort of zeitgeist, not least because hundreds of millions of you practice yoga and the industry is worth billions of dollars. And as yoga becomes more popular in the West, it will illicit a reaction from India, where the current government sees it as its cultural heritage and as a form of cultural capital.
But you'd be amazed at the diversity of the people who occupy the global yoga space: from the Indian spiritual master who embodies yoga wisdom to the right-wing Christian lawyer who is threatened by yoga in his community; from the former WWF wrestler turned yoga entrepreneur to the athletes competing in the International Yoga Sports Federation competition; from patents, copyrights and trademarks to community yoga; from hybrid and gimmicky forms of yoga to traditional lineage-based practices. Yoga now lives in a globalised world freed from the confines of history and geography.
We're now putting together a 90-minute feature film to explore these issues through the characters we met along the way. This is the age of yoga, there's no denying it. And so it's vital that we engage in a debate about yoga's place in society, negotiate what the word means and how it is changing while paying homage to where it came from.
Now, we need your help with funding the post-production so we can submit the documentary to film festivals around the world and add to this important discussion. Please take a moment to check out our Kickstarter page and dig into your wallet and your heart, to help us reach our goal. And tell the world about it. Yoga is all about community. So we are asking the global community for help. Thank you.
https://www.kickstarter.com/projects/198313123/who-owns-yoga
http://www.whoownsyoga.com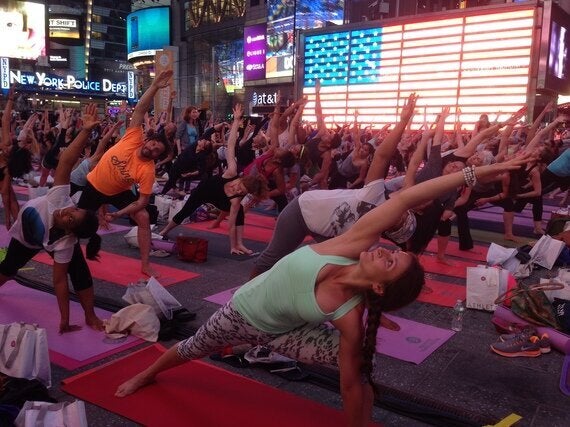 Yoga in New York's Times Square on Summer Solstice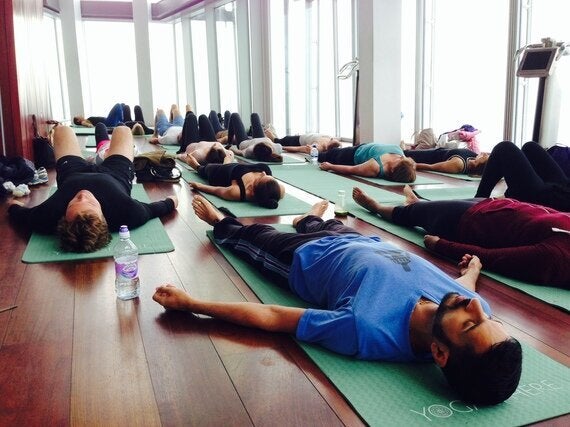 Yoga in The Shard in London, one of Europe's tallest buildings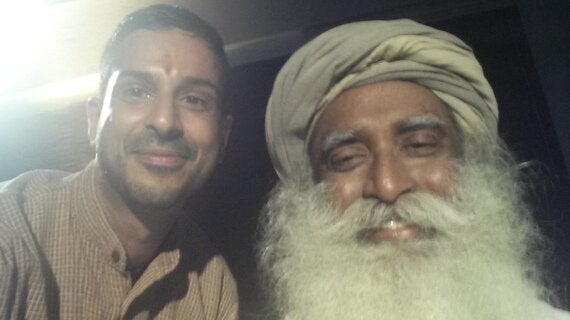 A selfie with Sadhguru Jaggi Vasudev in India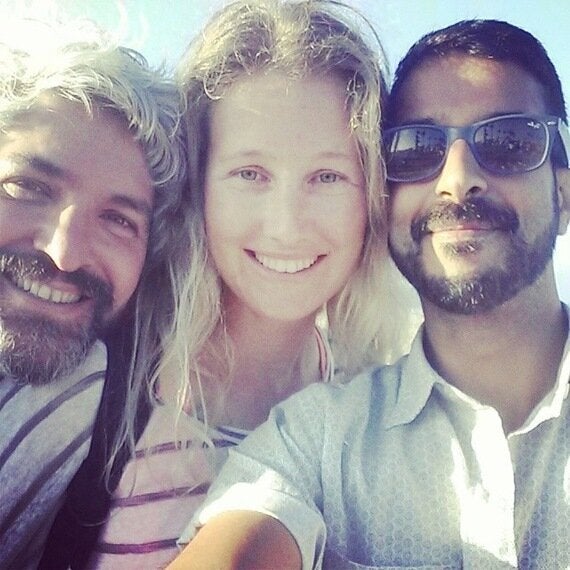 Micah, Marie-Helene and Bhanu - the Who Owns Yoga? team