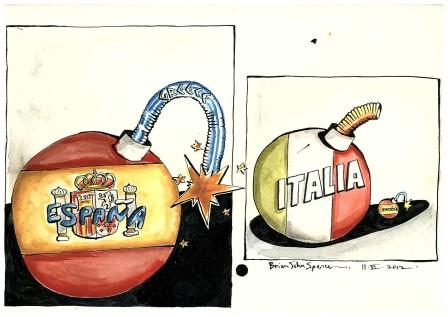 With Greece preparing for a second go at electing a representative government this Sunday, all eyes have been fixed firmly on Spain and the funding woes of its banking system in recent weeks; but with economic indices and market confidence resuming their dip soon after last weekend's Spanish €100bn (£81bn) 'bailout lite', attention is now turning its eyes to Italy.
After days of intense market volatility, the euro bloc breathed a sigh of relief following the bailout which prompted Spanish PM, Mariano Rajoy, to call the opening of credit lines into the Spanish banking system a victory that illustrated the credibility of the euro.
However while major benchmark indexes reacted favourably at first, within hours markets resumed their slide as euphoria faded; triggering acute worry about the sovereign's stability and prompting very real contagion concerns about Italy, the fifth-largest economy in Europe.
Now market actors stand in the shadow of the assiduous rise of sovereign borrowing rates and the widening of bond spreads both in Spain and in Italy. And such are the contagion worries, due to the sheer size of the Italian economy and Spanish exposure, that commentators have even gone as far to suggest that: should Italian banking and sovereign interests be jeopardised by the ongoing debt and growth crisis, Italy will need a bailout. Indeed commentators are readily suggesting that Rome will subsumed into the list of bailees; whilst others have gone as far to say that should Italy call for external funding, American economic actors may take decisive action and intervene on the continental crisis.
Greece, Ireland, Portugal and now Spain have all received colossal bailouts and credit lifelines; and increasingly the reality is emerging that it is only a matter of time until Italy takes off its cap and takes a trip to Brussels.
Spanish borrowing rates are already sitting at around 7%, locking the sovereign out of the money markets, and the situation in Italy is not much better: ladened with massive debt, poor growth, a stalling economy, gloomy economic indicators and the contagious sickening effects of the Spanish troubles. And if Italian PM, Mario Monti, cannot correct this negative trajectory, the likelihood of Italy requiring external credit lines will become a reality; a reality that is carries with the need to service €1.9tn of debt.
Anyway all this remains to be seen but in the meantime please take a look at my most recent cartoon taking a wry look at the ongoing crisis. I have highlighted in particular the magnitude of Italy in comparison to Spain and Greece; taking care to show the balance of action by portraying Greece as the fuse that could take Spain down. And casting the shadow over Spain and Greece is the heaving Italian economy which holds very real exposure to Madrid. Your comments are welcome!