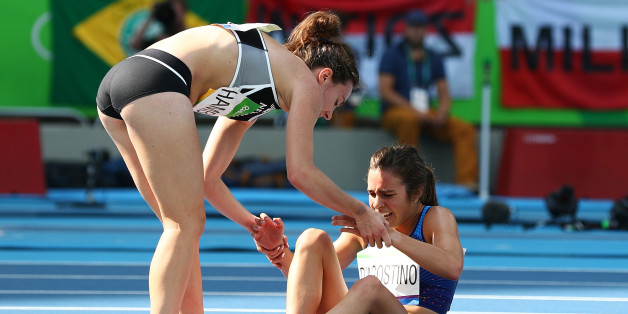 Ian Walton via Getty Images
Sexism. Homophobia. Objectification. Just a few words that summarise a lot of the awful media coverage of Rio 2016.
Whether it's the homophobic headline that described Team GB divers Chris Mears and Jack Laugher's victory hug as 'unmanly', the vile objectification of Helen Skelton after she wore a dress, or a 'joke' that Jason Kenny expected fiance Laura Trott - four-time Olympic Gold medallist and the most successful female British Olympian of all time - to make his tea, there are plenty of examples to call on.
At best ignorant, at worst deliberate, the sheer volume of foot-in-mouth moments across broadcast, print and digital is deeply concerning. Especially when so many viewers will be oblivious to the subtle (and sometimes in-your-face) messages that shape attitudes for the worst.
It's no surprise, really. Sports reporting has long sounded like something out of the dark ages - just last year a reporter infamously asked Eugenie Bouchard and Serena Williams to 'twirl' at the Australian Open. Face. Palm.
But this year's Olympics have seen an unprecedented intolerance to such reporting.
From outrage on Twitter to never-ending listicles of media sexism, we're calling on reporters to do better, demanding they respect athletes and sportspeople who have dedicated their lives to the Olympics and beyond.
Olympians themselves are chiming in - Andy Murray was awarded "feminist Gold" for calling out John Inverdale, while everyone melted when Simone Biles declared: "I'm not the next Usain Bolt or Michael Phelps, I'm the first Simone Biles."
Four years ago, we had headless photos of female athletes at beach volleyball and there was hardly even a murmur of outrage. This year, we're sharpening our pitchforks en masse and wielding results.
To start, publishers are starting to apologise. The Chicago Tribune, apologised for sending a tweet describing Corey Cogdell, Bronze Medal winner for trap shooting as the "wife of Bears linesman", while the BBC apologised, for Paul Hand's casual "homophobic" remark about two men kissing on a kiss-cam.
There has also been a hunger for good news. There have been three proposals (so far), the world fell in love with the two runners who showed incredible sportsmanship after crashing in the 5,000-metre race, and we can't get enough of the Italian chef feeding Rio with leftovers from the Olympic village.
Rio has been unprecedented in many ways: 45% of athletes are female, there are a record number of out LGBT athletes (43) and the first refugee team (featuring 10 displaced athletes from around the world) are shining a light on the global refugee crisis.
But while the nations' teams and sportspeople are paving the way for diversity and inclusion, it seems that many reporters remain behind the times.
If we've already made such strides between London 2012 to Rio 2016 - both at the Olympics and beyond - imagine what a difference another four years could make.
Roll on Tokyo 2020.