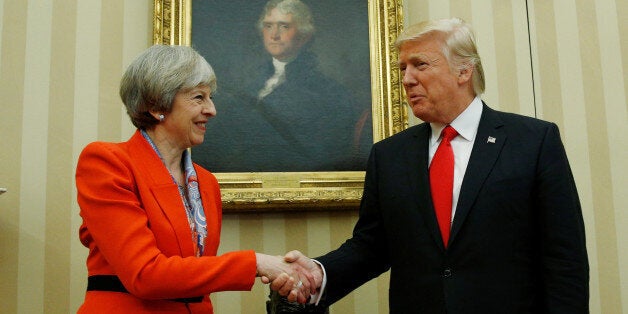 Later today I will be joining thousands of people at a demonstration outside of Parliament.
On this cold, grey night we will stand together in solidarity with Muslims across the world who are bearing the brunt of Trump's bigotry. We will condemn the British Government's appallingly meek response to the US president's barbarism. And we will demand something better.
Let's be clear about what is happening right now, and Britain's role in it. A US President is banning people coming to his country because of their religion. Those fleeing persecution and violence - often because of conflicts the West has been involved in - are being denied a safe haven. The world's greatest power is gripped by the politics of fear and division - and risks sliding into an even darker place.
There is only one way to respond to Trump's hate: condemnation. But what have we seen from the Government? Theresa May avoided the question altogether. Eventually her spokesperson was forced to respond, saying that that our Government disagreed with Trump's 'approach'. That's just not good enough - and it bring shame upon all of us who the Prime Minister is supposed to represent.
Britain's response to events like this matters - we're still a major player on the world stage - and that's what makes Theresa May's cowardice so disgraceful. This is a pivotal moment for our country. We've just voted to leave the EU and we're looking for a new place in the world. The Prime Minister's approach is becoming increasingly clear. She wants to cosy up to the US, sell arms to despotic regimes and cast us away from Europe. I can't help but wonder what the cost of such new relationships will be. Do we have to be silent in the face of oppression to keep our place in the queue for trade deals? That's not the Britain I believe in.
So, while our Government lets us all down, people have taken things into their own hands. Over a million people have rightly signed a petition calling for Trump's state visit to be cancelled. Indeed more than one in twenty of my own constituents have joined that call. In every corner of this country we see people extending the hand of friendship to those fleeing persecution - whether it's through given money to refugee charities or opening their homes up to those in need. We are so much more than Theresa May is making us out to be.
History teaches us the consequences of silence at moments like these. All of us have a duty to stand up against oppression and hatred. So today I urge you to join a demonstration near your home, to sign the petition and to join me in telling our Government that we won't accept them backing away from standing up to tyranny.
Caroline Lucas is co-leader of the Green Party and MP for Brighton Pavilion