This morning I joined Junior Doctors on their picket line outside of St Thomas' Hospital - just across the river from the Houses of Parliament. Like thousands of their colleagues across the country these men and women had taken the difficult decision to go on strike for the first time because the Government has continued to treat them with contempt.
Doctors take the Hippocratic Oath extremely seriously - and will always do all they can to avoid putting patients at risk. They've been forced to strike because they are not being heard. They have been telling Jeremy Hunt that this contract change is not just unfair on them but potentially unsafe for patients too. But the Government has refused to listen - instead they've reverted to bully boy tactics and a campaign of misinformation to try and impose this contract.
The strike is happening today not because the Doctors aren't willing to negotiate but because the Government has failed to address doctors' serious concerns surrounding safe working conditions, and aren't offering proper recognition for those working unsocial hours.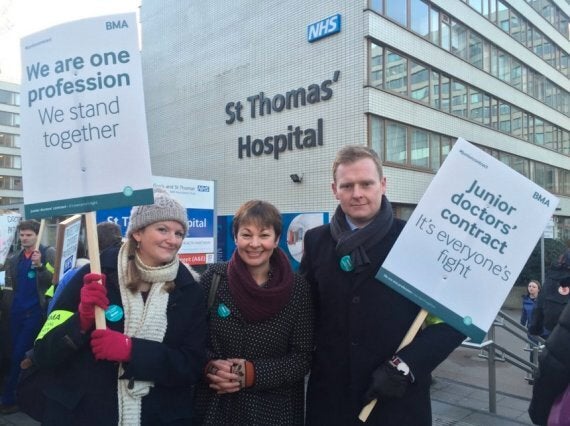 The Government's proposed changes to the contracts are part of the drive for a so called '7 day NHS'. On paper the concept is a good one, but junior doctors do already work seven days a week (and indeed 24 hours a day) and there is no ability for junior doctors to opt out of weekend services. It is, surely, entirely fair that they should be paid for working antisocial hours.
As I stood with the doctors in the cold morning air by the river today, the public support was palpable. Passers-by wished them well, people delivered pastries for breakfast and a bicycle convoy called 'Bikers for Strikers' were there to show their solidarity. It's clear, not just from today's displays of solidarity but from the polls too; the public back this strike.
If only the Government treated the doctors with the same respect that the public do. I'm deeply concerned that if Ministers continue to mistreat our demoralised doctors then we run the very serious risk of losing them to other countries who will treat them better. In a recent survey 2,949 (71.4%) of the 4,129 junior doctors polled said they would move abroad, become a locum or give up medicine altogether if the contract is forced on them next year. I regularly hear from doctors referring to colleagues who have left for Australia.
And sadly it's not just junior doctors who are under assault by a Government intent on breaking up our health service. A quarter of a century of marketisation has left our health service fragmented and increasingly vulnerable to being picked off by private providers - only for the process to be turbocharged by Cameron's Government. Only last weekend we saw thousands of student nurses protest in London against Government plans to plunge them further into debt by taking away their grants. A move that beggars belief in the midst of a staffing crisis.
The Government must rethink the way they're treating our NHS. As a start they should negotiate with the doctors in good faith, and put forward the offer of a contract that is fair and works for staff and patients alike. Until then then I'll continue to stand in solidarity with the junior doctors as they fight for what's right.
Caroline Lucas is the Green MP for Brighton Pavilion
Related