Kamla navigates the ruthless suburbs of Delhi carrying a safety pin concealed in her hand. This is the only way the 15-year-old can survive the journey to her computer coaching centre using public transport buses. She is routinely harassed by men and boys on the bus who try to touch or brush past her. When this happens, she pricks them hard with the pin. It usually works.
Kamla's friends consider her to be exceptionally brave. The majority of them simply choose not to venture out. They are scared to travel beyond a certain distance from their homes for fear of harassment and attack. After dark, girls in Kamla's neighbourhood disappear from public spaces. They avoid using community toilets as men sometimes gain entry into girls' section and try to molest them.
Since the brutal rape and murder of a student on a Delhi bus three months ago, several more continue to be carried out, almost one every other day, in different cities and towns across India. And the situation is not much different in any major city across the world.
Child rights organisation Plan's research in capital cities of Delhi, Cairo, Hanoi, Kampala and Lima reveals that fear of sexual attack and violence is creating 'off-limits' areas for girls and often, this limit starts right outside their homes as neighbourhoods turn into no-go areas after dark.
Plan's unique study involved over 1000 adolescent girls who themselves assessed their neighbourhoods and mapped out major risks to their safety. The findings show that experiences of sexual harassment and places considered off-limits are shared by girls in these five cities spread across Asia, Africa and Latin America,
In Delhi, adolescent girls said they avoided being alone, especially after dark, and asked family members or friends to accompany them to community toilets, schools, markets and shops. Only three per cent of girls said they felt safe using the city's public transport. In Hanoi, nearly 60 per cent of girls said they seldom or rarely had access to emergency services such as the police.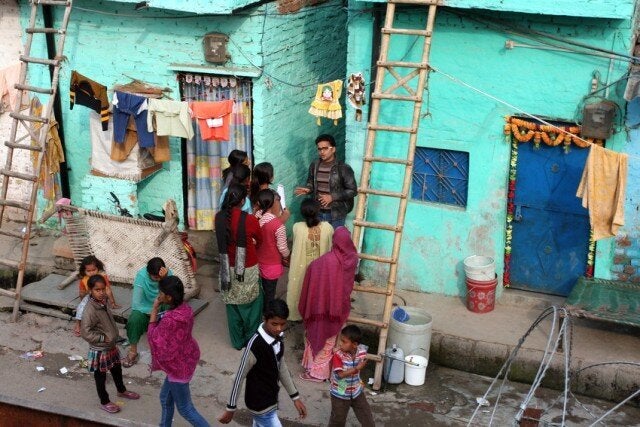 Girls in Delhi speak to community members as part of 'safety audit' of their neighbourhood. Plan/Mary Matheson
About eight out of 10 girls in Cairo said they never or only sometimes felt safe. Victims of sexual harassment in the Egyptian capital were convinced that they were to blame for it. Similarly, in Kampala, 80 per cent of adolescent girls involved in the research felt unsafe in the city centre and many felt uncomfortable to approach security guards or the police, saying that they sometimes were drunk on duty. In Lima the majority of girls said they were living in a very dangerous city. Just two per cent felt safe in using the city's public transport.
Despite their varied cultural and political environments, girls in these five cities shared similar issues with regards to their safety. All of them envisioned future ideal cities to be well-lit, well-planned, with access to clean toilets. Cities that provided them space to participate and make their way safely to education, work and leisure facilities.
For the first time in history, there are more people living in cities than in rural areas. Each month, five million people are added to the cities of the developing world, and it is estimated that by 2030, approximately 1.5 billion girls will live in urban areas.
While girls in cities certainly enjoy increased opportunities, they also face greater risks. On the one hand they are more likely to be educated and less likely to be married at an early age; on the other hand they face sexual harassment, exploitation, and insecurity in public spaces as part of their daily lives.
It is tragic if girls are being forced out of the public sphere in their cities simply for fear of their own safety. It puts paid to the progress that has been made so far in achieving gender equality through policy and legislation when girls simply cannot access or are forced to miss the opportunities to realise their potential, for fear sexual harassment and violence.
Often policies and discussions on gender-based violence seem to miss a vital link. There is a direct connection between private and public spaces. Besides harassment and violence outside their homes, girls face risks and vulnerabilities in the private sphere as well, including domestic violence in their homes. It makes it even more imperative that public spaces are made safe to enable girls to access services they need to protect themselves from unsafe situations at home.
It is evident that adolescent girls, who are often the most vulnerable population in a city, are frequently excluded from urban processes. They are too often ignored or under-represented in current policies and programming and are most excluded from urban development and governance processes.
Plan's Urban Programme, part of its global campaign Because I am a Girl dedicated to lifting millions of girls out of poverty, is working to initiate this important shift in five diverse cities of the world. While addressing gender-based violence in cities involves long-term engagement in changing behaviours and social attitudes, there are effective steps the governments can take to start the process by making urban spaces safe.
Providing safe and reliable public transport and offering gender-sensitive training to those involved can enable girls to move freely in the cities. Building clean, safe and accessible toilets, and ensuring that public spaces are well-lit can make a huge difference in girls' access to basic services. Further, girls must be involved in the way the cities are developed and run. Cities are severely lacking in girls' perspective and girls must be included in decision making processes at the municipal and national levels on issues that deeply impact them and their chances in life.
In Delhi, it is still a long and bumpy road for Kamla to her tuition centre. For the moment, her hopes to complete her computer education and get a good job rest on the edge of a sharp steel pin.