Some claim that London 2012's legacy has not delivered, but our organisation is improving lives across the UK as a direct result of those Games.
As the Rio 2016 Olympic Games enthral the world in Brazil, thoughts in the UK are turning to the legacy of our own Games in London 2012. And with the attention comes the inevitable criticism from those disappointed that the transformations they dreamed of - in the economy and prospects of people in East London, or in sports participation - have not come about, or at least not in the way they had wanted.
Yet, whilst recognising that some feel let down, it's important to record that plenty has happened and is still happening. The criticisms stem from the fact that millions were inspired by London 2012 to believe that the investment of £9billion, the world-beating performances of our Olympic & Paralympic athletes, the wonderful spirit of community and our national pride and togetherness would herald a new (and better) era. The reality is that much good stuff has happened and some hoped for outcomes have not materialised. I believe we should face this squarely, and both acknowledge the disappointment and celebrate the successes. London's Games are now history, but the social legacy still lives - not as one monolithic movement, but in many different forms - from the world class business and academic community taking shape in the Queen Elizabeth Olympic Park to new grass roots activities inspired by London 2012.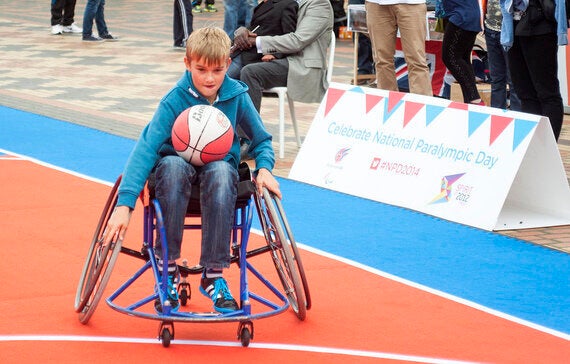 Image: Spirit and British Paralympic Association's National Paralympic Days give people the opportunity to try out Paralympic sports and help to raise the profile of Paralympics GB
Spirit of 2012, the funding charity that I am proud to lead, was founded by the Big Lottery Fund in 2013 to continue and recreate the spirit of pride, positivity and togetherness that people experienced during London 2012. Since then, Spirit has reached out across the UK, in partnerships with dedicated people delivering sport and physical activity, arts and culture, community development and volunteering activities to improve happiness and wellbeing. So, as the carnival blazes in Rio, how is Spirit of 2012 contributing to the London 2012 Legacy? Or, to quote our own founding mission, how are we keeping the spirit alive?
The elephant in the room when we evaluate the legacy of London's Games is levels of participation in sport and physical activity. People can argue about the figures, but there is no argument about the need. Sedentary lifestyles are a major cause of ill health for children and adults alike. Disabled people, women and girls and certain ethnic minority groups are most at risk. It's a national crisis and it isn't about elite or competitive sport. It is about helping people to access activities they feel comfortable with and enjoy, whatever their age or ability. Spirit will soon launch Get Out & Get Active, a £4.5million project delivered a consortium led by the English Federation of Disability Sport and designed to get currently sedentary people active in eighteen locations across the UK. The emphasis is on supporting people to take part in fun and inclusive physical activity, and on challenging providers to gear up existing provision so more people can enjoy it. It's a small step towards tackling a massive problem, but we hope to enhance thousands of lives, demonstrate effective approaches and support delivery of the Government's new Sport Strategy for an Active Nation outcomes.
So far, we have awarded £9.5 million, and committed a further £15.5 million, to get people out and active, support the development of young people (honouring the pledge to 'Inspire a generation'), challenge perceptions of disabled people (in a less spectacular but more accessible fashion than the Paralympic Games so brilliantly does) and bring communities together.
In 2013 Spirit's first grants went to projects conceived during London 2012, like Team London's Young Ambassadors - a massively successful London schools programme that has engaged over 250,000 children and young people in volunteering; the British Paralympic Association's first ever National Paralympic Days, giving people the opportunity to try out Paralympic sports and helping to raise the profile of Paralympics GB, and the Youth Sport Trust's Inclusive Futures project, that has trained over 1400 disabled and non-disabled young people to lead, manage and volunteer together at sports events and festivals. All three of these directly grew out of London's Games and palpably keep faith with the value placed on volunteering, Inspiring a Generation and challenging the way we think about disability.
The big 'but' is that there's a 'Catch 22' inherent in the concept of legacy. The moment 'legacy' is designed to sustain - in this case 2012 - is immediately history, and to be meaningful a legacy must look to the future. Spirit tries to balance those elements by honouring iconic pledges of the event which gave birth to us while acting as the spirit of here-and-now, by awarding grants linked to other events as they happen, including the Glasgow 2014 Commonwealth Games, the 2015 Rugby World Cup and Hull 2017 City of Culture. We invest through partners who can inspire, enable and empower people, ranging from The Southbank Centre and England Rugby, to Comic Relief and the British Red Cross.
Other Spirit of 2012 initiatives designed to enrich people's lives and wellbeing longer term are inspired by more recent or future events. They include:
Fourteen - a unique Glasgow Commonwealth Games legacy investment of £3.5 million has awarded £250,000 each to 14 communities across the UK. Fourteen lets people build their own local legacies, by deciding how to distribute grants to improve individual and community wellbeing in their neighbourhoods.
Hull City of Culture 2017 - we are supporting the training of 4,000 volunteers who will be active in their communities by the end of 2018 and also funding arts projects that will draw in thousands of local residents.
Emerge - to mark the 400th anniversary of Shakespeare's death, we awarded a grant of £1m to the Mighty Creatives to engage young people in exploring things that matter to them through drama workshops and festivals across 12 East and West Midlands towns.
Spirit of Rugby - a 2015 Rugby World Cup inspired partnership with England Rugby is empowering 16-24 year old volunteers to encourage people who don't have contact with the game now to enjoy rugby as a sport, a volunteering opportunity, and/ or a social scene.
Women of the World (WOW) festivals - Spirit of 2012 and the Southbank Centre have launched a three-year WOW Spirit! partnership to deliver nine WOW festivals in five towns and cities across the UK between 2016 and 2018 to celebrate the centenary in 2018 of women winning the right to vote. The first will be in Bradford this November.
These are just a few of the great initiatives we've been able to support over our three year life.
Over the next decade, Spirit of 2012 will continue to help communities across the whole UK to experience a living and locally relevant legacy of London's unforgettable Games.