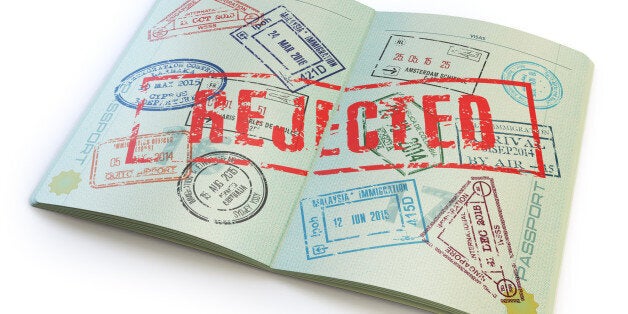 When I was little, I used to lie awake at night thinking where I would hide when the Gestapo came. It was ridiculous and historically inaccurate - the war had ended thirty years earlier. But my ears had been filled with stories of my parents' wartime childhood, of bullets whizzing past, of partisans hiding in a cupboard, of hunger and cold. I read Anne Frank's Diary before going to sleep and asked myself how long could I lie still if they came looking for me.
Recently, I had a dream that took me right back to those years. Except that this time it is not the Gestapo but men with tattooed arms and very short haircuts who break into my home, throw my clothes on the street and tell me never to come back. The dream is so obvious - and stereotypical - that I'm embarrassed by it. Yet it tells me that I am an EU citizen in the UK in the year 2016, and my subconscious thinks I'm Anne Frank in 1940s Amsterdam.
My family is multi-national, a three-passport concoction, a mini-EU. I'm Italian, of Greek-Italian parentage; my husband is Dutch, our daughter is gloriously, incongruously British; or as she puts it, 'half-Dutch, a quarter Italian, a quarter Greek - and a 100% English'. My husband and I met here, in England, in 1990, when I came as an Erasmus student. We married here, our daughter was born here. English is the lingua franca in our family: we fight in it, swear in it, love (in) it, dream in it. There is for us no other country where we all belong, in subtly different and yet roughly equivalent ways (I know because we tried).
Until June, we had plans; now everything is on hold. We bought a house earlier this year, which I don't dare to furnish in case we have to leave. I have stopped unpacking the boxes. My husband needs to start applying for a renewal of the grant that funds his programme of research right now. But should he? Or should he consider a position elsewhere? We don't know.
I look at my daughter sleeping and wonder if our family will be split up, how I'd cope with being a Skype mummy, how would we explain it to her. She is a citizen of the country that might want to expel her parents, of a country that refuses to guarantee her parents' right to stay. How devastating would that be for her sense of her place in the world? At best she would have to leave with us - losing her school, her friends, her world. We try to shield her as much as possible. But one day she comes home with a form asking for her nationality and language. It's for the school census; there is a campaign to boycott it. I agonise whether I should too, feeling vulnerable and exposed whichever way I choose.
On a good day, I believe the guarantees cannot but come, soon, and we will then be able to resume our suspended lives, to make plans, to become normal citizens again. It is impossible to return to a world where countries are only made up of one nationality (which the UK never was anyway) and national identities are simple and uncomplicated, unless by an act of violence. How would you separate the different components of our family, of my daughter's identity, of my lingering affection for this beautiful country, of my husband's contribution to its scientific reputation?
On a bad day, like today, like yesterday, I look at the pictures coming out of Aleppo, and realise how little human lives matter in high-stake politics. I lie awake at night again, holding my breath, listening to the sounds outside. Looking for signs, reading the runes.
In the meantime, we wait.
Merry Christmas, everyone.
Popular in the Community