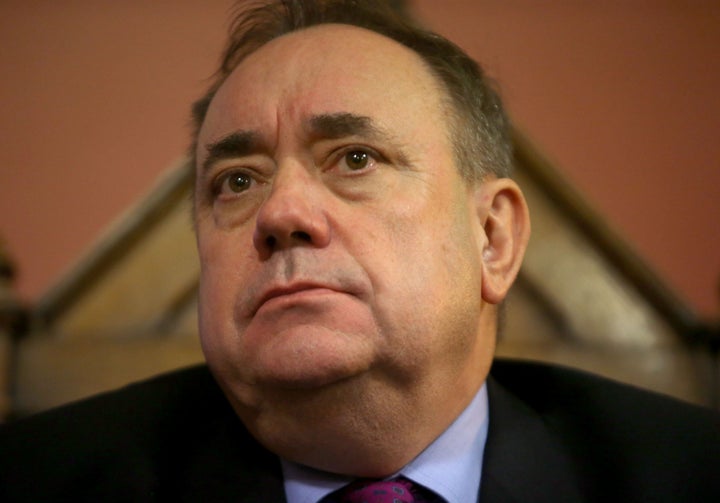 Alex Salmond has said that a second EU referendum would be "entirely justified" if defeated Brexit MPs can one day show they have a majority in the House of Commons.
Speaking to HuffPostUK and the Telegraph, the former First Minister of Scotland said that there would be a 'reorientation' of British politics whatever the result of the June 23 poll.
But he was scathing about David Cameron's decision to call the referendum in the first place, declaring that the reason the Remain camp in "difficulty' was because the PM was fighting a negative campaign while trying to keep the status quo.
And Salmond claimed that the main reason 'Project Fear' was not working was that, unlike in the Scots referendum and 2015 election, the newspapers were not promoting the scare stories.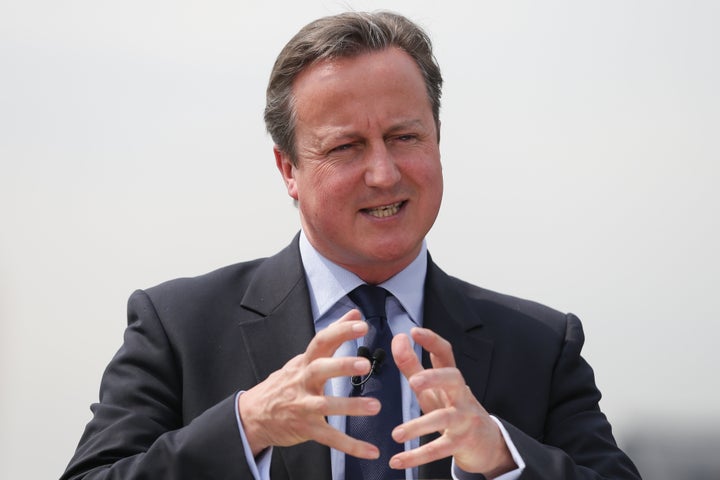 In a wide-ranging interview, the former SNP leader slammed Boris Johnson for trying to portray himself as someone outside the 'elite', and claimed that the Prime Minister would beat him in a blue-on-blue TV debate.
He also lambasted Donald Trump, revealing that the billionaire had sent him 'Green Ink' letters when he was First Minister and attacking him for refusing to give economic migrants the same welcome that his Scots-born mother had been given.
Several Tory Eurosceptics are keen on the idea of a second EU referendum should they lose by a narrow margin, believing that they can build momentum just as the SNP did following its defeat in the Scottish independence referendum in 2014.
When asked if Brexiteers should keep up their fight even after a defeat on June 23, Salmond said: "My position is if there was a significant material change in circumstances then it would be entirely justified.
"You can't stop the aspirations of a population by saying thus far, this time, shall you decide and no further. The task for people who think like that is to build a Parliamentary majority.
"If at some point in the future, having lost the referendum, there is a majority of Brexiteers…there may be in the Tory party…Of the political fallout that happens, that's one potential [outcome]. But anyway and either way, it's going to be a Chinese curse is it not? Interesting times."
He added: "I was here during Maastricht, and the Iraq war, but the potential of the reorientation of politics that we are about to see either way beats either of those two things."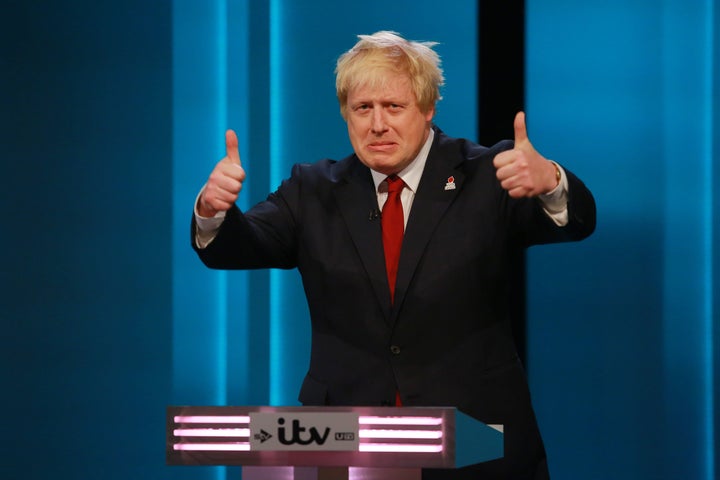 Salmond joked that Nigel Farage was unlikely to repeat the SNP's success, when its post-referendum surge meant it won a landslide in the 2015 general election and regained power in the Holyrood elections in 2016.
"Let's say Nigel Farage was one of the people who wanted to continue this, all he has to do is to get 326 or so members of the House of Commons who want to have another referendum. And he's 325 short," he said.
But Salmond added that the Tory party would be split over the long-term whatever the result in the referendum.
"If the SNP is the model, then my last words are for Mr Cameron. Yes it's true that he won the Scottish referendum and I lost it, but it's also true we started at 28% and ended up at 45%.
"And he's started at 72% and ended up at 55%. The galvanisation of the Yes campaign was on a positive argument. And it's quite difficult to galvanise people on a negative. We've had enough of the hyperbole.
"My complaint about this referendum is that this referendum is not being held by someone who wants to change something significantly. The reason he's having such a difficulty advocating a positive case is because of this.
"He's in a referendum arguing for effectively, except for the modest changes he achieved, for the status quo. He is in the difficult position of leading a referendum and saying 'Follow me, - and there will be no change!'"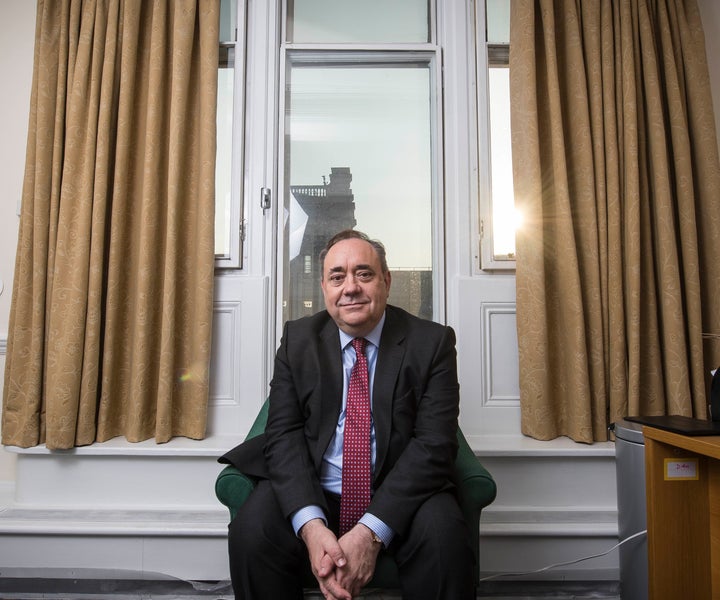 Salmond added that the real problem the Remain camp was in trouble was its lack of media support for its warnings about Brexit.
"One of the difficulties that the Prime Minister has faced in this campaign is that he is used to running campaigns, like the general election and the Scottish referendum, where he had a transmission system for his negativity," he said.
"He could say things that the agents of negativity, the Telegraph, the Mail, who would be relied upon to transmit that message. Now much of the negativity has been like a car without a crankshaft. The engine's been whirring but nothing's happening because the transmission mechanism is on the other side."
But the SNP MP said that Cameron should debate Boris head-on in order to bypass the newspapers.
"The great merit of television is it's direct communication. If I'd been David Cameron I would have taken on Boris Johnson in a direct one-to-one debate," he said.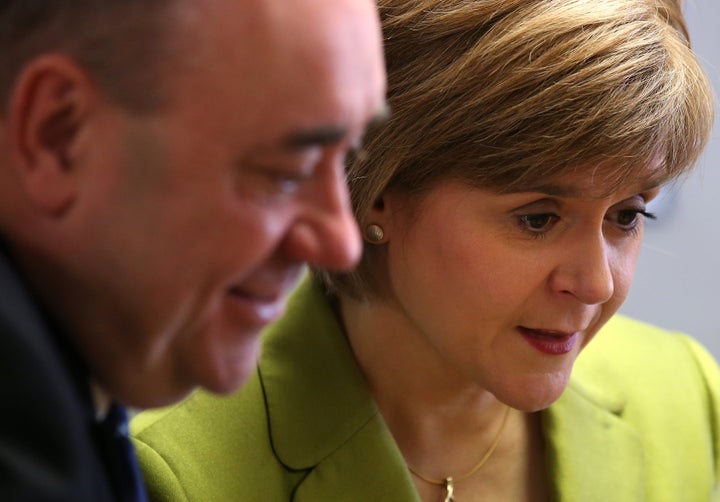 Salmond also said that a second Scottish independence referendum could take place before 2020 If the UK voted for Brexit and Scots voted differently.
"Scotland would remain and the UK would leave – it would be a perfect democratic mandate for both of these things."
"They [Scottish voters] are savvy enough to understand that if an independence referendum is a thing they absolutely want then it is predicated on a remain vote in Scotland and a leave vote across the UK. People are smart enough to get that. Most folk in Scotland understand that pretty well."
David Cameron last week appeared to U-turn on his own previous warning that there would be no "re-run" of the Scottish referendum, telling ITV "I do worry about a second Scottish referendum if we vote to leave".
Salmond said he wasn't surprised by the PM's changing stance. "Cameron probably believes that comment works on both sides of the border," he said.
"There are people in Scotland who see it as a reason to vote for remain and there are people in England who would see it as a reason for voting for remain to stop the situation."
But he warned: "There will be a Scottish referendum if and when the Scottish parliament decides there should be one and there is nothing that David Cameron, Boris Johnson, any combination of the two can do about that – that is just what will happen."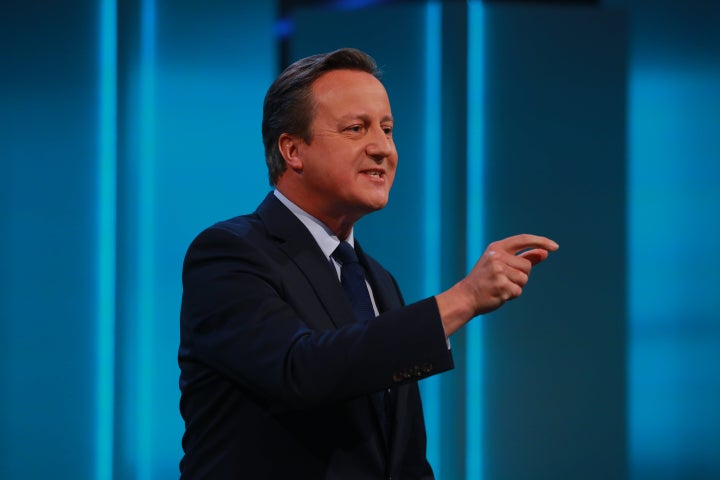 In a reversal of the arguments used in 2014, Salmond said that if an independent Scotland stayed in the EU and England left it, there would be a shift of jobs north.
"A number of people who have strong overwhelming interest for their companies export portfolio of having definite untrammelled access to the European market place would have a different interest to what they had last time – that would be a different, material change."
"Keen competitors would be places which had access to the European market but still had the advantages; Edinburgh and Dublin would be the nearest choices, would they not?"
The SNP MP, who is now the party's foreign affairs spokesman in Westminster, stressed that there was no "equivalence" between an independent Scotland and a UK outside the EU.
"There is a very significant difference between being an independent country in the European Union and being a nation within the United Kingdom. f you are independent within Europe and outside the Euro then you control 99pc of your taxation, you control everything except the vat contribution and the customs levies," he said.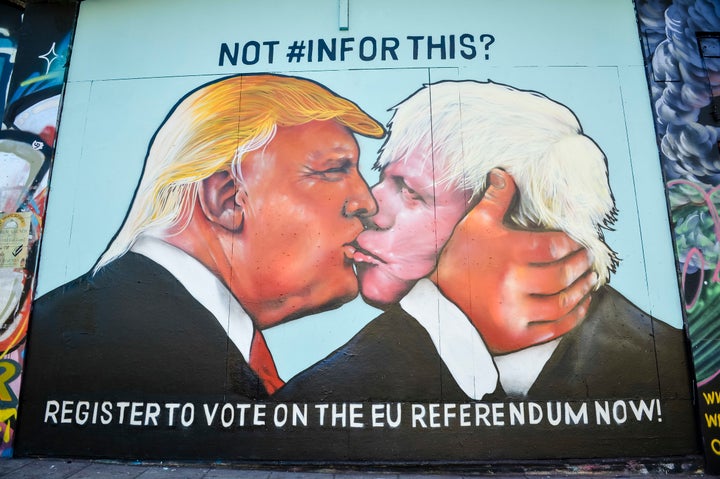 When asked if Boris Johnson and Donald Trump had anything in common, Salmond replied: "Hairstyle?"
"I do find the presentation of Boris, who was in the same school, the same university, the same club as the Prime Minister presenting his old school and university chum as being one of the elite, while he is one of the workers - I find Boris unconvincing on the question of the masses against the classes," he said.
"'Up the workers and pass the caviar' seems to me an unlikely slogan for him to carry into a campaign."
Salmond added that Johnson's repeated attacks on Scotland for getting more cash than London had backfired north of the border.
"I never lose my temper about that, I just count the votes. Don't get mad, win elections.
"I was comparing in preparation for the debate that Boris, according to the figures I saw for ICM at the weekend, is the most convincing trusted advocate of his position on Europe on a grand total of minus 29%. He beats all the other major protagonists. Miss Sturgeon in the same poll in Scotland was plus 6%."
"I would liken him right now to a London bus which has lost its driver but hasn't yet cottoned on to the technology for automated vehicles. He's a runaway London bus - probably pretending to be painted red."
Popular in the Community