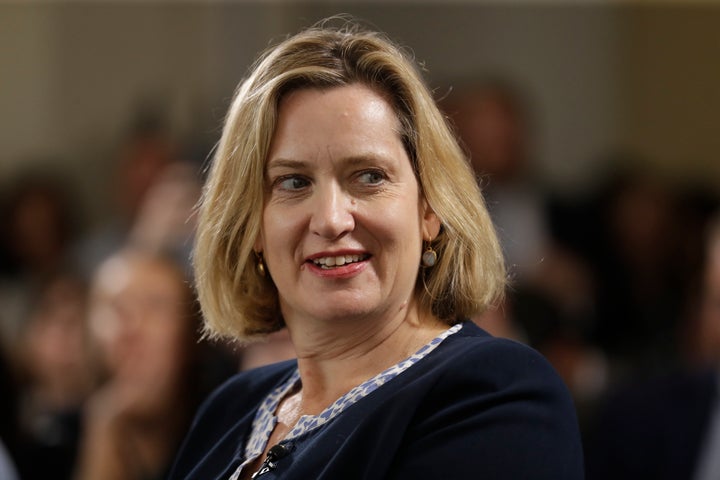 Amber Rudd has hit out at "rude" students at Oxford University who no-platformed her at the last minute before she was due to give a speech about women in politics.
The former home secretary was set to speak at the UN Women Oxford event for International Women's Day on Thursday.
But she was blocked after the student society voted to cancel it with just half an hour's notice.
Rudd was home secretary at the time of the Windrush scandal, which exposed how the government had wrongly been classifying people as illegal immigrants.
UN Women Oxford, the group which had organised the event, notified guests it was cancelled after a meeting of its ruling body.
The group had invited Rudd to speak about her experience of being a woman in parliament, while also promising an "honest and frank discussion" about the impact of her policies.
"We will not run away from mentioning any of Ms Rudd's past comments or policies, and we ask you to attend this event to help us campaign for a truly frank feminism which is not afraid of taking such opportunities to discuss these issues with high profile figures," the group had initially said.
Following the decision, a number of current and former MPs came to Rudd's defence.
Dehenna Davison, the newly-elected Conservative MP for Bishop Auckland, tweeted: "Outrageous. Academic institutions are where you are exposed to ideas you don't agree with, and where you can challenge them through rigorous debate.
"No platforming the former home secretary (and women and equalities minister!) is very badly judged."
Former Labour deputy leader Tom Watson posted: "If you're trying to silence Amber Rudd you really are being anti-democratic."
And former Conservative and Lib Dem MP Sarah Wollaston tweeted: "No platforming of @AmberRuddUK by Oxford is absurd & worrying. Why are universities allowing ideological fringes to crush freedom of speech in our centres of excellence?"