German chancellor Angela Merkel has said she will do "everything" she can to prevent a no-deal Brexit ahead of a crunch Brussels summit where UK's fate could be determined.
Speaking after Brexit talks with Irish premier Leo Varadkar in Dublin, the chancellor said the European Union member states will stand together "until the very last hour".
Talks between the UK government and Labour to break the Brexit logjam continue as Theresa May has said she will seek an extension to Exit Day, which is slated for April 12.
May must inform European Council president Donald Tusk of the UK's proposal, and a decision will be taken by EU leaders on Wednesday.
Speaking alongside Varadkar, Merkel said: "Every step of the way we will stand together, we will walk together.
"We do hope that the intensive discussions that are ongoing in London will lead to a situation by next Wednesday, when we have a special council meeting, where Prime Minister Theresa May will have something to table to us on the basis of which we can continue to talk.
"We want to stand together as 27. Until the very last hour - I can say this from the German side - we will do everything in order to prevent a no-deal Brexit; Britain crashing out of the European Union.
"But we have to do this together with Britain and with their position that they will present to us.
"We will simply have to be able to do this. We have to be successful and we hope for a solution that we can agree together with Britain.
"I heard that you have the same saying as what we say in Germany: 'Where there's a will there's a way'.
"We are working on this and we have very good partners in the Commission, with Michel Barnier and Jean-Claude Juncker who are putting everything into finding a good ending, finding mutual solutions, so we will find this together.
"We still hope, obviously, for an orderly Brexit."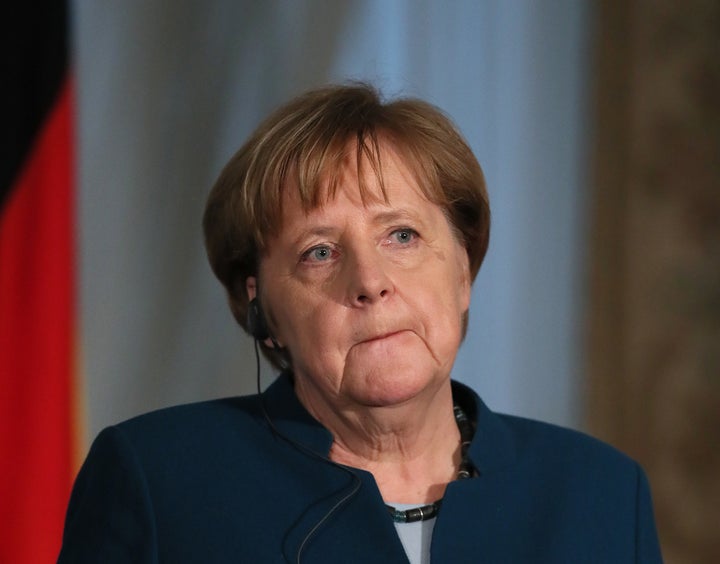 Earlier the two leaders took part in a round-table discussion with 15 people from Northern Ireland and the border area about the impact a no-deal scenario could have on their lives.
They heard from some victims of violence, as well as farmers and business people.
Merkel said she was moved by the stories of people living in Irish border communities who were affected by the Troubles.
Merkel met with a panel of 15 people from Protestant and Catholic communities, both unionists and nationalists, from both sides of the border.
Speaking in Dublin, she said: "Today was a very important experience for me. I come from a country that for many, many years was divided by a wall.
"I lived behind the Iron Curtain so I know only too well what it means once borders vanish."
She added that "everything needs to be done" to ensure a peaceful co-operation continues.
"After all, a heavy death toll has been taken here throughout the Troubles," she said.
"What I have heard here will encourage me to explore ways and means to ensure this peaceful co-existence continues," she added.
Taoiseach Varadkar said that any further extension to Article 50 must have a credible and realistic way forward.
"Matters continue to play out in London and I think we need to be patient and understanding of the predicament that they are in," he added.
Varadkar restated that the EU was "prepared to amend the Political Declaration" if the UK's red lines shifted.
But he added: "There is very little time left and we have to prepare ourselves for all outcomes."
It comes as efforts intensify to find a way through the Brexit impasse.
The UK Government and the Labour Party's negotiating teams are locked in intensive talks in the hope of agreeing a position which could win a majority in the House of Commons in the coming days to allow May to request a short delay to Article 50.