Boris Johnson's new climate change champion has been sharply criticised after it emerged she backed fracking and lobbied against wind farms being built in her rural constituency.
Anne-Marie Trevelyan was appointed to the new role by the prime minister this week ahead of Glasgow hosting the internationally high-profile United Nations climate summit, COP 26, next year.
But it has emerged the former international development secretary, who represents England's most northerly constituency of Berwick, has previously expressed controversial views on environmental issues.
In 2015, she shared a City AM article calling the controversial process of fracking for shale gas "good for the UK economy".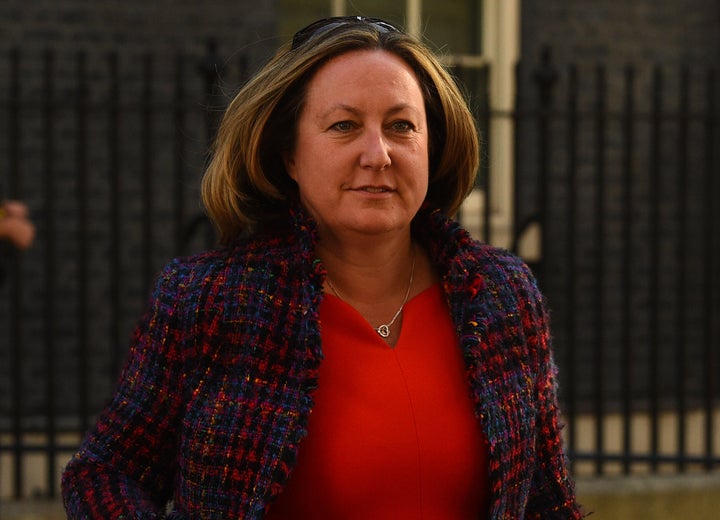 Before winning Berwick from the Lib Dems in the 2015 election, the MP also campaigned against wind farms near Northumberland's Wingates, tweeting that people should "help stop giant wind farms near homes".
In a BBC article in 2011, Trevelyan was also quoted saying it was "fair to say that rural Northumberland is fed up to the teeth with developers turning up and wanting to trash our landscape" with turbines.
Trevelyan has defended her position on onshore wind farms and said her new role was to help "solve the practical challenges of helping countries to protect their citizens from the ravages of climate shocks".
Caroline Lucas, Westminster's only Green MP, said Johnson must show "climate leadership" and "get our own house in order", while Labour's shadow climate change minister Matthew Pennycook said Trevelyan's posts were "disappointing".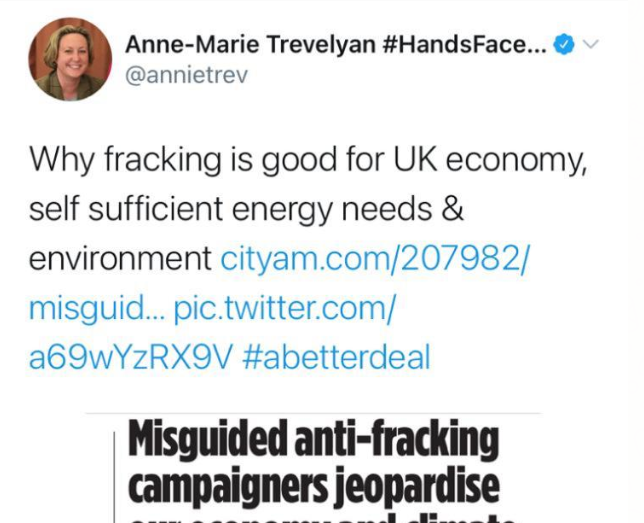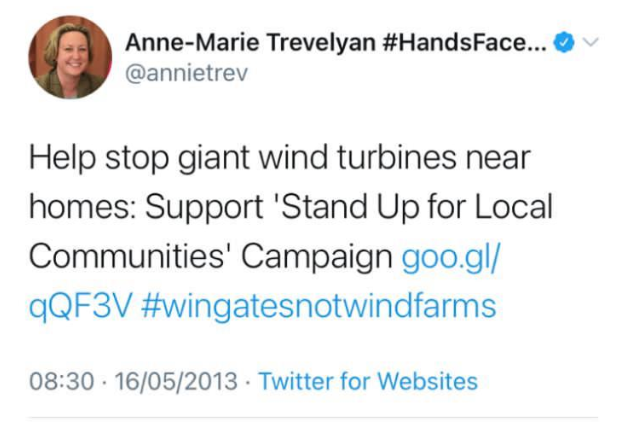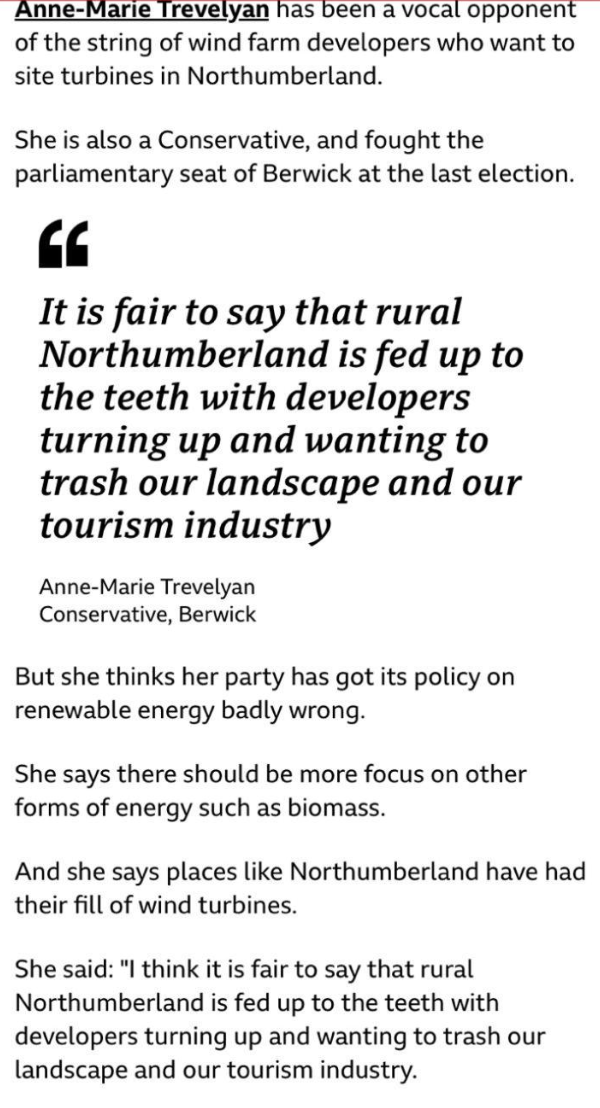 Johnson has pledged to make climate change a priority.
Trevelyan said: "The question of mitigation of CO2 output is being met by the UK head on with a drive to renewables which takes us out of coal and focusing on our net zero by 2050 commitment.
"My challenge to onshore wind which damaged Northumbrian landscape without the wider impact needed to reduce the base load requirement for our energy supply in the early 2000s is one I stand by.
"Now, in 2020, technology has progressed to ensure that we can use both onshore wind and importantly offshore wind to help feed our power grid.
"We continue to need base load which will come from gas and nuclear in the near future. As the world moves away from hydrocarbons, the UK is world leading in setting legal frameworks for electric vehicles and other new technologies which will help us meet our Paris agreement commitments.
"I am proud to be part of the COP team working with global partners to find ways to move to net zero alongside adaptation solutions to make their countries resilient to their particular climate shock risks."
Lucas said it was "welcome that the government has appointed a climate champion on adaptation and resilience" but that more finance was needed to to tackle the global problem.
She said: "Richer countries like the UK cannot continue shirking their responsibilities on this.
"If the UK is to persuade others to increase their emissions reduction targets, we need to get our own house in order and show the kind of climate leadership the prime minister likes to boast about, but fails to deliver.
"Renewable energies like onshore wind have a critical role to play and I hope the government's new climate champion has had a chance to reflect on her opposition to onshore wind and done enough preparation for this new role to realise that fracking is not good for the environment, as she once claimed, nor the solution to our energy needs."
Pennycook said Trevelyan appeared to be "at odds with her brief".
He said: "It is disappointing but unsurprising that the government has seen fit to appoint someone with [these] views.
"Whether it's funnelling billions into fossil fuel projects overseas, setting lofty targets without the investment to realise them, or this latest decision to appoint a champion of fracking and opponent of onshore wind into a key climate role, the government continues to undermine its green credentials."
It comes as the government tries to build bridges with the US Democrats ahead of president elect Joe Biden taking power in January.
Trevelyan was previously a member of Johnson's cabinet before the government's controversial decision to fold the Department for International Development into the Foreign and Commonwealth Office.