Just when you thought the prospect of a no-deal Brexit couldn't be any more unappetising… a picture detailing life beyond December 1 has unleashed a fresh wave of nausea on the public.
A handy graphic published in Friday's Daily Mail has illustrated some of the foods we will no longer enjoy easy access to, should we crash out of the EU without a trade agreement. And it appears to be bad news for the nation's arteries and livers.
The apparent Achilles' Heel of millenials – avocado toast – is out of the question from January 1, because the UK imports the majority of its fruit. But could this herald a surge in homeownership? Only the taste test, of time will tell.
Banana smoothies are out for the same reason – but fear not, the UK is positively oozing with home-grown dairy supplies – enough for a glass of milk and an egg on white toast per person per day. Vegans might want to improvise that one.
As well as broccoli and tomatoes and pizza dough, you must wave goodbye to your Norway or Iceland-sourced cod.
However, the graphic – which manages to somehow look depressingly faded, like those photographs of greasy eggs and chips you see in the window outside British bars in Magaluf – assures us that the UK produces "an abundance" of crab, lobster and prawns.
Any EU-produced wine is out the window, but fear not, replacing that glass of Merlot will be flagons of Scottish whisky and home-grown beer.
The Daily Mail predicts that fruits and most veg are out, but it'll be all the chips, lobster and whisky you can stomach.
Not only is a zero-tariff deal with the EU likely to leave you with furred arteries and cirrhosis, but your wallet will be lighter for it too.
The British Retail Consortium (BRC) has calculated that these tarrifs could cost retailers more than £3bn – and the extra cost is likely to be passed onto the consumer.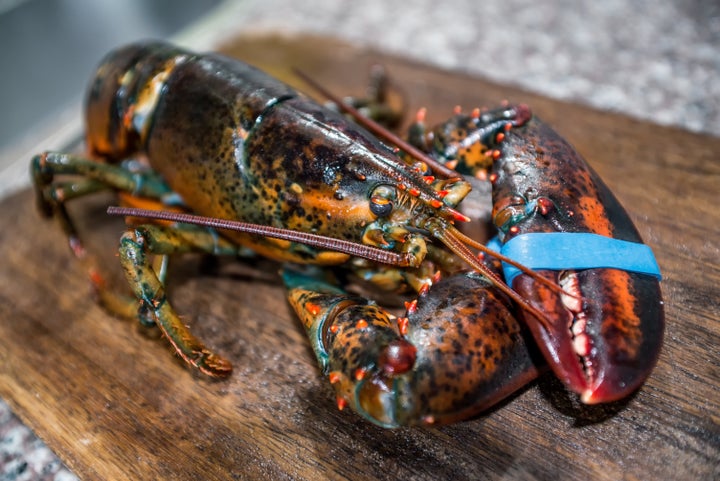 Tesco's chair John Allan has estimated that the average household food bill may increase by 5%, with some increasing even more.
Retailers have insisted there will always be food on the shelves, but your options may dwindle a little.
"The lack of a comprehensive trade deal could mean less choice in stores and a shorter shelf life for perishable products such as fresh fruit and vegetables, as well as an inevitable cost pressure from delays," says Andrew Opie, director of food and sustainability at BRC.
"We import the vast majority of our salad vegetables and soft fruit from the EU in January, so delays at the Channel ports will inevitably have an impact."
Happy New Year, everyone.