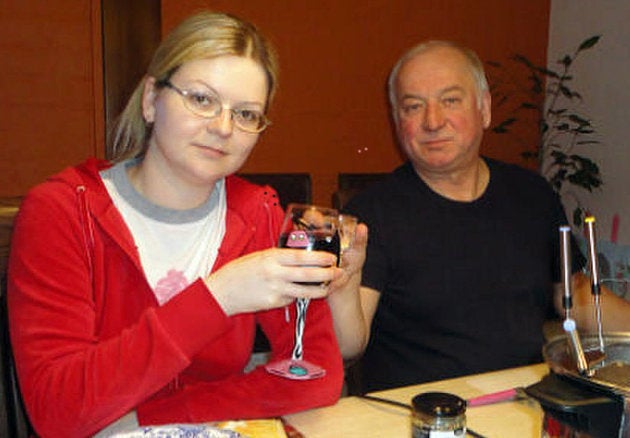 Suspects used valid state-issued Russian passports to travel to the UK
Police say they likely traveled under aliases and these are not their real names
Images of perfume bottle used in Novichok attacks released by authorities
Two Russian nationals have been identified as suspects over the Salisbury nerve agent attack.
Theresa May told the Commons on Wednesday May that intelligence provided by UK agencies indicated the pair are officers of Russia's GRU military intelligence service.
The PM said around 250 detectives had trawled through 11,000 hours of CCTV footage to identify the attackers and had taken more than 1,400 statements.
"Working around the clock, they have carried out painstaking and methodical work to ascertain exactly which individuals were responsible and the methods they used to carry out the attack," she told MPs.
May said the UK would now "step up efforts" against the GRU "specifically".
She added: "The actions of the GRU are threat to all our allies and all our citizens."
May's official spokesman said the two suspects used valid state-issued Russian passports to travel to the UK.
The City Stay Hotel, where the suspects are believed to have stayed in east London, said: "The City Stay Hotel in Bow Road is open for business as usual. We are fully supporting the police investigation. We are reassured that the police and Public Health England have confirmed very clearly there is no health risk whatsoever to our guests or our staff."
Metropolitan Assistant Commissioner Neil Basu said the two men are aged around 40 and it is likely they were travelling under aliases and Petrov and Boshirov are not their real names.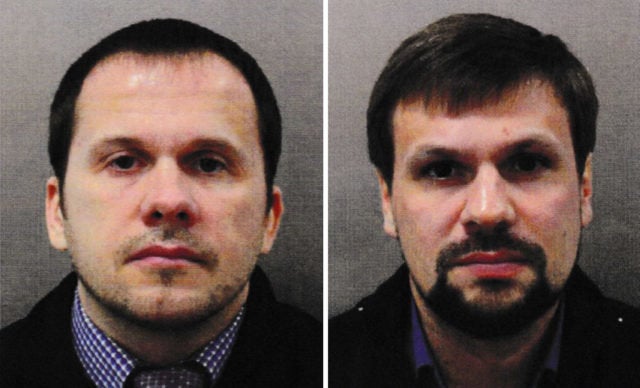 Labour leader Jeremy Corbyn said: "We will back any further reasonable and effective actions, whether against Russia as a state or the GRU as an organisation.
"I would encourage the Prime Minister to seek the widest possible European and international consensus for this to maximise its impact."
He added that "we utterly condemn the appalling attacks" and "commend the police and security services for their diligence in investigating this appalling crime".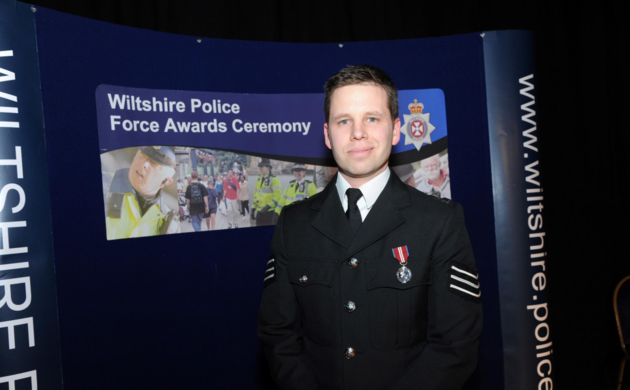 Prosecutors will not be applying to Russia for the extradition of the two men, but a European Arrest Warrant has been obtained.
Former Russian spy Sergei Skripal and his daughter were poisoned by Novichok, a military-grade nerve agent, in Salisbury in March.
Three months later Charlie Rowley and Dawn Sturgess, from nearby Amesbury, were hospitalised after coming into contact with Novichok found in a perfume bottle picked up by Rowley.
Sturgess later died and a murder inquiry was launched.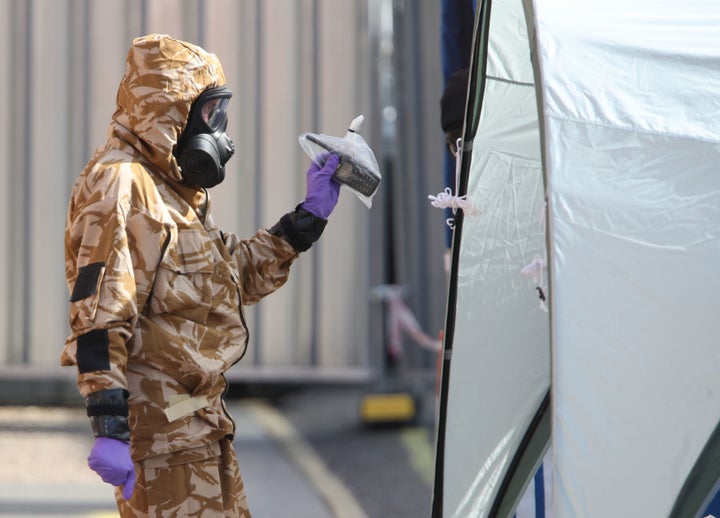 Confirming the two cases were related, Basu said: "We don't yet know where the suspects disposed of the Novichok they used to attack the door, where Dawn and Charlie got the bottle that poisoned them, or if it is the same bottle used in both poisonings."
But he said the manner in which the bottle and packaging was adapted made it "perfect cover" for smuggling into the UK and launching the attack on the Skripals.
Counter-terror police released images of the bottle in a bid to trace more witnesses.
Wiltshire Police and Crime Commissioner Angus Macpherson said: "I am very pleased today to hear the significant development announced by the Counter Terrorism Policing investigation team relating to the ongoing incidents in Salisbury and Amesbury. This is very welcome news.
"Local communities in Salisbury and Amesbury have been under the spotlight since this terrible event began to unfold on Sunday March 4.
"Our emergency services have also been under intense scrutiny as the events and impact of this heinous crime have become clearer.
"My thoughts remain very firmly with all those who have been affected by this incident."
Macpherson thanked the public in Salisbury for their "unwavering support" through "challenging and difficult times".
He added: "Equally, I would like to praise the work of Wiltshire Police, other forces who have offered their support through mutual aid and the agencies with whom the police operate in partnership, as they work diligently and professionally to ensure that the impact upon the wider community is being managed during what are extraordinary circumstances.
"Finally, I would like to commend the Counter Terrorism Policing investigation team who have worked tirelessly to gather the evidence which has resulted in charges being brought about today against the two individuals believed to be responsible for this truly horrific crime."
A senior adviser to Russian President Vladimir Putin said on Wednesday afternoon he does not know the suspects.
Putin's foreign policy adviser Yuri Ushakov told reporters in Moscow that the names of the two Russian men "do not mean anything to me".
Ushakov pointed to the fact that British authorities mentioned that they think the men's names are aliases, and wondered "why this has been done and what kind of a message" Britain is trying to send to the Russian government.