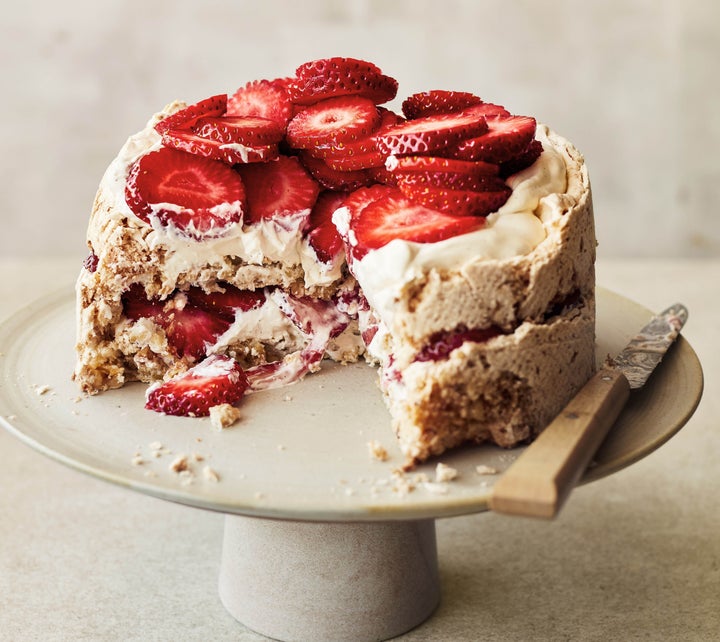 It was Dessert Week on the Great British Bake Off this week and while the technical looked a little too technical to attempt at home (French verrine, anyone?), the signature challenge had us racing to the kitchen.
A meringue cake is a perfect dinner party dessert – grand enough to impress your guests, but light enough to enjoy after a heavy meal. And, speaking from experience, if it all falls apart you can still serve the key elements as a delicious Eton mess.
The bakers experimented with flavours from lime to dark chocolate, but the team at Waitrose and Partners have shared a classic with us: hazelnut and strawberry. The berries can also be switched out for other fruit. We think Paul and Prue would approve.
Preparation time: 20 minutes
Cooking time: 45 minutes
Total time: 1 hour 5 minutes
Ingredients:
100g blanched hazelnuts
Sunflower oil, for greasing
150g caster sugar, plus an extra 2 tbsp
3 free range large egg whites
Pinch salt
½ tsp white wine vinegar
170ml tub double cream
½ tsp vanilla bean paste
170g Greek-style natural yogurt
400g pack strawberries, hulled and sliced.
Method:
1. Preheat the oven to 180˚C, gas mark 4. Put the hazelnuts on a small baking tray and roast for 8 minutes or until golden; set aside to cool. Meanwhile, grease and line the base and sides of 2 loose-bottomed 18cm sandwich cake tins. Put the cooled hazelnuts and 1 tbsp caster sugar in a small food processor and pulse until ground (a few chunky pieces are fine).
2. Put the egg whites and pinch of salt in a mixing bowl. Using electric beaters, whisk to stiff peaks (this will show you how), then whisk in 150g caster sugar in 3 additions. Fold through the ground hazelnuts and vinegar, divide between the tins, smoothing the tops, then bake for 30-35 minutes. Set aside to cool.
3. Using electric beaters, whisk the cream, remaining 1 tbsp sugar and vanilla to soft peaks. Stir in the yogurt. Remove the meringue cakes from the tins and place one on a cake stand. Spread with half the cream mixture and tumble over half the strawberries. Repeat with a second layer and serve at once.
Cook's tip:
Don't grind the hazelnuts for too long in the food processor, otherwise they'll become oily (and eventually turn to nut butter). Just pulse them until they're quite finely ground.
You'll find more recipes from Waitrose online.