A collection of more than 500 first-hand accounts, some of which have never been seen before, have revealed graphic details from the bloody Battle of the Somme.
The collection of stories from 526 British and 20 German veterans, which reveal harrowing stories from the trenches, were collected by historian Martin Middlebrook.
When Middlebrook was writing his now-famous book The First Day On The Somme, which was originally published in 1971, he appealed for first-hand accounts in over 90 local and national newspapers.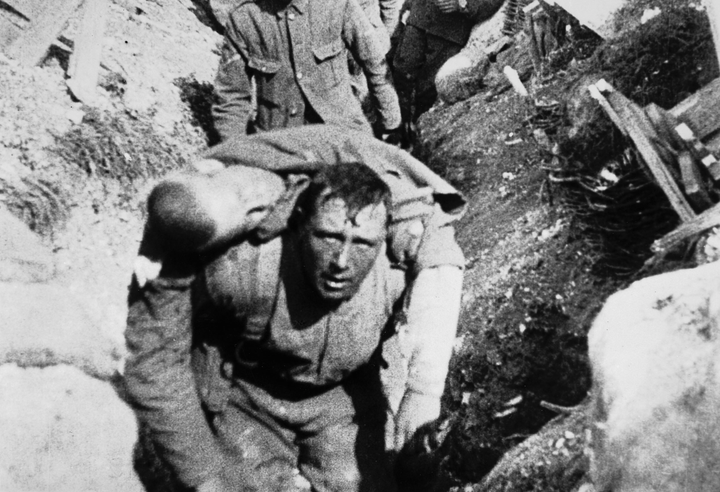 The material he gathered during that time has now been donated to the Imperial War Museum (IWM) and some of it released for the very first time.
Here are some of the stories revealed in the documents...
Private George Richard Stephen Mayne
Mayne arrived in France in April 1915, serving with the Royal Fusiliers. He was ordered over the top on the very first day of the Battle of the Somme.
Here he describes the the experience of finding dead or dying German soldiers when he reached enemy trenches.
"I saw nobody there, friend or foe it was very eerie, but I recall facing towards our old first line and being appalled at the poor positioning of our old front lines. They were absolutely clearly overlooked downhill by the enemy for all those many terrible months preceding the start of the battle. Sitting ducks the British soldiers must have been, I thought.

"I noticed on the floor of the trench a batch of writings, and I was compelled to look at them. What they were I could not understand, but they were beautifully written in a kind of script writing. I stuffed them in my pocket, and by the end of that day I had lost them.

"I then went on to the second line trench, and jumped in to immediately see a German soldier lying on the parapet, with fixed bayonet I approached, then I saw his putty coloured face which convinced me he was mortally wounded. This German, lying, brought up an arm and actually saluted me, all fear of him had gone from me, and all fear of me had gone from him. I understood no German language then, but the poor chap kept muttering two words, 'wasser, wasser' and 'mutter, mutter'.

"It took me a minute or so to realise he wanted a drink of water. The second word I could not have cottoned on to. I am glad to this day that I gave him a drink from my precious water, before having to carry on forward.

"I proceeded and came across a short section of a kind of sandbagged strong point on which bolt upright were about five or six German soldiers holding pointed rifles. Every one of these were dead, propped up
against the parapet.

"I got to the rear of them and verified they were all dead. I can only guess they had been killed by one of our machine guns. A clip of cartilages had fallen out of one of their hands and fallen into what looked to me like a pool of blown out brains at the feet of one of them. I veered to the right away from this grisly sight and entered a slight dip in the ground. There was a pool of water and all around it were some Germans, presumably dead, with their faces seemingly partly immersed in the water."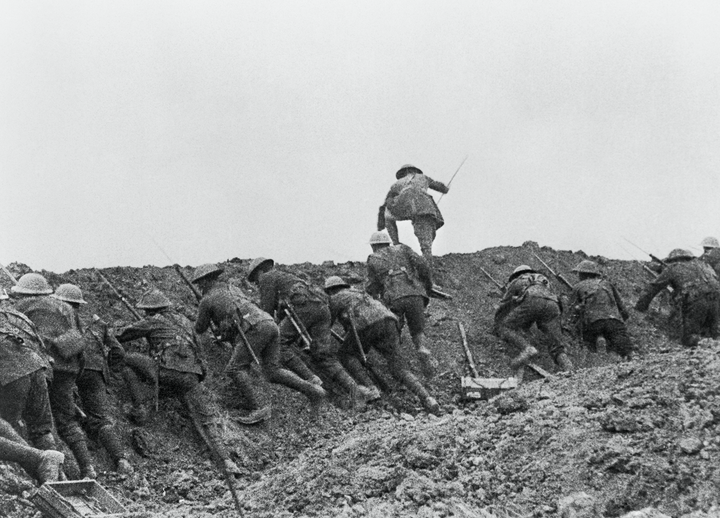 Sapper George Herbert Anderson
Anderson arrived in France on 3 January 1916 and at the Somme in early May that year, where he served with the 209th Field Company, Royal Engineers (34th Division).
His job was to destroy any obstacles in the way of his infantry.
In his account, he describes the reaction of some men as they prepared to enter No Man's Land...
"As we were about to go into no-man's land from our old front line trench our Lt was seized with shell shock and could hardly be held by his burly batmen.

"Next the man in front of me started screaming that he was hit. I heard no bullet and as his haversack was hard on my chest I said 'shut up you silly .................. do you want to cause a panic?'

"But a bullet had entered his chest and it killed him. Somewhere in his body it was deflected for it didn't come out of his back. And I had sworn at it – I couldn't take it back and I couldn't help him. God forgive me."
Lance Corporal Charles Bartram
Bartram arrived in France in May 1916 and a month later found himself at the Somme.
He served with the 94th Brigade Trench Mortar Battery (31st Division).
In his account, he explained how the horrors he saw on the Somme affected his faith...
"My officer arrived ready to go over the top with us and the shell carriers. He got very excited, decided to look over the top then he said to me, there is actually two bloody Germans stood on the parapet have a look he said to me and I did, I could only see wire, wire and double wire, my thoughts at that moment were we shall never get out of this with the gun and live shells, my officer then handed me a torch and said if I got through I was to take it home as a souvenir, I took it home and have still got it.

"My officer then had another look over the top, it was his last an explosive bullet blew half his head off, we were both there a long time there was only room for two of us and the gun.

"I had sent word to his Senior Officers, a corporal arrived to take over. Zero hour dismantled all ready to go over, then the word came to retire, we retired through the tunnel back to the reserve trench, most of the time on our hands and knees over dead and dying, from that moment all my religion died, after that journey all my teaching ad belief in God had left me – never to return."
The accounts will be added to the IWM's permanent digital WW1 memorial, Lives Of The First World War, where visitors can find out more about those who played a part in the war and their own WW1 ancestry,
Anthony Richards, Head of Documents and Sound at IWM said: "These papers were one of the first attempts made by an academic to crowd source information from the men who had lived through the first day of the Battle of the Somme.
"They reveal the acts and the regrets of the men who proceeded over the top on 1 July 1916 in their own words, offering an unprecedented account of what went on in the minds of those at the front line."