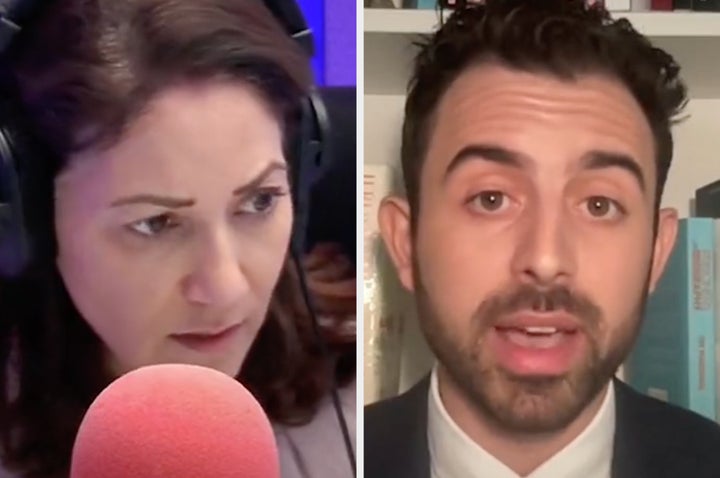 Husain interviewed Eylon Levy for BBC Radio 4′s Today programme on Monday morning, and tension quickly built as she started to ask him about the Al-Shifa hospital in Gaza City.
The hospital became one of the main focal points of the Israel-Hamas war after it was struck by Israeli air strikes.
Israel claims the militant group used the hospital complex for military purposes, and has now published video footage which it says supports its allegations. This footage has not been independently verified.
Husain reminded Levy that hospitals are protected under humanitarian law, and any attack on a hospital must be proportionate to the military advantage gained.
She explained: "Through your actions, a major hospital – the biggest and most important hospital in this part of Gaza – has been taken completely out of service aside from the few patients who remain."
Levy replied: "And we are outraged that Hamas has jeopardised that humanitarian status and put the lives of so many people at risk by converting it for military purposes.
"You mention proportionality – I think that's very important. On October 7, Israel suffered the deadliest attack on Jews since the Holocaust. It was the deadliest attack in world history after 9/11."
Husain cut in: "There are hundreds of thousands of people who live in Gaza, and two-thirds of the casualties are women and children."
"These are numbers that you are citing from Hamas," Levy replied.
The BBC presenter hit back: "They are from the Gaza health ministry, and I don't know if you have a separate assessment, in past conflicts the Gaza health ministry – which yes, is run by Hamas – the figures they have put forward have not been any different from the figures that Israel has accepted at the end of previous conflicts.
"They're also consistent with six weeks of bombardment."
Levy asked the presenter how many Gaza claims have been killed were Hamas fighters in the last six weeks.
"Why don't you tell us how many you think your bombardments have killed and what proportion are women and children? How many?" She replied.
Levy repeatedly said the health ministry in Gaza is Hamas, and claimed it "has a history of lying and making things up". He alleged the ministry has also denied that Hamas have abducted anyone on October 7.
Husain replied: "The ministry has generally released the names of the people who have been killed, and you have access to those records, don't you? I know Israel has a lot of information on who lives in [Gaza] and where they live, and that's why they're able to warn in advance [before the ground invasion].
"If you don't have your own assessment of how many people exactly you've killed and what proportion is women and children, then what other source do you expect people to use except the health ministry?"
Levy said the international community should not believe Hamas as an organisation.
The spokesperson also maintained Israel's attacks are proportionate to the "threat of a genocidal terrorist group promising to perpetrate more massacres".
Husain then redirected the conversation onto the West Bank, which is not controlled by Hamas but is still a Palestinian territory. She asked about the rising number of deaths in the area – only for Levy to push back.
He said: "Mishal, you asked a question about Israel's proportionality to defeat the campaign in the Gaza Strip in response to the October 7 massacre, and I'm trying to answer your question."
She replied: "We've spent much of this interview on the subject of Gaza."
Levy said: "Are you satisfied that Israel's response is proportionate?"
Husain said: "Why are so many Palestinians dying in the West Bank?"
Levy asked again: "I want to know if the answer I gave you is satisfactory."
Husain replied: "It's not for me to say if an answer is satisfactory."
"OK, well I hope the answer I've given you about Israel's proportionate response has been satisfactory," Levy replied.
Husain asked: "Are you not willing to answer questions about the West Bank?"
Levy said Hamas has been trying to escalate the conflict out of Israel's borders, and suggested he was not familiar with the numbers of deaths in West Bank.
"Perhaps you should be as the Israeli government spokesperson," Husain replied, to which Levy said Israel is focused on destroying Hamas.