A Brexit voter was met with loud applause on the BBC's Question Time after passionately defending her stance and lashing out at the media for 'typecasting' Leave voters.
The woman told an audience in Preston that she was annoyed by how those who voted for Britain to leave the European Union were being portrayed by the press and broadcasters.
She said: "I'm a little bit annoyed at how people keep on typecasting people who voted Leave.
"I know a lot of people who are highly educated, they're a brand range of ages and I'm getting quite annoyed.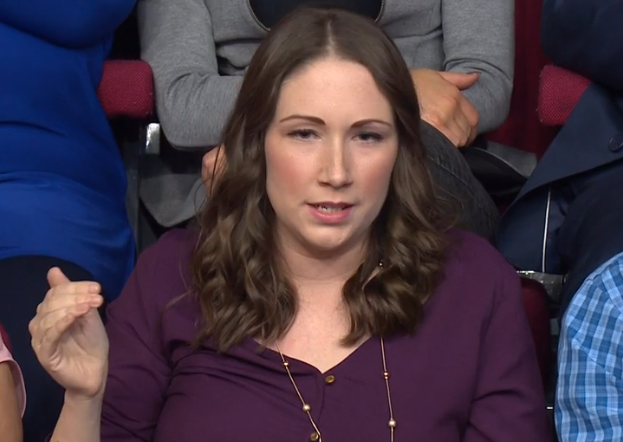 "I've got friends and family who I love on both sides but I'm getting annoyed with what's happening on social media. People calling people racist and bigots.
"The people I know who voted Leave are not like that and I think the media has got a lot to ask for really.
"It's further fuelling the divisions in society and I think a lot of it is to do with the media and it's fuelling a lot of this."
Her comments were met with applause by the audience.
When asked by host David Dimbleby how exactly she felt the media was doing this, she said: "I just think that what's been portrayed in the media is swaying a lot of people. The different fractions between the people who've left and the people who wanted to remain. It's just causing such a problem in society.
"We've got riots in Liverpool with far-rights and far-lefts.
"We need to just unite together on this whether you voted in or you voted out, you need to unite together."
Despite the positive reaction from the programme's audience, the response on social media to her comments seemed to be somewhat negative:
Although some did seem to share her view...
Incidents of hate crime have soared since the Brexit vote with more than 300 hate crime incidents have been reported to a national online portal during the last week - four times more than the weekly average - according to The National Police Chiefs' Council.
The show also featured Douglas Carswell getting embroiled in an awkward argument over claims that £350m in EU contributions could be used for the NHS, after a woman on BBC Question Time confronted the Ukip MP over the figure.
"One of the reasons that I voted to leave was because of the fact that they were promised more money into the NHS and thinking about it now, probably I'm old enough to know better.
"I shouldn't have put my trust in someone like Farage."
Her comments led to Tory MP Sam Gyimah going on the attack and the pair having a back-and-forth over the figure.