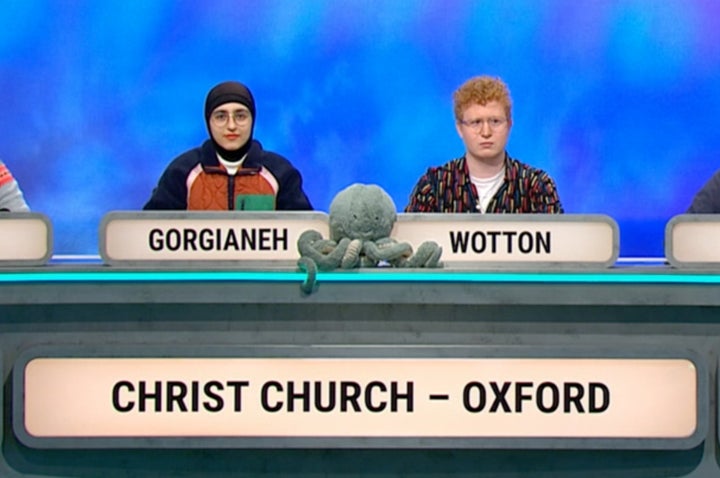 The BBC has hit back at critics after a team on the latest episode of University Challenge was accused of using an anti-Semitic trope with its choice of mascot.
Christ Church College from the University of Oxford placed a fluffy toy octopus on top of their desk during their time on the BBC show, which aired on Monday night.
This has prompted some critics to draw comparisons with the Nazis' use of a blue octopus as a derogatory symbol in anti-Semitic cartoons.
Some social media users pointed to one team member's jacket too, claiming it depicted the colours of the Palestinian flag – red, green, white and black.
The accusations come as the Israel-Hamas war, which has divided the international community, reaches its seventh week.
After the criticism started to gain traction on social media, the BBC hit back and said any suggestions of anti-Semitism is completely unfounded.
In a post on X (formerly Twitter), the BBC Press Office wrote: "We are aware of a number of inaccurate claims being made online in relation to last night's episode of University Challenge and we utterly condemn the abuse that has been posted and shared.
"For the avoidance of doubt, this episode was filmed in March."
The Israel-Hamas war began on October 7, when the Palestinian militants killed an estimated 1,200 Israelis and took more than 240 others hostage.
Israel subsequently declared war and followed up with a series of air strikes, a ground invasion and a siege of Gaza. The Hamas-run health ministry in Gaza estimates more than 13,000 people have been killed.
The BBC spokesperson continued: "The mascot is one of many chosen by the team during the course of the series and is one of their favourite animals.
"The jacket worn by one of the contestants was navy blue, orange, pink and green, bought from a High Street retailer. It has no connection to any flag."
It's customary for the teams in the popular knowledge contest are allowed to bring a lucky mascot to support them.
Their opponents, Emmanuel College from Cambridge University, also had a fluffy mascot – possibly a grey lion – on their desk during the second round of the competition.
Still, the use of the octopus has sparked confusion – and outrage – among some corners of social media....
..Although others were quick to defend the toy.
The use of a toy octopus was criticised on social media last month, too.
Environmentalist Greta Thunberg deleted a photo showing support for Palestine back in October, after an octopus toy was criticised for being an anti-Semitic symbol.
She deleted the photo, later reposting it with the octopus cropped out.
Acknowledging the change, she said: "It has come to my knowledge that the stuffed animal shown in my earlier post can be interpreted as a symbol for antisemitism, which I was completely unaware of.
"The toy in the picture is a tool often used by autistic people as a way to communicate feelings. We are of course against any type of discrimination, and condemn antisemitism in all forms and shapes. This is non-negotiable. That is why I deleted the last post."