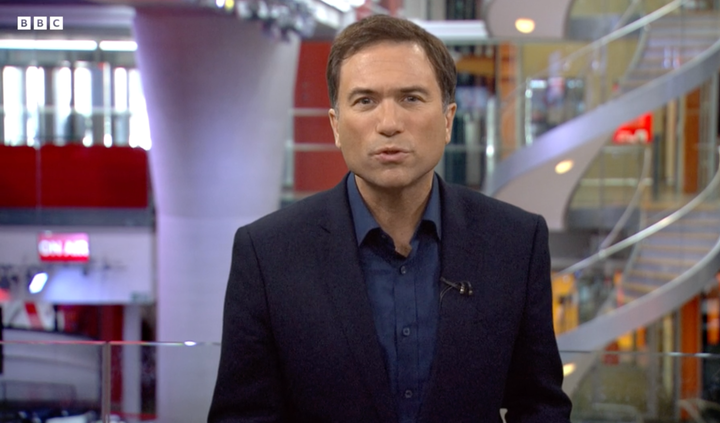 A BBC presenter went viral over the weekend for his in-depth analysis of Israel's footage, which it claims proves Hamas militants were using a Gaza hospital.
Israel has described the al-Shifa Hospital as the main headquarters for the Hamas militant group, who supposedly operate through a complex tunnel network underneath the building.
The hospital has been repeatedly targeted by Israeli air strikes since the war began, in a move Israel claims is meant to flush out Hamas.
However, the missile attacks have sparked international concern about the humanitarian repercussions.
Israel invited reporters from the BBC and Fox News to film at the hospitals last week, but only let them see a handful of select locations.
BBC Verify then looked into Israel's own video of the hospital, which appeared to have been recorded before the BBC arrived, as analysis editor Ros Atkins explained.
He noted there were more guns shown in the BBC footage compared to the IDF video – the IDF suggested this is because more weaponry was found throughout the day.
Atkins also pointed out that the IDF video was posted, then deleted, before being reposted again, with references to an Israeli soldier who had been held hostage removed.
The IDF said its video was a single shot with no edits – only for Atkins to point out a moment which appears to show an edit.
"We don't know the reasons for that edit, nor how significant it is. The IDF says suggestions it is manipulating the media are incorrect," Atkins explained.
He noted how the IDF describe the hospital as "an operational command centre" for Hamas – while the White House, Israel's strongest ally, describe it as "command-and-control node", suggesting a much smaller operation.
On Sunday, three days after Atkins' analysis and four days since its troops gained entry into the hospital, the IDF released more of its own footage.
This time, it supposedly showed the Hamas tunnel network underneath the hospital.
The photos and video footage from IDF have not been independently verified by the BBC or The Guardian.
The IDF also released separate footage which it claims shows hostages being taken into al-Shifa Hospital following the October 7 massacre.
The Hamas-run health ministry in Gaza has said it is not able to confirm how authentic the footage is. It also claimed Israel is responsible for the collapse of health care in Gaza.