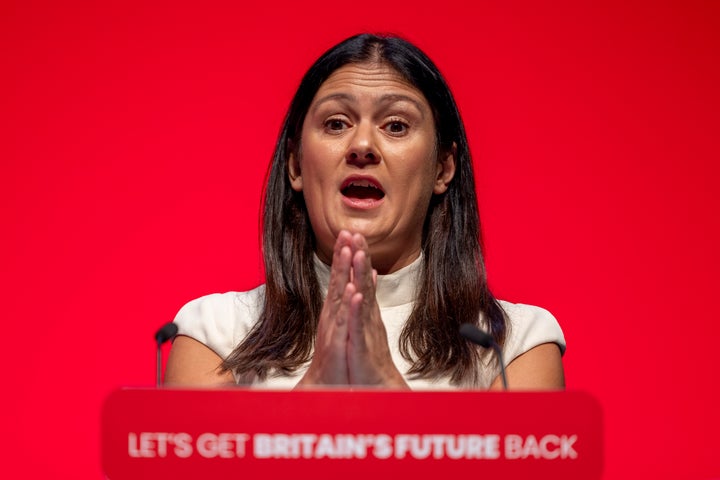 Lisa Nandy has mounted a fierce defence of Labour's decision not to back calls for a ceasefire in the war between Israel and Hamas.
The shadow international development minister said she "can't apologise" for the party's position while 200 Israeli hostages are still being held in Gaza and because Hamas are not interested in peace.
Eight Labour frontbenchers were among 56 Labour MPs who defied Keir Starmer to vote in favour of an SNP call for a ceasefire in the Commons last night.
The shadow ministers all quit their posts in the biggest challenge to Starmer's authority since he became leader in 2020.
Speaking at a Westminster lunch today, Nandy said that a series of "humanitarian pauses" in the conflict were the only way of working towards a lasting peace process.
She said: "What I can't apologise for is two things. Firstly, the decision that we've reached that actually calling for a ceasefire at a time when you've got 200 hostages potentially sitting in tunnels in Gaza and Hamas rockets flying into Israel.
"And you've got leaders of Hamas still at large, still talking about amassing weapons and armoury to be able to repeat the horrific events of October 7.
"I know our colleagues don't mean this, but many people in Israel, including the Israeli government, when they hear the term 'ceasefire' hear simply an instruction that they should lay down their arms and just allow that situation to continue. I don't see how that is a correct position to hold.
"And second of all, I don't believe that that is a way that you create space for both the Palestinian people and the Israeli people to be able to see past the pain that they are in right now and create a space for dialougue."
She added: "The second thing that I can't apologise for is that in a year's time there's a realistic prospect that Keir and David (Lammy) and I will be in the region, not as the official opposition but as the government, and helping to establish that process towards peace and that dialogue that is currently so badly absent.
"Our international partners will need to know that we speak with the authority of the entire government."
Asked if Labour would ever support a ceasefire, Nandy said: "I'm really sympathetic to why many people are calling for a ceasefire
"There are two issues with a ceasefire. The first is that currently there's no prospect whatsoever of a breakthrough with Hamas.
"There may be a breakthrough on hostages, but all there's been in the last few weeks is a hardening of rhetoric from Hamas. The message that sends to Israel is very much the wrong one and is counter-productive.
"The second is at the current time, humanitarian pauses are the only viable prospect and because the situation is so extreme, it's not hard to comprehend why at the moment dialogue seems impossible and a ceasefire seems like a very, very distant prospect.
"We've got to focus our minds on what is achievable in order to reach the goal that we all want to reach, which is a permanent end to the violence and a credible peace process."