Officials are trying to piece together precisely what happened on Monday evening, when a lorry was driven into a crowded Christmas market in central Berlin's Breitscheidplatz square, killing at least 12 people and injuring at least 48.
But social media users have been sending message of love and support using the hashtag #IchBinEinBerliner, meaning "I am a Berliner", a reference to John F Kennedy's famous 1963 speech offering American solidarity to West Germans before the fall of the Berlin Wall.
Many used Twitter to share messages...
Others posted images on Instagram alongside the hashtag...
British Foreign Secretary Boris Johnson said: "My thoughts and condolences are withe the people of Germany following tonight's terrible tragedy in Berlin, leaving so many dead and injured."
Meanwhile US president-elect Donald Trump tweeted his own message:
In contrast, Brendan Cox, husband of murdered British MP Jo Cox, tweeted messages of hope...
Investigations at the scene are continuing. Police said the truck was driven into the busy part of the German capital intentionally.
The lorry struck the popular Christmas market outside the Kaiser Wilhelm Memorial Church late Monday as tourists and locals were enjoying a traditional pre-Christmas evening out near Berlin's Zoo station.
The driver was reportedly arrested nearby, while a passenger is believed to have died.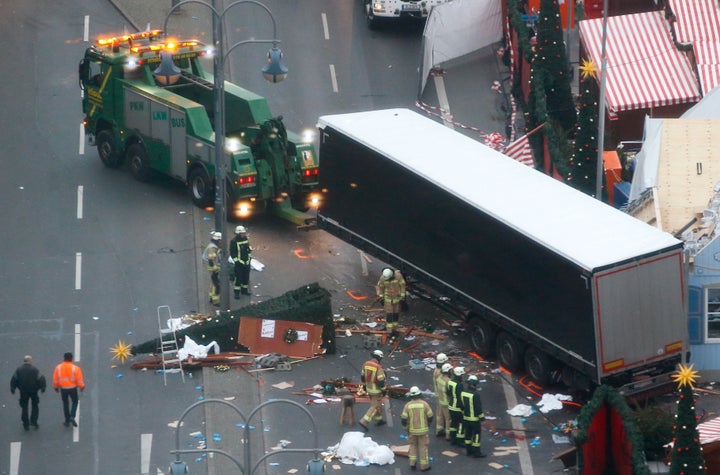 Berlin police said on Twitter: "Our investigators are working on the assumption that the truck was intentionally driven into the crowd at the Christmas market on Breitscheidplatz.
"All police measures concerning the suspected terror attack at Breitscheidplatz are being taken with great speed and the necessary care."
Popular in the Community