Beyoncé has gone and done it again, dropping yet another surprise album on Saturday night, this time a joint effort with husband Jay-Z.
The couple - currently on their 'On The Run II' world tour - have just released their first ever full album together, 'EVERYTHING IS LOVE', which appears to put the marital drama outlined on 'Lemonade' and '4:44' behind them once and for all.
Unfortunately for more casual fans, the album is - at least for the time being - exclusive to Tidal, meaning anyone without a subscription for anyone who hasn't been able to hear it yet, don't worry, we've done it for you. Here are nine already-iconic lines from the release...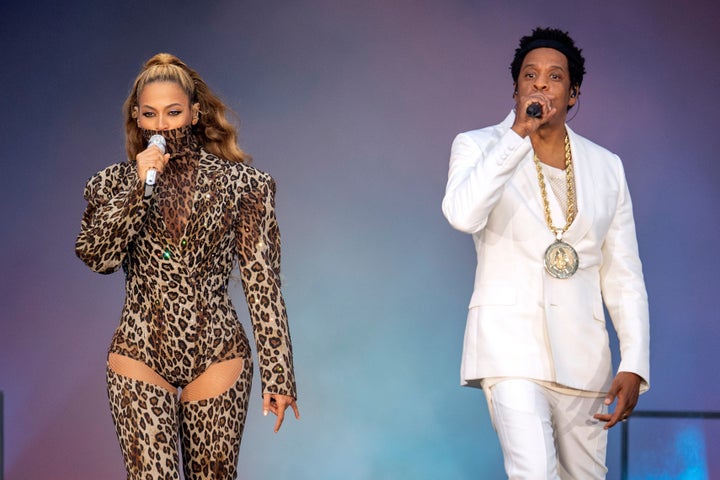 1. "I said no to the Super Bowl, you need me, I don't need you, every night we in the endzone, tell the NFL we in stadiums too."
On 'APESHIT', Jay-Z and Bey rightfully brag about their lifestyle and success, with the rapper seemingly confirming on this track that he declined the chance to join Justin Timberlake on stage at this year's Super Bowl. He points out that thanks to his huge fanbase, he's already selling out stadiums.
2. "Tell the Grammys fuck that zero for eight shit, have you ever seen the crowd going apeshit?"
He also references this year's Grammys, at which he was nominated for eight awards for his latest album, '4:44', but ultimately didn't win any of them. With fans at his concerts already "going apeshit", this obviously isn't something that gets him down too much.
3. "
My great-great-grandchildren already rich, that's a lot of brown children on your Forbes list."
4. "
Yeah, fuck your subpoenas and your misdemeanors, was too busy touring out all your arenas."
Back in May, reports suggested that Jay-Z had been ordered to appear in court to explain why he had "defied two lawful subpoenas", due to a legal issue related to the selling of his Rocawear clothing line. At the time, he released a statement via a representative saying this was a matter that had nothing to do with him, while on 'NICE' he claims he's too busy at his sell-out shows to appear in court.
5. "If I gave two fucks - two fucks about streaming numbers, would have put Lemonade up on Spotify."
This one explains itself, and it's bad news for anyone hoping the release of a new album might finally mean Beyoncé was putting 'Lemonade' on Spotify.
6. "I ain't never seen a ceiling in my whole life, that's word to Blue, freestyling live."
Here, Beyoncé references Blue Ivy's freestyle rap on Jay-Z's album '4:44', which also contains a line about having never seen a ceiling. It's worth noting that at six years old, Blue Ivy is already iconic enough a rapper that she's getting shout-outs on Beyoncé tracks. A true icon.
7. "
Fate had me sitting next to you on the plane, and I knew straight away… the next time we would speak was like two years away, you had a man, you shut it down until you two had a break, I bet that dude rued the day"
Usually two of the most private people in the entertainment, we relish even the smallest glimmer of insight into what goes on behind the scenes, so you can bet your life we've already streamed '713' multiple times to get the real backstory into their relationship.
8. "My friends are goals, your friends are foes, we fly, why cry, our souls exposed, yeah, we smoke, we laugh, your stress, my stress, closer than kin, I'm blessed, you blessed."
We've included this line from 'FRIENDS' for no reason other than it makes us fantasise about being mates with Beyoncé.
9. "Hova, Beysus, watch the thrones."
On closing track 'LOVEHAPPY', the couple seem to be implying that Beyoncé has now replaced Jay-Z's former BFF Kanye West as his right-hand person. The rapper's last collaborative album was the Kanye joint effort, 'Watch The Throne', back in 2011.
'EVERYTHING IS LOVE' is available to stream on Tidal now.