A birth photographer has issued a rallying cry against "birth shaming" after her photo of a father cradling his newborn was criticised for showing the placenta.
Lacey Barratt, from Australia, shared the photo, with permission of the family, on Facebook on 9 April and it wasn't long before someone commented:
"The placenta ruins this beautiful image, but that's just my opinion."
"Stop. Right there. Opinion accepted. But don't you dare spew your birth shaming hatred in the name of 'opinion and freedom of speech'," Barratt responded in a separate post.
Birth photos are treasured by families because they capture a beautifully intimate and vulnerable moment and Barratt wanted to let the commenter know their words could have a major impact on new parents.
"Birth shaming is making a mother feel ashamed or guilty for her birth choices," Barratt explained.
"Thinking before we speak to a new mother can be critical in her mental stability and emotional wellbeing.
"When a mother is so newly postpartum small comments like this can make the difference between having a blissful babymoon and converting it to a dark secluded period of time rethinking her choices and how she perceives her birth experience.
"It can make an incredible experience turn painful in a instant."
Barratt added that her aim is for her photos to "help normalise the true essence of birth that has been tainted by Hollywood and other social media platforms.
"So what if you ate your placenta, you buried it, you disposed of it as 'toxic waste' and 'biohazardous material' you blended it, encapsulated it, smoothied it, cut the cord, didn't cut the cord, delayed cutting the cord, or ate that shit raw....
"I think it's time we all come together as birthing women and say 'job well done you badass, you did it.' and stop shaming women for their choices made during the birthing process."
Barratt shared her thoughts alongside a photo of herself in labour, taken by birth photographer Angela Gallo.
"One of my choices was to stay home with my children present," Barratt explained.
"And even through my loud primal contractions, that didn't stop my one-year-old from wanting to latch. On the toilet. Where I sat in hopes of it helping to encourage Lennox to move down."
Barratt's posts encouraged parents to share their experiences with placentas.
"So beautiful. That placenta is what kept that beautiful baby nourished," one mum wrote.
"My totally awesomesauce midwife gave my daughter, who was five when her brother was born, a pair of gloves to examine the placenta. It was totally cool and something she won't ever forget."
Another added: "I just don't know why a placenta is something to be afraid of. It's an wonderful organ.
"I guess it just comes down to lack of education, the poor placenta has always been treated this way and disposed of as something too disgusting to embrace. I love you placenta, you amazing piece of work."
Before You Go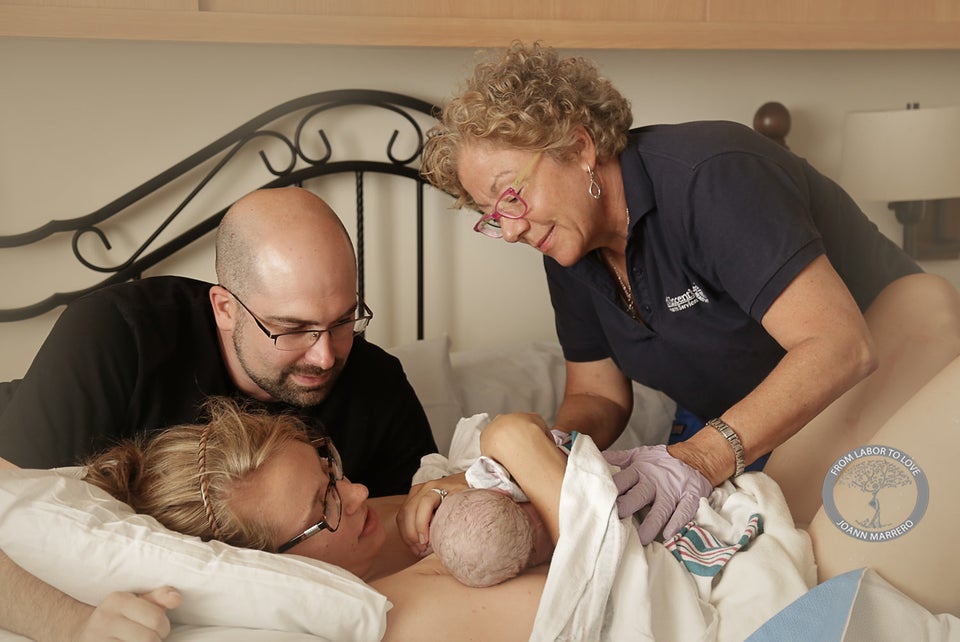 Home Birth Photos Capturing Peace And Calm