People with hidden disabilities can now apply for blue badge parking permits, marking the biggest change to the scheme in nearly 50 years.
Those with anxiety disorders, brain injury or autism can get a badge in England, while similar rules exist in Wales and Scotland already.
Previously, the Blue Badge scheme – which allows disabled people to park nearer to destinations such as the supermarket or cinema – was only available to physically disabled people.
Minister for Disabled People, Justin Tomlinson, said the changes will be "life-changing".
The extension of the scheme marks "a pivotal moment" for thousands of people with hidden disabilities across the country, he said, adding that many "face unacceptable discrimination or even abuse when using disabled parking spaces".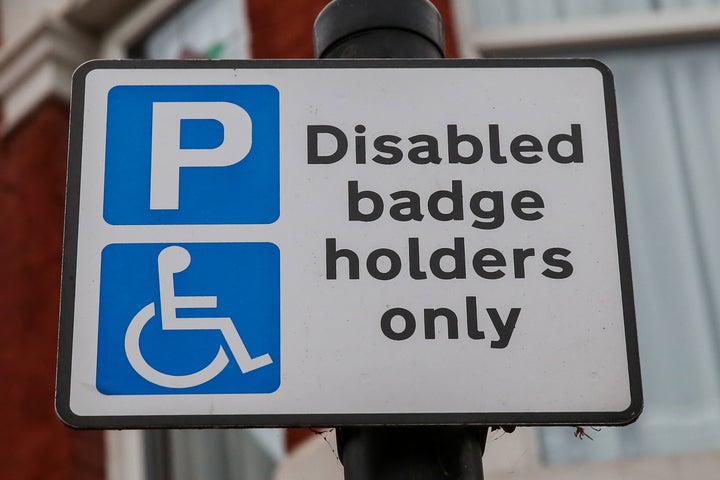 Disabled people can use the badge regardless of whether they are travelling as a driver or as a passenger.
As part of the new rules from the Department for Transport (DfT), people who can't walk to their destination without "considerable psychological distress" or "the risk of serious harm" are able to access the Blue Badges.
Some examples of this include if a person is a risk to themselves or others near vehicles, in traffic or car parks, or if they frequently become extremely anxious or fearful of public spaces.
People also qualify for the scheme if they are over two years old and at least one of the following applies:
:: They are registered blind.
:: They receive the higher rate of the mobility component of the Disability Living Allowance.
:: They receive Personal Independence Payments (PIP) because they can't walk more than 50 metres.
:: They receive a War Pensioner's Mobility Supplement.
Transport Secretary Grant Shapps said: "We know that for some people, the possibility of not being able to find a parking space can make even leaving the house a challenge, which is why the blue badge is so important.
"The scheme, which is already a lifeline for so many disabled people, will make a huge difference to those with non-visible conditions such as autism, dementia, Parkinson's and arthritis. It is my sincere wish that these changes will improve even more people's lives."
The National Autistic Society praised the move, and said it will be a "huge relief" for thousands of autistic people and their families in England, who find it hard to leave the house.
But Tim Nicholls, head of policy for the charity, said council officials making decisions about Blue Badges now need to ensure they understand autism fully – as well as the challenges people face.
Andy McGuinness, campaigns manager at Crohn's & Colitis UK, told HuffPost UK the move "will not go far enough" to support people living with Crohn's disease or colitis, or other forms of inflammatory bowel disease.
He said: "There will still be a significant number of the 300,000 people living with Crohn's or colitis who will not be able to get a Blue Badge and therefore [will be] marooned in their own house, unable to leave for fear of having a devastating accident in public."
How to apply for a Blue Badge:
People can apply for a Blue Badge on the gov.uk website, but will need documentation to assist applications.
You'll need a photo or scan of your proof of identity (such as a passport or driving licence); proof of address (less than 12 months old); and proof of benefits (if you get any).
You'll also need to know your National Insurance number and the details of your current Blue Badge, if you are reapplying.
The local council will then decide whether they are eligible for a badge, which could take 12 weeks or longer.
The badge costs up to £10 in England and £20 in Scotland, but it's free for people living in Wales.