A little girl with autism is set to receive the most wonderful surprise later this week thanks to the kindness of strangers online.
In July 2019, family friend Deborah Price took to Twitter to reveal that her friend's daughter six-year-old Elsie lives with autism and will only wear one specific long, grey dress with a rainbow heart on the front.
She asked people if they had the dress, originally bought from Next three years ago, and would be willing to send them to Elsie. "It would just give her and her mum a bit of breathing space," she wrote at the time.
Price, who lives in Staffordshire, has since revealed to HuffPost UK that not only did a handful of complete strangers send their dresses to Elsie with cards and sweets, but retailer Next went back to its manufacturer and has gifted the little girl with three different sizes of the same dress, with "Especially made for Elsie by Next" printed in gold letters inside.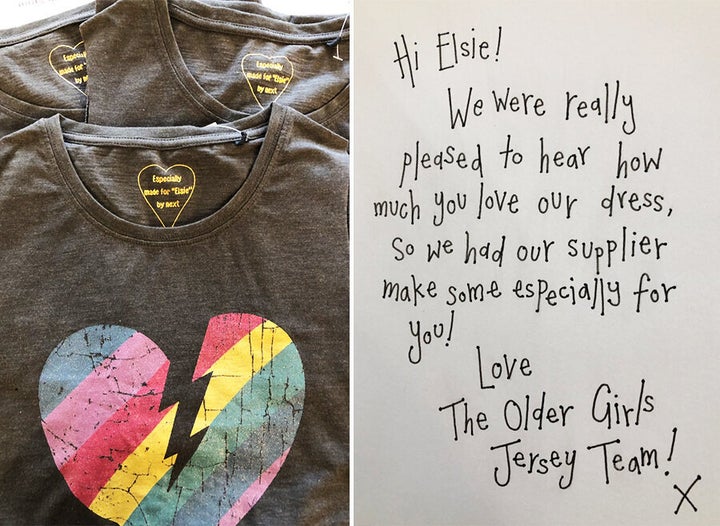 Elsie loves the dress so much she wears it to school every day. Price, who is the managing director of underwear company, British Boxers, suspects it's because the dress is incredibly soft: "She loves the feel of the fabric," she says of her friend.
"With a child with autism, it's almost like if you give them that dress then their brain isn't thinking about the dress all the time, because they're not anxious about the dress. So it all just takes away the fear and anxiety – and it might mean that in a few months she'll forget about the dress and move onto something else. And that's fine."
Within minutes of Price posting her initial plea for copies of the dress, people had started to retweet it and share links for similar dresses on eBay. Some even offered to make new dresses from scratch.
The retailer Next also saw the tweet, and explained that while it had dropped the item from its children's line, it would contact the supplier to find out if it could produce a few more.
On Monday morning Price couldn't believe her eyes when a package from Next arrived at her office. Inside were three dresses in different sizes (ages 12, 13 and 14) for Elsie to grow into – and with a personalised touch as well.
"It's been heartwarming with normal people and kids just wanting to give their dresses, but at the moment when the whole world seems to be so polarised and horrible, it was so nice that a big corporate company like Next could have the time to do something about it," she says.
Nodding to the gold writing on the inside of the dress, she adds: "They didn't need to do that, it was just a really kind thing. People are nice, aren't they?"
In 2016, Tommee Tippee announced it would make 500 blue sippy cups for a 14-year-old boy with autism, because it was the only thing he would drink from.
Price revealed that Elsie hasn't seen the dresses yet, as they're in the post on the way to her. But if her reaction is anything like when she received the first batch of dresses from kind strangers, we're sure it's going to make her week.