You're reading The Waugh Zone, our daily politics briefing. Sign up now to get it by email in the evening.
Promises, promises
There was a telling bit of television on the BBC's News Channel on Wednesday. It didn't occur during the daily No.10 press conference on coronavirus, but a few hours earlier when presenter Jane Hill was handed the latest news about UK ventilator numbers.
"Just a few details coming through about the issue of ventilators...coming from Downing Street....the first batch being produced by a consortium of companies will come out this weekend will include...we are told, er, about THIRTY devices...we have been double checking this, but it does seem to say 30."
Hill's puzzlement [watch HERE] was because many have suggested that Britain needs an extra thirty thousand ventilators to cope with this pandemic in coming weeks. And she could be forgiven for wondering if a few zeros were missing from today's latest number.
The figure was accurate however. During the Lobby briefing, the PM's spokesman had told us "we expect that first batch to be up to 30 ventilators", though he added "with hundreds more from that particular consortium to follow in the coming weeks". "There are thousands more ventilators in the pipeline from other manufacturers and suppliers who are rapidly working on new devices," he stressed.
Few can doubt the engineering elan of those who are working round the clock to get these new models of ventilator into production. But given that the UK still only has 8,000 actual rather than potential breathing machines, and the number of patients hospitalised is already over 10,000, it's no wonder many are worried.
It was Michael Gove, during his own press conference on Tuesday, who had boasted that from this weekend "the first of thousands of new ventilator devices will roll off the production line". Gove said the word 'of' so quickly and indistinctly that at first many thought he had suddenly announced "the first thousands" of the devices would be churning out this weekend like so many tractors in a Stalin-era factory. That strange phrase 'the first of thousands' felt odd yesterday and it looks singularly ill-judged now.
Thirty is more a trickle than a flood of life-saving machines. And it was all the more embarrassing when Donald Trump's adviser Deborah Birx took pity on the UK overnight, saying she was "worried" about the mere 8,000 ventilators we have.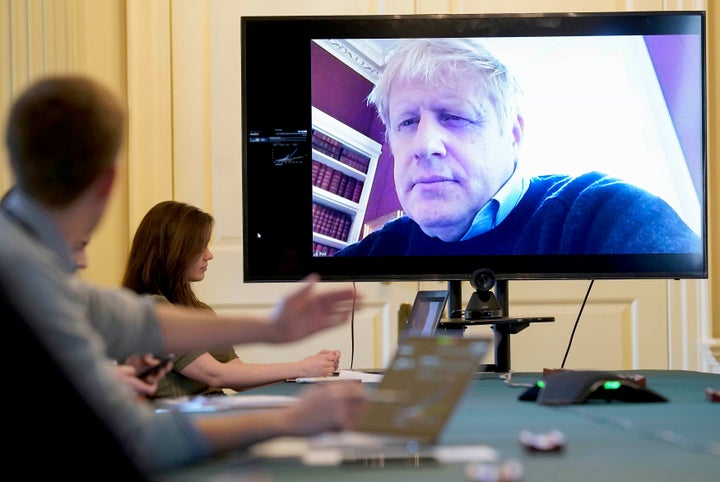 And appearing to over-promise and under-deliver is a wider problem for the government on coronavirus. It was three long weeks ago that ministers said they would increase testing from 5,000 to 10,000 a day. That milestone was finally reached this weekend, but even then it turned out to be a 'capacity' rather than actual tests done.
Stung by what was happening in South Korea and Germany, it was exactly two weeks ago when Boris Johnson used a prime minister's question time (remember those?) to pledge he would ramp up to 25,000 a day. In one particularly odd moment, Johnson even riffed on the possibility of 250,000 tests per day (he was eliding antibody tests with antigen tests).‌
Yet today it was obvious that, as with ventilators, progress was painfully slow. We learned that just 2,000 NHS front line staff had been tested so far for coronavirus. With 500,000 frontline staff in total and a quarter of them estimated to be forced to self-isolate at home, that worked out as a tiny 1.6%.
The whole problem with personal protective equipment for NHS staff has similarly been dogged by early overconfidence about the logistics needed to get masks and gowns to the frontline in both the NHS and social care.
Tonight's press conference with business secretary Alok Sharma and Public Health England's Yvonne Doyle was the worst so far for clarity. Neither of them had coherent answers on the testing delays or even on the wider exit strategy. On testing, it may be time for ministers to just admit there was a problem with over-centralisation (PHE tried to go through one big lab rather than the German approach of lots of smaller ones) early on. In a hastily-packaged Twitter video tonight, the PM bigged up testing as if the UK had led the pack rather than lagged behind.‌
If the bottleneck is global competition for swabs and reagents, just tell us (as No.10 and ministers failed to today) when they were first ordered. If we are still short of 8,000 ventilators on order from overseas, again just tell us when they were first ordered and what the bid was for. Honesty and transparency (even about failures) is better than the blancmange of blather we saw at the presser today.
Of course, it's worth saying that the public and we in the media often crave a certainty that often can't be given in this fast-moving situation. But that's why perhaps it's better not to make rash promises, and instead explain what the overall strategy really is (if more community testing really is the aim, it's not clear).‌
Johnson was after all elected last year because he was seen by enough voters as a man who would keep his promises on Brexit. 'Getting Covid-19 done' is not like passing a Brexit bill with a majority of 80. The PM is due to exit his own self-isolation this Friday. But he needs to explain his coronavirus exit strategy for the country, and fast. To use his own phrase, he needs to 'level with us' more about his gameplan.
Quote Of The Day
"This is the way through, this is how we will unlock the coronavirus puzzle. This is how we will defeat it in the end."
Boris Johnson on why testing matters
Wednesday Cheat Sheet
A further 563 deaths from coronavirus have been recorded in the UK over 24 hours, bringing the total to 2,352.‌
Nearly a million people (950,000 to be precise) have applied for universal credit in the fortnight since Boris Johnson asked them to stay home, the Department for Work and Pensions revealed.
Ministers are working to allow the Commons sit virtually if the UK is still in coronavirus lockdown after the Easter break. Speaker Lindsay Hoyle called for a "virtual" parliament until social distancing measures are lifted.
The government lifted its 15% cap on NHS staff testing in hospitals - as Downing St confirmed that only 2,000 people out of 500,000 frontline NHS England workers had received such tests.
A "passionate" top doctor who returned from retirement to help the UK fight coronavirus has died after becoming infected with the disease. Dr Alfa Saadu died on Tuesday and his son Dani said in a social media post that he had been fighting Covid-19 for two weeks.
A new London School of Hygiene and Tropical Medicine study suggested the lockdown could be working, with the number of people infecting others reducing.
The COP26 climate change conference due in Glasgow in November has been postponed. Wimbledon has been cancelled too.
What I'm Reading
Got A Tip?
Send tips, stories, quotes, pics, plugs or gossip to waugh.zone@huffpost.com.
Subscribe To Commons People
Each week, the HuffPost UK Politics team unpack the biggest stories from Westminster and beyond. Search for Commons People wherever you listen to podcasts and subscribe.