Boris Johnson has warned Commons speaker John Bercow and other MPs to "respect the will of the people" as he repeatedly refused to rule out suspending parliament if it blocked a no-deal Brexit.
Speaking at the end of the G7 summit in France, the prime minister refused three times to say how he would react if backbenchers found a way to legally force him to keep the UK in the EU beyond October 31.
Johnson did however send a stark message to Bercow, who many MPs believe will tear up parliamentary precedent to help rebels to compel the PM to seek an extension to Britain's membership of the 28-nation bloc.
Asked directly if he had confidence in Bercow, he refused to give the Speaker his backing. "It's not the function of the prime minister to express confidence in the Speaker. I hope that all parliamentarians will use their good offices to respect the will of the people and get Brexit done."
Challenged repeatedly to explain whether he would 'prorogue' parliament to stymie MPs attempts to halt a Halloween exit without agreement, Johnson ducked the question.
"I rely on parliamentarians to do the right thing and honour the pledge that they made to the people of this country," he said.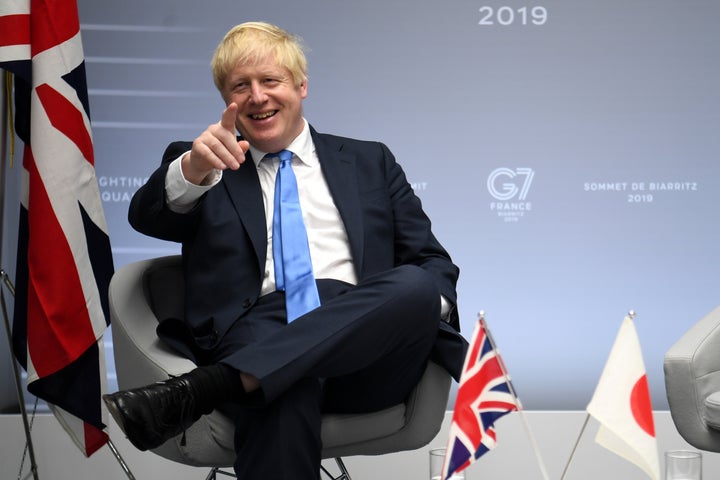 At a press conference on the final day of the gathering of world leaders in Biarritz, Johnson also brushed aside threats from Brussels that the UK would not get a trade deal with the EU if it withheld its £39bn 'divorce bill' payments.
In a brutal assessmment on Monday, a European Commission spokeswoman said the UK must honour commitments made during its EU membership and pointedly said that "settling accounts is essential to starting off a new relationship on the right foot".
As Jeremy Corbyn met other party leaders to plot ways to bind the PM's hands, No.10 also said that he had urged leading European figures not to draw "very wrong messages" from British politicians over coming weeks.
The meeting will be attended by the SNP, Liberal Democrats, Change UK, Plaid Cymru and the Green Party. However, no pro-Remain Conservatives are expected to be present.
MPs are due to return from their summer break next week and Downing Street is braced for a constitutional clash with the Opposition and rebel Tory MPs.
An official said: "We are leaving on October 31 with a deal or without. The prime minister would prefer it to be a deal but we will be leaving on October 31 and he is very clear about that.
"He thinks European leaders should not be listening to the very wrong messages emerging from some parliamentarians who think that they will stop Brexit."
He added that Johnson had been "repeatedly clear that parliamentarians and politicians don't get to choose which public votes they respect".
Earlier, European Commission spokeswoman Mina Andreeva said: "All commitments that were taken by the 28 member states should be honoured and this is also and especially true in a no-deal scenario where the UK would be expected to continue to honour all commitments made during EU membership.
"Rather than going now into a judicial action threat, I think it is important to make clear that settling accounts is essential to starting off a new relationship on the right foot based on mutual trust.
"I would also say that as far as I understand this issue has not been raised with the EU side, for the time being, officially."
Guy Verhofstadt, the European Parliament's Brexit co-ordinator, said: "If the UK doesn't pay what is due, the EU will not negotiate a trade deal.
"After a 'no deal', this will be a first condition of any talks. Britain is better than this."
Johnson hit back: "Under any circumstances if there is a no-deal outcome, then substantial sums will be available from the £39bn to the UK to spend on our priorities, including managing that no-deal scenario. "It all depends on how seriously they wish to get a deal".