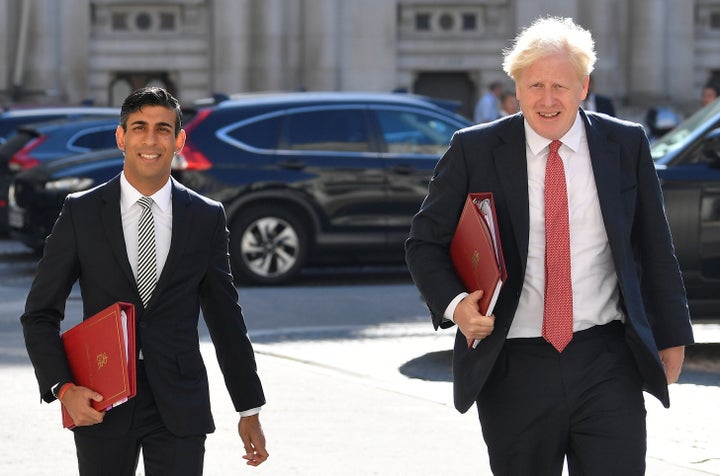 You're reading The Waugh Zone, our daily politics briefing. Sign up now to get it by email in the evening.
Appy days are here again?
Boris Johnson is having to firefight on several fronts at the moment. Some of his own MPs are in revolt about his 'Rule of Six'. Some are furious about his 'last resort' plans to break international law. Others are demanding rapid improvement in test-and-trace, a priority starkly underlined today when the UK's crucial Covid 'R number' rose above 1.
But as a man who prefers to see the glass half full rather than half empty, there were three welcome developments for the prime minister in just a few hours: the signing of a new UK-Japan trade deal, GDP figures showing the economy bouncing back and - most timely of all - an actual launch date for the long-awaited contact-tracing app.‌
With an alarming rise in the R number showing virus cases doubling every eight days across the country, the app could not come soon enough. In what feels like a smart move (not least to increase its take-up by the public), the app will allow pubs, restaurants, hairdressers, cinemas to log the details of all customers who scan a simple QR code on entry.
Given that contact tracing rates in the community are much lower than those for hospitals and care homes, let's hope the new app (launched on September 24) will have an impact. The testing bottlenecks are still a here-and-now problem that Matt Hancock and Dido Harding have to sort out, but an app brings an extra weapon to the knife fight against corona.
The Japan deal has great symbolism because it is the first the UK has signed one as an "independent" nation (copyright Liz Truss) and will help car manufacturers and others. It could prove a stepping stone to the much bigger prize of joining the Comprehensive and Progressive Agreement for Trans-Pacific Partnership (CPTPP) with lots of Asian nations.
A dose of realism came when it emerged that the deal was worth a tiny amount to overall GDP (0.07%) and what really continues to worry the stock market is the rumbling thunder of a no-trade-deal outcome with the EU. Adam Marshall, of the British Chambers of Commerce, said that while the Japan deal was welcome, "securing a Free Trade Agreement with the EU remains critical to the future of businesses in the UK".
As for GDP, the 6.6% month-on-month growth posted today gave the first hint of a V-shaped recovery that's even better than the OBR forecast. Of course, the "V" is much deeper than even during the 2008 financial crisis, so there's a longer way back up. Monthly GDP is still also a massive 11.7% down on pre-pandemic levels.‌
The 'Eat Out To Help Out' scheme wasn't captured by the July figures and it should fuel more bounceback. But to get a clue to the fragmented nature of the recovery, this Resolution Foundation chart says it all. Financial services are basically fine, but hospitality and entertainment were flat on their back and construction and manufacturing around 10% down. With few sectors likely to repeat July's growth, we could see a wonky 'L-shaped' recovery instead.
It's no wonder there are growing calls on Rishi Sunak to extend the furlough jobs scheme in some way. With 2.3 million workers still on furlough, the Treasury select committee added their voice to the chorus today. The Joseph Rowntree Foundation have called for sectors hit hardest by Covid (hospitality, retail and beauty) to get special help, with new research showing the job losses will hit young people, women and Asian communities hardest (the latter already at higher health risk than other groups).
It's possible that new "targeted help" will be designed by Sunak, though he's adamant that furlough has to end in its current form. The Treasury was delighted when the Bank of England Governor supported ending furlough. Bank chief economist Andy Haldane told CityAM this week said the UK bounceback was "quite remarkable" and not given enough credit.
But Haldane also said something for which a minister would be crucified. He talked of job losses as "the necessary process of adjustment" (a bit like Norman Lamont's "a price worth paying") and said "keeping all those jobs on life support is in some ways prolonging the inevitable". "The most painless thing that can be done is to recognise that," he added.
When we discussed Haldane's remarks with Warrington South's new Tory MP Andy Carter on our Commons People podcast this week he admitted "a politician could never utter those words". But Carter did say that with town centres losing retail jobs, alternatives were needed. "I do think we're going to see a structural shift in the economy that is going to be very painful for a period of time."
The problem with the Treasury's own hard-headed support for "readjustment" is that it jars with the PM's constant messaging that the public should go back to the office. Haldane said more home working was likely to prove "enduring".‌
One senior government scientist privately confessed this week that remote working was "the right thing to do" for many firms, especially with the rise in virus cases. There's even a case for saying that in many small (Blue Wall) towns that are usually dormitories for big cities, home working could revive their local centres.
Recent research by pollster Deborah Mattinson shows that the public in Blue Wall seats still hope Johnson does well, and don't like unfair "carping". But they also want to see "bold Boris".
As the PM's own unlockdown document stated earlier this year "hope is not a plan". He now needs a realistic plan to balance new Covid controls with their impact on a wobbly recovery. Being truly bold could mean targeting fresh job support for those whose sectors look like being effectively shut down for winter by the government itself.
Quote Of The Day
"It's time to move to a voluntary system... and for us to actually start living like a free people."
Tory MP Steve Baker on the 'rule of six'.
Friday Cheat Sheet
The UK recorded 3,539 new cases of coronavirus in the last 24 hours, a scale last seen at the end of May.
The reproduction number, or R-value, of coronavirus transmission across the UK has risen above 1 and cases are doubling every eight days. Research commissioned by the government from Imperial College London found the R was in fact likely to be at 1.7.
Boris Johnson held a Zoom call with disgruntled Tory MPs to calm fears about his Covid crackdown and about the Internal Market Bill.
Households in Birmingham, Sandwell and Solihull will be banned from mixing from Tuesday after the region showed the second highest covid case rates in England, West Midlands mayor Andy Street announced.
Liverpool was put on a watchlist for new restrictions after it too showed a rapid rise in cases. Councils in the north east cancelled non-essential visits to care homes.
The Covid-19 app will be launched across England and Wales on 24 September, Matt Hancock announced.
Scottish Labour leader Richard Leonard is to face a vote of no confidence at a meeting of the party's governing body on Saturday.
What I'm Reading
Got A Tip?
Send tips, stories, quotes, pics, plugs or gossip to waugh.zone@huffpost.com.
Subscribe To Commons People
Each week, the HuffPost UK Politics team unpack the biggest stories from Westminster and beyond. Search for Commons People wherever you listen to podcasts and subscribe.