Coronavirus has changed everything. Make sense of it all with the Waugh Zone, our evening politics briefing. Sign up now.
Downing Street needs to establish regular contact with Tory MPs instead of treating them like "annoying hobbits in the shire" who do what they are told, a senior party figure has said.
Robert Halfon blamed mistakes like the failure to extend free school meals into summer – until footballer Marcus Rashford forced a U-turn – on No.10 failing to use its "political nous" and being unaware of pressure from MPs' constituents.
He urged Downing Street to "dramatically transform" its political operation by holding regular forums with MPs who are "in touch" with constituents' concerns and "really get" the issues they face, arguing it could help avoid errors in future.
It comes amid rising Tory discontent at No.10's handling of coronavirus, the Dominic Cummings lockdown scandal, and repeated U-turns in recent weeks, and after officers of the powerful 1922 backbench MPs' committee reportedly urged Boris Johnson to tear down the "iron curtain" surrounding the PM.
Halfon told HuffPost UK's Commons People podcast: "I love Tolkien so I've been re-reading Lord of the Rings and Dominic Cummings seems to have taken on the mythical status of Wormtongue to King Theoden of Rohan, and of the villain that everybody loves to hate.
"And MPs of course are considered by the No.10 policy unit as annoying hobbits in the shire [...] and we'll just do what we're told to do.
"So it has been difficult. I think sometimes they don't understand the pressures from constituents."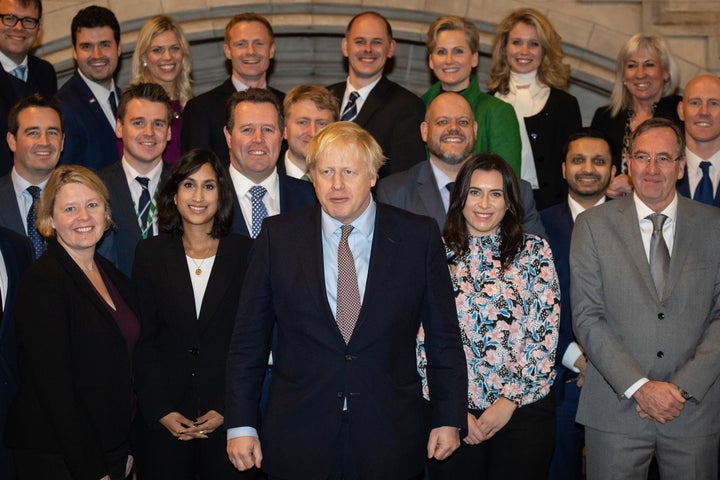 Halfon, who chairs the Commons education committee, called on No.10 to establish "serious regular contact programmes" so they can understand what is going on in places like his Harlow constituency or "blue wall" ex-Labour seats in places like Stoke.
He said: "I don't understand why there isn't any radar system whereby No.10 – there are people in No.10 with enough political nous to know that issues like free school meals, for example, are going to be a mega hot potato and to prepare a battle plan and to talk to MPs.
"I think there are a lot of Vote Leave people at the heart of No.10 and they fell out with some of the MPs at the time, I think their view about MPs is coloured from that time – MPs are just annoying hobbits from the shire who have to be tolerated, in essence."
He added: "It needs to be dramatically transformed, it needs to be a much better political operation in No.10 where they bring MPs in to discuss these issues – have regular contact with MPs in marginal seats."
The former minister also urged the prime minister to appoint a senior "bruiser" in the mould of John Hayes, who acted as the minister responsible for the Tory party under David Cameron, to act as a mediator between parliament and No.10.
"You need those people who are bruisers, who understand the party – it's in their blood for 20 years, 30 years – who can speak to any MP, who can relate to any MP, who is a people person," Halfon said.
"You need someone like that who can understand what is going on and not give the impression that we are just annoying legal necessities who just do what we're told."
Halfon added that it would be someone "who really knows the parliamentary party and can go to the prime minister and say 'sort this out'."
"That's what the prime minister needs. He needs someone acting as a lighthouse to stop the ship hitting the rocks, and he hasn't got a lighthouse at the moment," Halfon said.