When Lucus Evans spotted himself on a poster for school uniform he gave his mum a big thumbs up and she knew he was "chuffed".
In fact, the only person more happy than six-year-old Lucus, was his mum Kellie Evans. "This is the first time he has been able to go into a store and stand next to himself - you know, I've never achieved that - that's amazing for any six-year-old, let alone a little boy with Down's Syndrome," she told HuffPost UK.
"There was a moment when he realised 'oh that's me! I'm here'. It was just really sweet. He put his little thumb up and he was pointing at himself."
Lucus is one of 30 children featured in the new M&S Back To School campaign entitled 'Life isn't Uniform'. For Kellie, it is important to see her son in such an inclusive line-up as she says she fights daily for Lucus and his eight-year-old brother Alexander, who has cerebral palsy, to be included in the mainstream.
The two boys are signed up to Kiddiwinks Agency, the same child modelling agency as their sisters, 12-year-old Isabella and four-year-old Indiana. "I thought why should they need to have a different agent to their sisters just because they are children with disabilities," said Kellie. "They can still do what their sisters do and actually Lucus is the busiest one out of my four."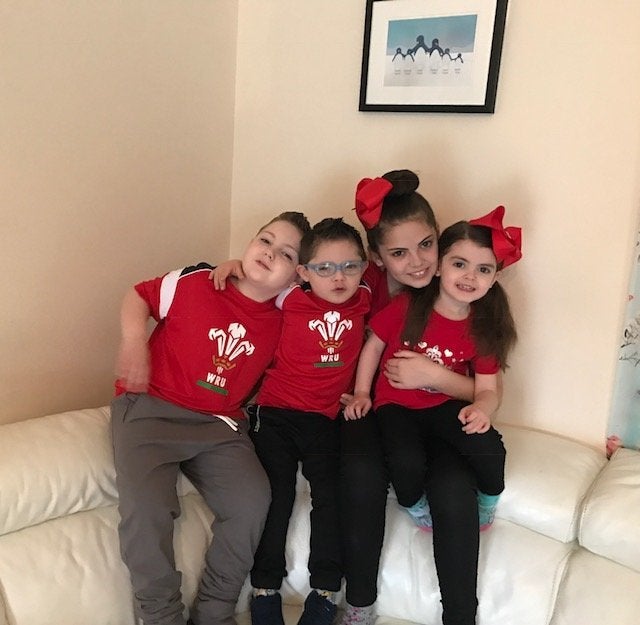 Kellie said that had high profile images of children with Down Syndrome been more common when Lucus was born, it could have helped save her from some unnecessary heartache.
Kellie and her partner Dominic only learned their son had Down's syndrome after he was born. His older siblings were unfazed by the diagnosis, showering their little brother with kisses the moment he got home, but it took Kellie a while to get her head around what this meant for her son and she cried for all the things she thought Lucus would never be able to do.
"The fact I even shed a tear for Lucus is my biggest regret," she says. "I'd never met anyone with Down's syndrome so it seemed like a really scary thing, but I if I'd known then what I knew two to three weeks later, it would have been a completely different story, because actually it's not the worst thing in the world. Lucus is the glue that holds our family together.
"The world needs to know that there are children with disabilities doing amazing things."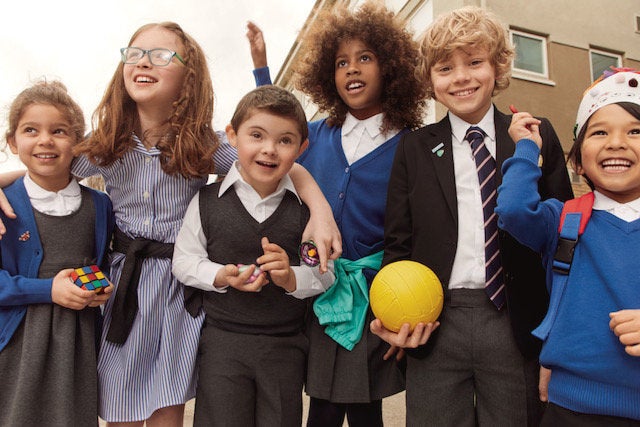 The M&S school uniform collection includes an 'Easy Dressing' range, designed to help children with a multitude of sensory and physical needs, which a spokesperson says has proven to be "popular with parents of able bodied children and those with disabilities".
Evans had not come across the range before her son was in the shoot, but says as a mum-of-four the adaptions would make getting her whole family ready for school in the morning much easier.
"The shirt that Lucus wore on the shoot had velcro from the top to the middle of his chest, so you don't have to fiddle with buttons. The sleeves have a buttons, but they are attached with an elastic so the cuffs stretch over their hands, which makes it a lot easier for children to dress themselves or for you to dress them."